BunnyDoc
No matter what industry you're in, being on the customer-facing side of things can start to feel like Groundhog Day.
When you're answering the same questions repeatedly, it's easy to slip and send an embarrassing email or twenty. ("I did it again. I wrote 'Thanks for reaching out, [INSERT CUSTOMER HERE]' instead of their name.")
If only you could say all the right things, while also saving time and energy on repetitive typing.
Overview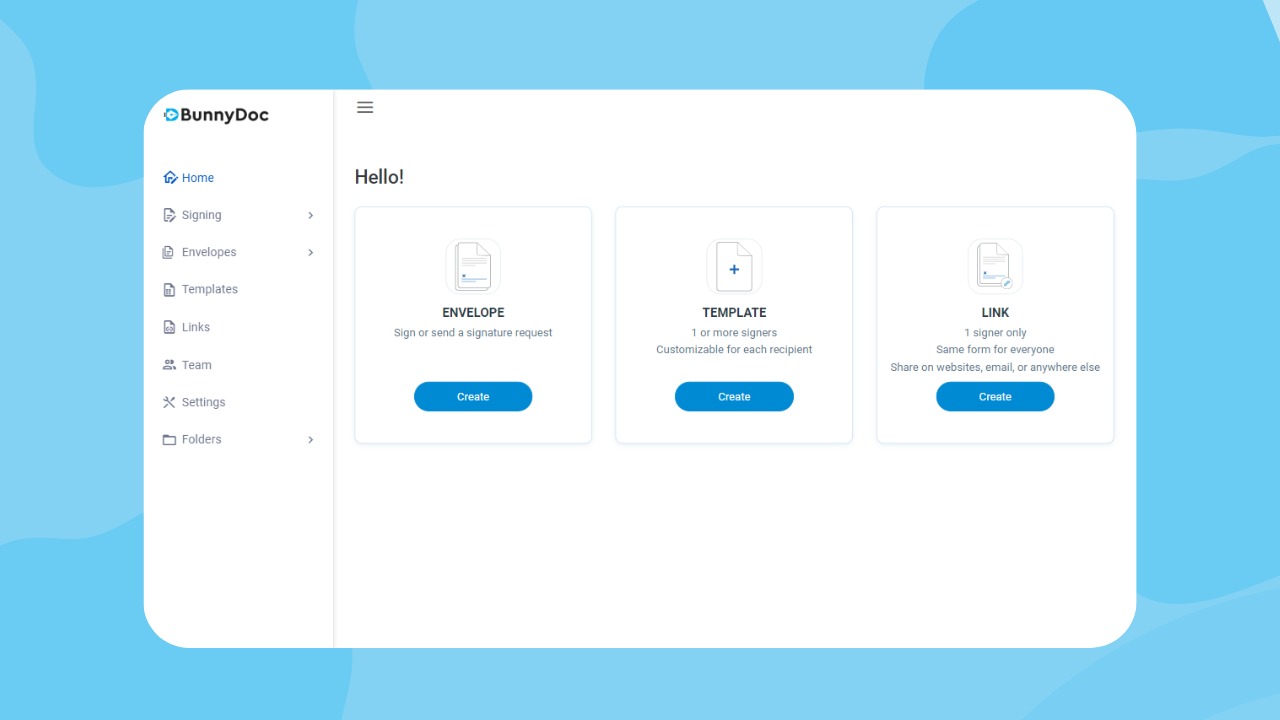 Sign or send a signature request in seconds!
Easily monitor signature progress, send reminders, and collaborate with your team, accessing all signed documents in one location.
Rest easy knowing our platform utilizes digital certificates from a trusted AATL provider, guaranteeing the safety of all your signed documents.
We offer two-factor authentication and an audit trail for ultimate peace of mind.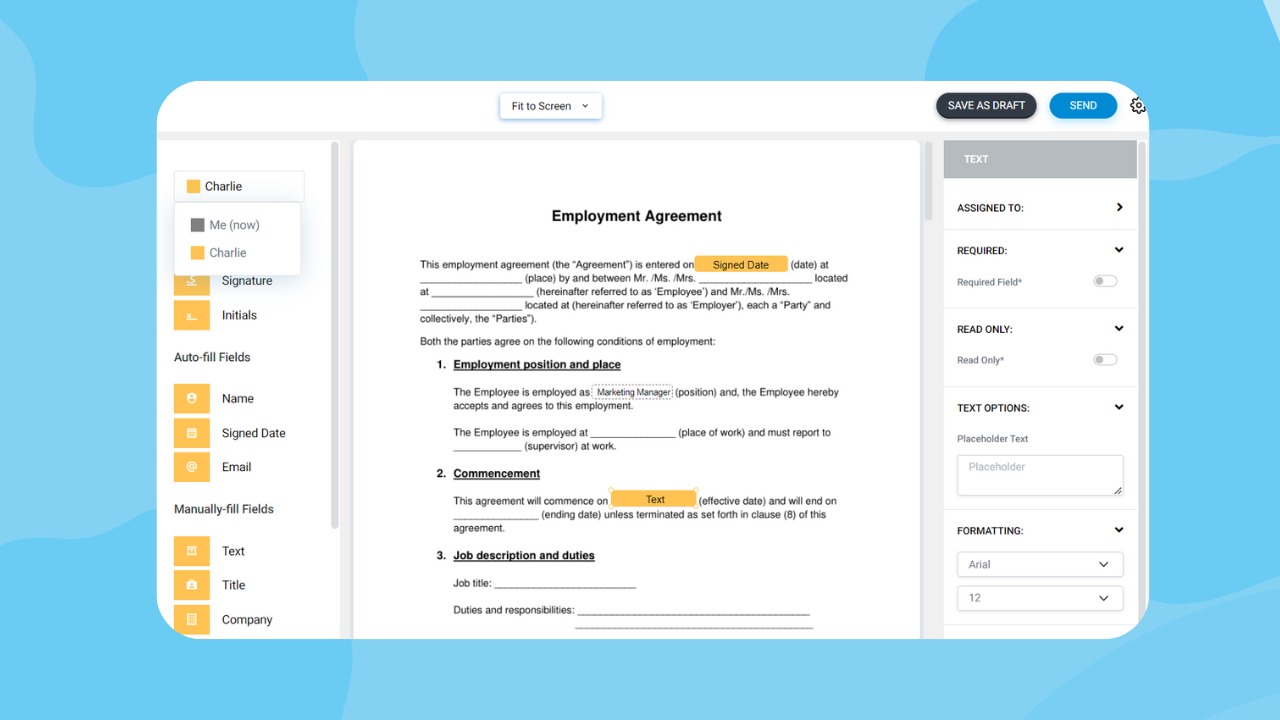 Upload your document, set signing order, and swiftly add signature fields.
Create a digital signature and store your signed documents easily and confidently.
BunnyDoc provides comprehensive guidance through its Help Center, leading customers through each step of the signing process in a user-friendly manner.
Avail advantage of different customizable fields.
Drag and drop your desired fields on the documents and apply settings to each one of them according to your preference.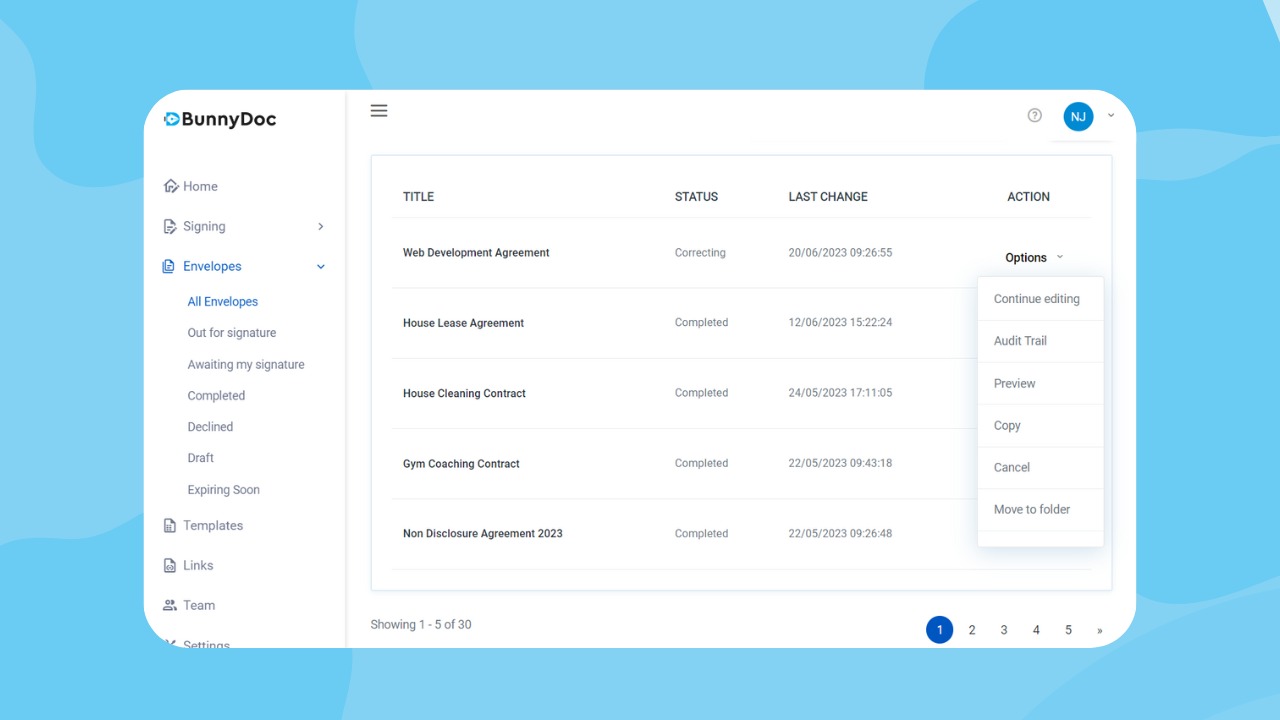 Edit your previously shared documents or organize them into folders for convenient arrangement.
Create folders and sub folders for easy access.
The folder feature proves advantageous in effectively organizing envelopes generated by diverse users, facilitating easy tracking and management.
Import a list of signers and effortlessly distribute unique copies of the document for signing.
Monitor document status, tracking recipient progress in real-time with document tracking.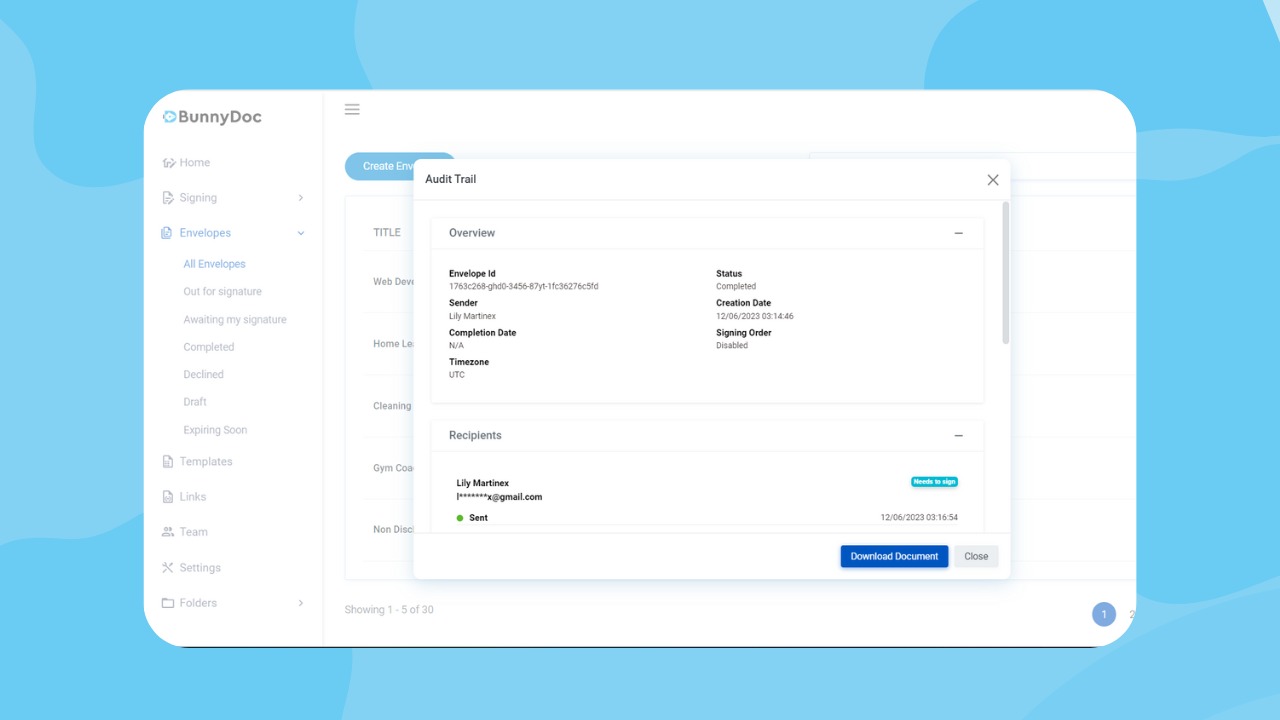 Keep track of all your signing events.
You can easily monitor the progress of all your signing events with real-time status updates and maintain a legally admissible audit log for court purposes.
You can also use public form links to share the link over website or email to grab signatures.
Unlock all these advanced features, including form links, reusable templates, bulk sending, replace recipient and secure folder management with this AppSumo deal.
Get access to BunnyDoc today!
Plans & features
Deal terms & conditions
Lifetime access to BunnyDoc

You must redeem your code(s) within 60 days of purchase

All future Business Plan updates

Stack up to 3 codes
Plan 1

All features above included
500 signature requests per month
1 team member (primary account holder)
1 public form link
Custom branding
Audit trail
Reminders & notifications
Folders
Reusable templates
Bulk sending
Advanced fields
In-person signatures
Google Drive, Dropbox, and One Drive integrations
AATL compliant

Plan 2

All features above included
1,000 signature requests per month
5 team members (primary account holder + 4 more)
5 public form links
Custom branding
Audit trail
Reminders & notifications
Folders
Reusable templates
Bulk sending
Advanced fields
In-person signatures
Google Drive, Dropbox, and One Drive integrations
AATL compliant

Plan 3

All features above included
1,500 signature requests per month
10 team members (primary account holder + 9 more)
10 public form links
Custom branding
Audit trail
Reminders & notifications
Folders
Reusable templates
Bulk sending
Advanced fields
In-person signatures
Google Drive, Dropbox, and One Drive integrations
AATL compliant