CapitalConnector.ai
No matter what industry you're in, being on the customer-facing side of things can start to feel like Groundhog Day.
When you're answering the same questions repeatedly, it's easy to slip and send an embarrassing email or twenty. ("I did it again. I wrote 'Thanks for reaching out, [INSERT CUSTOMER HERE]' instead of their name.")
If only you could say all the right things, while also saving time and energy on repetitive typing.
Overview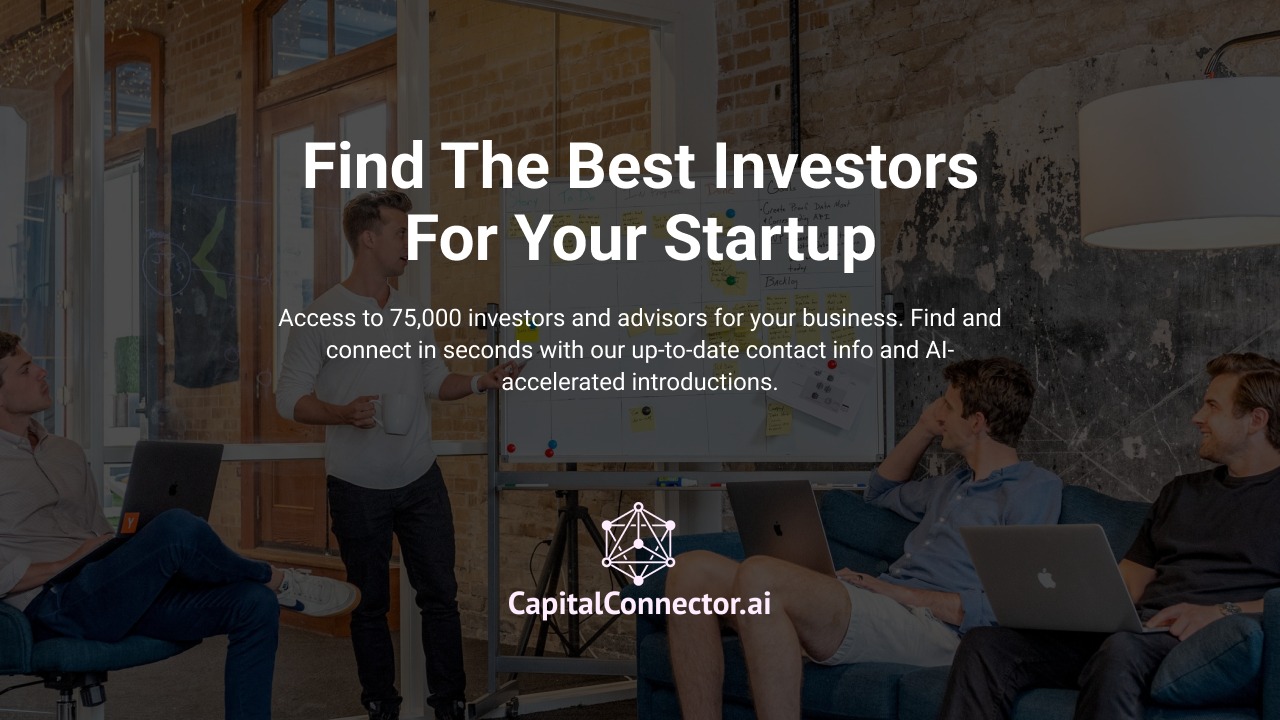 Introducing CapitalConnector.ai – your path to growth and success.
CapitalConnector.ai simplifies the search for the perfect investors, tailored to your venture's needs. Easily explore their location, investment preferences, and past investments within our comprehensive database, arming you with essential insights for connecting with the most suitable individuals to ensure your startup's success.
One significant advantage we offer is providing verified email addresses from our proprietary real-time database.
You can confidently reach out directly to investors, ensuring your message lands in the right inbox. Moreover, we provide links to their websites and social media profiles, allowing you to gain a profound understanding of their interests and expertise.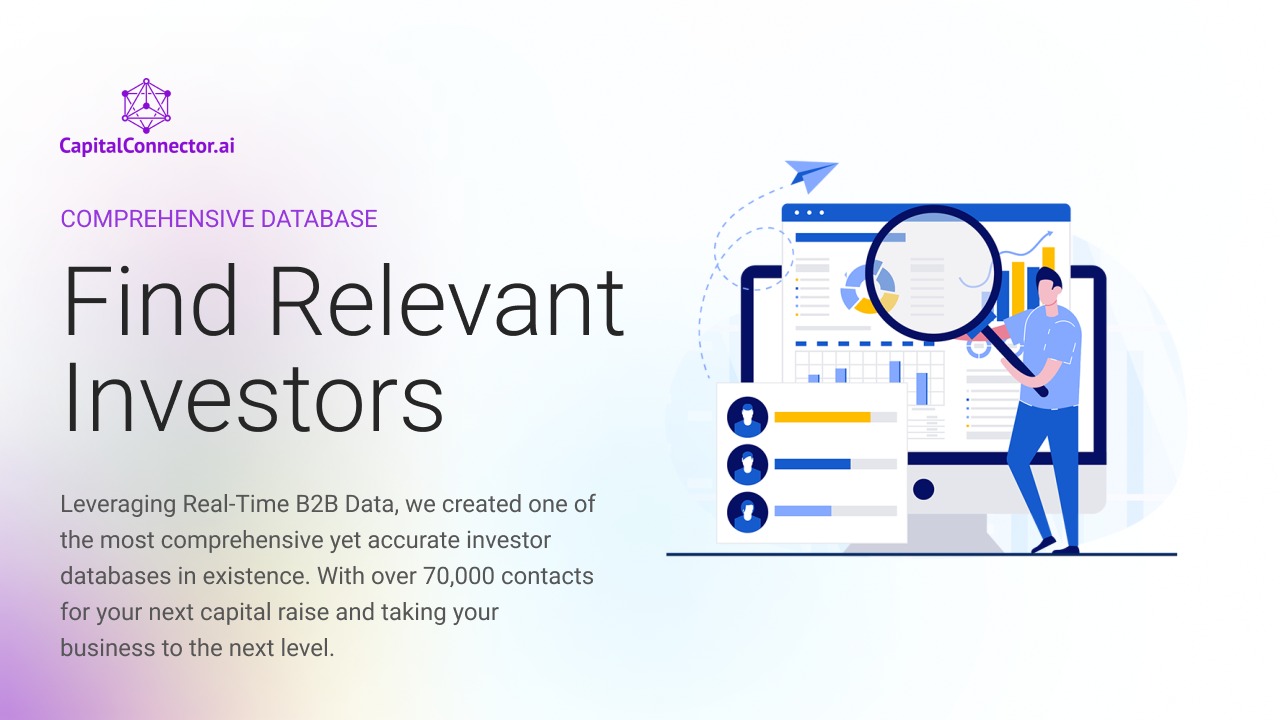 Discover your perfect investors.
Our real-time B2B data powers one of the most comprehensive and accurate investor databases available. With over 70,000 contacts, you'll find the right investors for your next capital raise, propelling your business to new heights.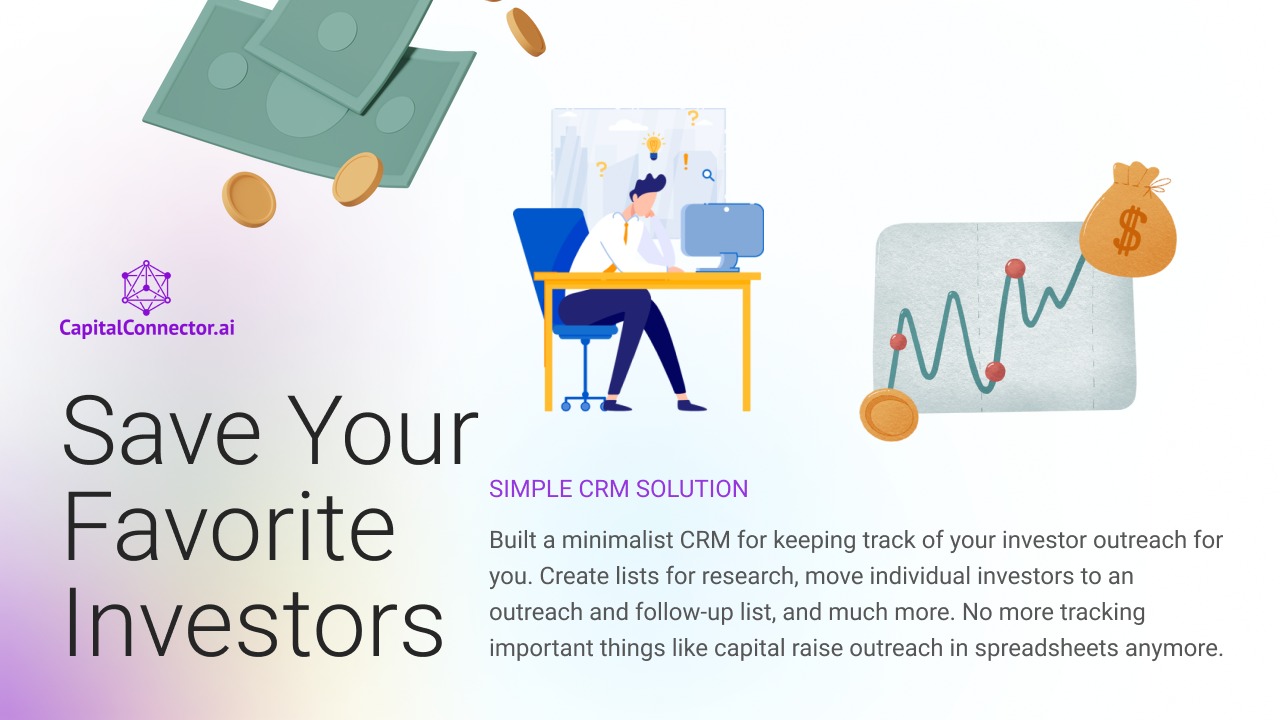 Simplify investor outreach.
You can also manage your outreach with our simplistic investor CRM within the platform. Track your research, when you send emails, when you demo, and whenever you close the deal.
These investors have supported companies like Apple and Amazon, and they come from all around the world. So, say goodbye to the fundraising headaches and hello to CapitalConnector.ai, your partner in finding the right investors for your efforts.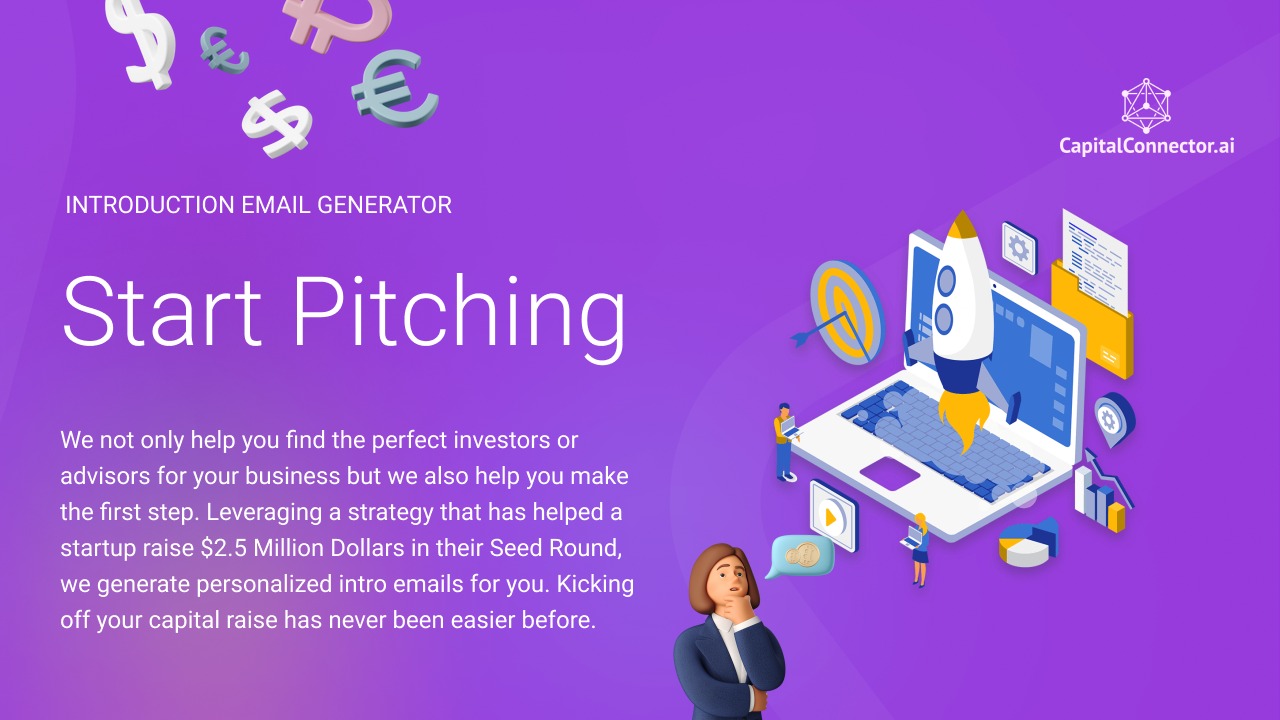 Take the first step with confidence.
We go beyond helping you find the perfect investors or advisors for your business.
With a proven strategy that raised $2.5 million dollars in a Seed Round for a startup, we generate personalized intro emails for you. Embark on your capital raise journey with ease and assurance.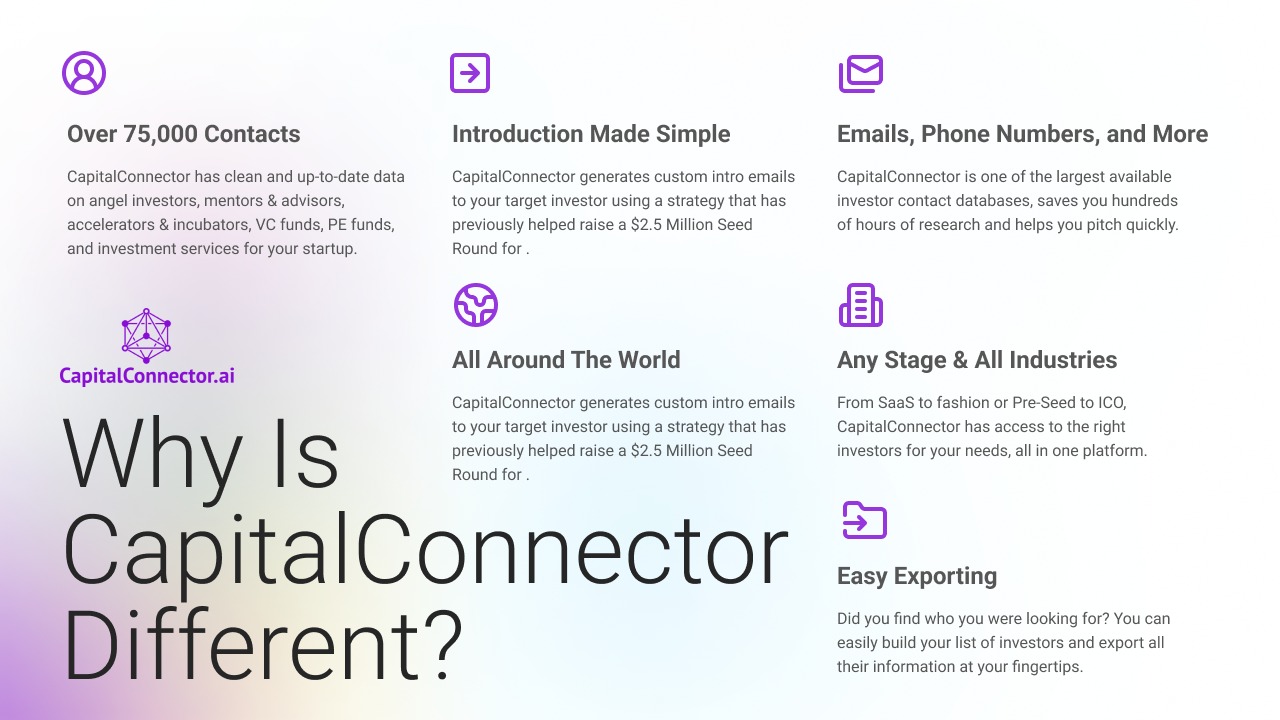 Explore the abundance CapitalConnector.ai can offer.
CapitalConnector.ai is not your typical investor database. With over 70,000 contacts, real-time B2B data, and verified email addresses, it offers an unparalleled edge in the competitive world of fundraising.
From angel investors to VC funds, our platform covers all industries and stages, providing a comprehensive solution for your capital raise needs. Pitch with confidence, make impactful connections, and take your business to new heights.
Say goodbye to the struggle of finding the right investors, mentors, and advisors. Our platform simplifies the process, allowing you to focus on what matters most—growing your startup. Join CapitalConnector today and experience the transformative power of seamless investor outreach.
Plans & features
Deal terms & conditions
Lifetime access to CapitalConnector.ai

You must redeem your code(s) within 60 days of purchase

All future plan updates

Stack up to 2 codes
Specification:
CapitalConnector.ai
Plan 1

All features above included
Unlock 500 contacts per month out of 75,000+ investors and other startup resources
Unlimited AI-Personalized intro email generator based on proven strategies
Unlimited searches for sector, stages, check size, locations, and more
Simple exporting to CSV

Plan 2

All features above included
Unlock unlimited contacts per month out of 75,000+ investors and other startup resources
Unlimited AI-Personalized intro email generator based on proven strategies
Unlimited searches for sector, stages, check size, locations and more
Simple exporting to CSV