Considerful
No matter what industry you're in, being on the customer-facing side of things can start to feel like Groundhog Day.
When you're answering the same questions repeatedly, it's easy to slip and send an embarrassing email or twenty. ("I did it again. I wrote 'Thanks for reaching out, [INSERT CUSTOMER HERE]' instead of their name.")
If only you could say all the right things, while also saving time and energy on repetitive typing.
Overview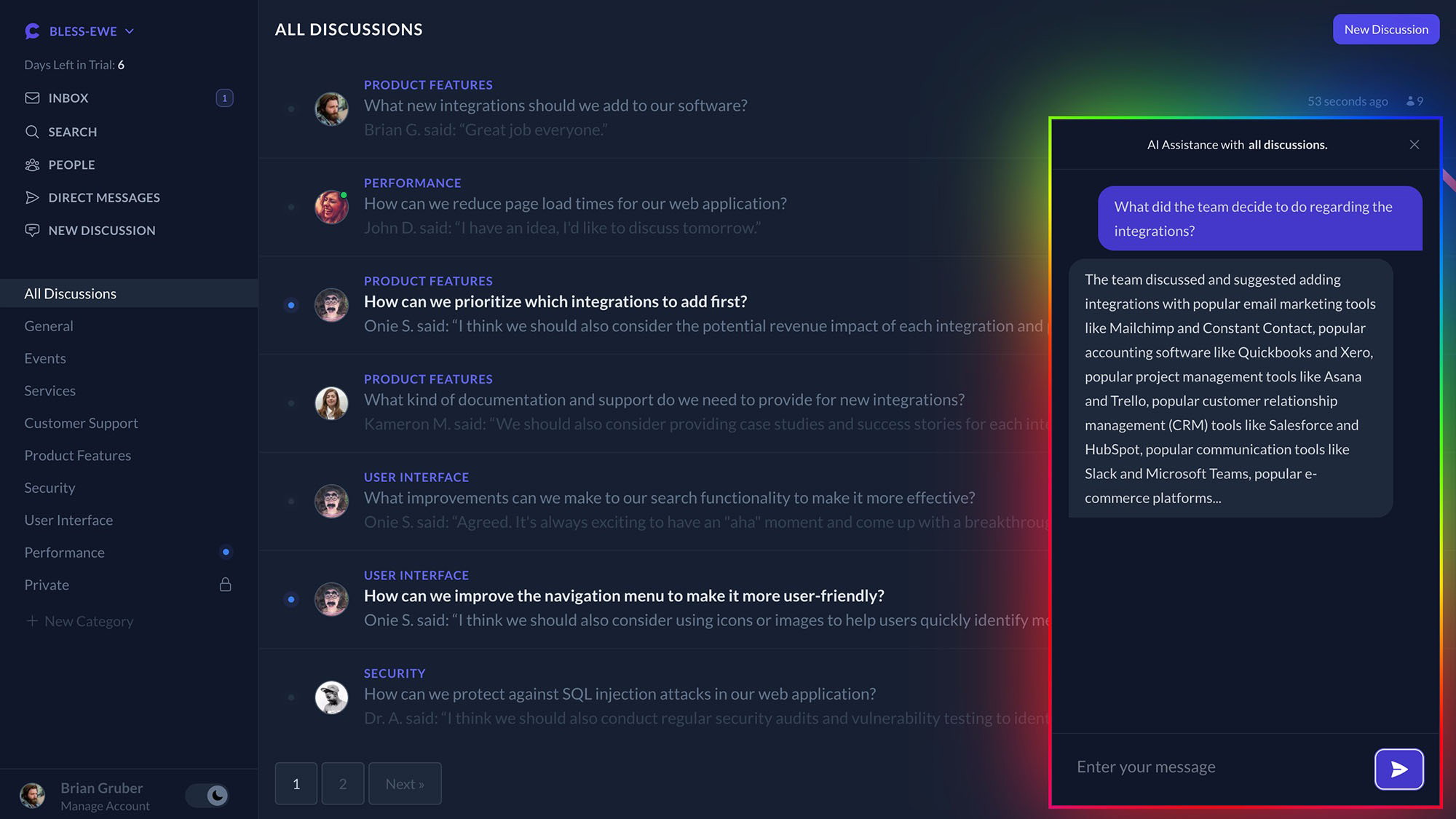 Harness the power of AI with Considerful.
AI assistant
A GPT-powered AI assistant stands ready to catch you up on ongoing conversations with handy summaries.
Simply ask the assistant, and it will scour your entire discussion history to provide answers, turning your conversations into a rich, searchable knowledge base.
Choose from a selection of pre-written prompts or create your own.
You can use the context of a single discussion, a high-level category, or every discussion your team has had.
Some useful AI abilities:
Parse out any action items from a discussion
Discover if there are any unanswered questions
Remind yourself what a team decided to do about XYZ
Summarize a discussion
Whatever else you can dream up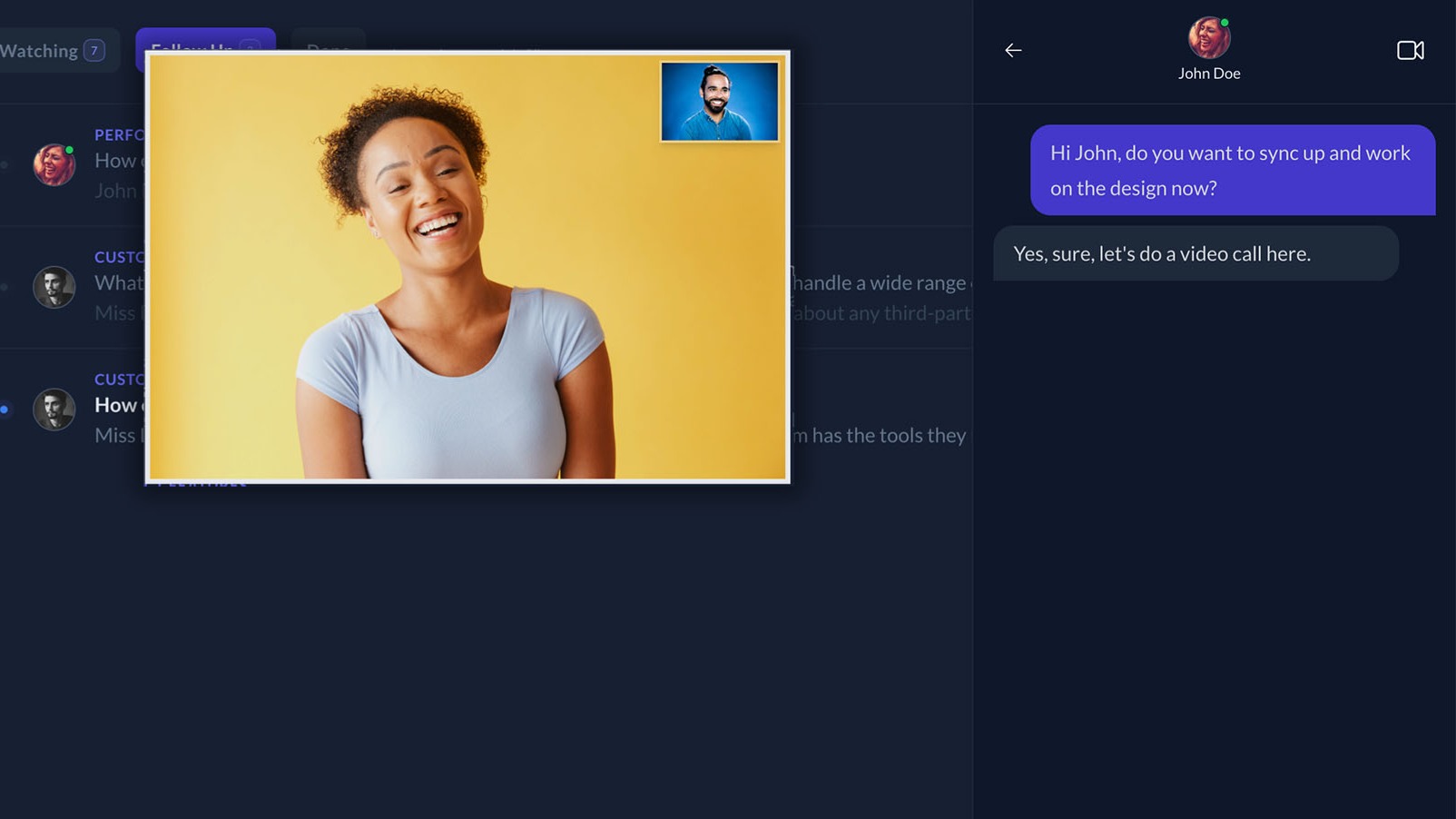 Integrated small group video/audio calling comes standard.
Real-time direct messaging and video calls when you need them
At Considerful, we prioritize focused, uninterrupted work.
That's why our direct messaging feature – including audio, video, and screen-sharing capabilities – exists separately from our topic-based discussions.
It's there for you when real-time interaction is necessary, without intruding on your work zone.
With Considerful, enjoy the perfect blend of deep, focused discussion and immediate connectivity, tailored to your needs.
Experience work-life harmony like never before.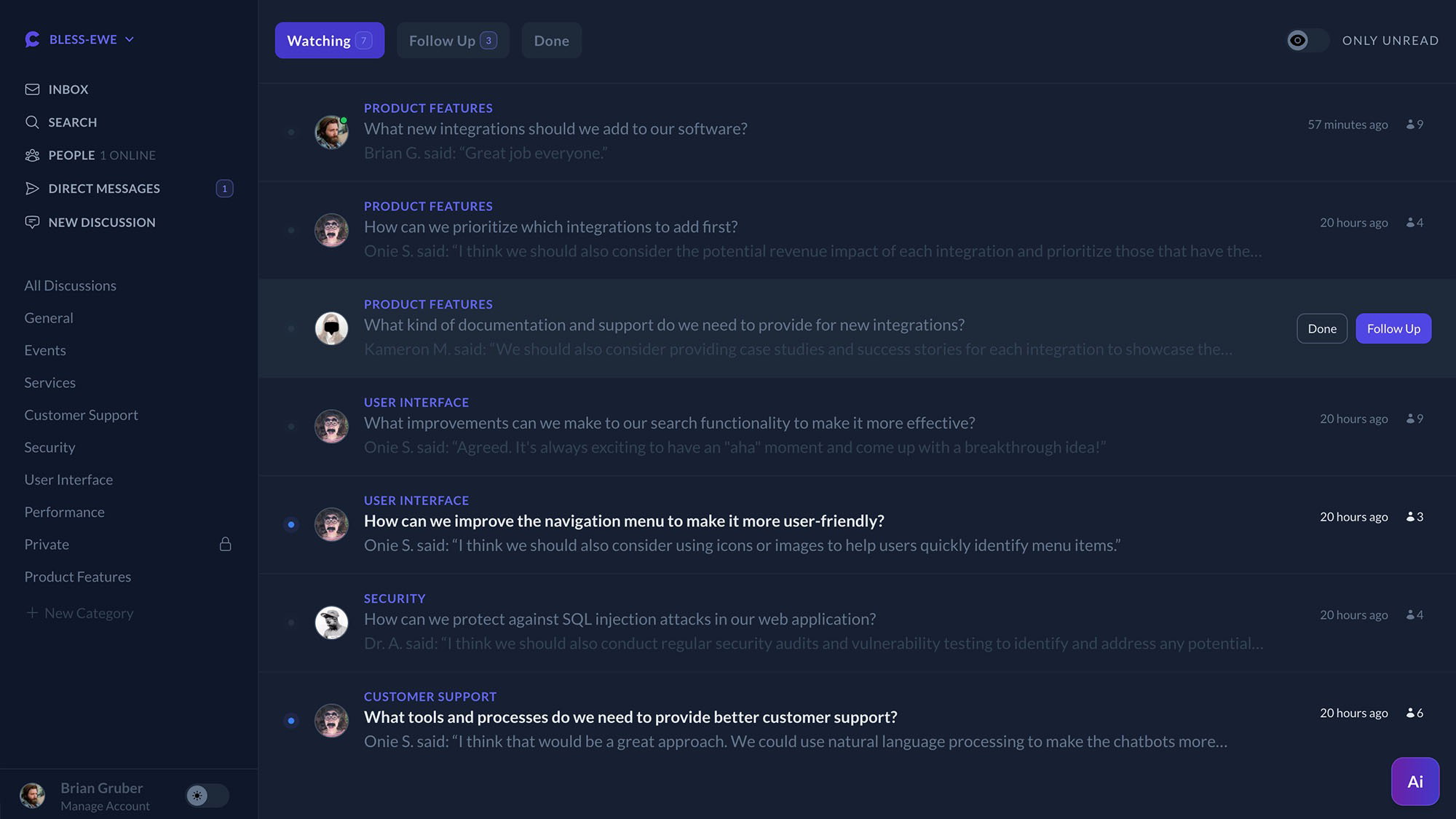 Get organized and stay on top of important topics at all times.
Topic-based async discussions
Immediate, conveyor-belt-style chat platforms like Slack foster an environment of urgency and panic.
If you aren't available the moment someone starts chatting, you've missed your chance to contribute to the conversation.
Considerful anchors discussions around specific topics. This structured approach ensures discussions are focused and insights don't get lost in a sea of irrelevant chatter.
The platform promotes asynchronous communication, allowing team members to chime in when they're most focused and prepared, rather than on-the-spot, leading to well-considered decisions.
Stay updated only with relevant discussions in a centralized inbox. Mark for follow-ups or clear them when done. If there's a new response, we've got you covered.
Get access to Considerful today!
Plans & features
Deal terms & conditions
Lifetime access to Considerful

You must redeem your code(s) within 60 days of purchase

All future plan updates

Stack up to 10 codes
Specification:
Considerful
10 User Plan

All features above included
10 user seats
Unlimited discussions
Unlimited chats
AI assistant

20 User Plan

All features above included
20 user seats
Unlimited discussions
Unlimited chats
AI assistant

30 User Plan

All features above included
30 user seats
Unlimited discussions
Unlimited chats
AI assistant