Formula Studio
No matter what industry you're in, being on the customer-facing side of things can start to feel like Groundhog Day.
When you're answering the same questions repeatedly, it's easy to slip and send an embarrassing email or twenty. ("I did it again. I wrote 'Thanks for reaching out, [INSERT CUSTOMER HERE]' instead of their name.")
If only you could say all the right things, while also saving time and energy on repetitive typing.
Overview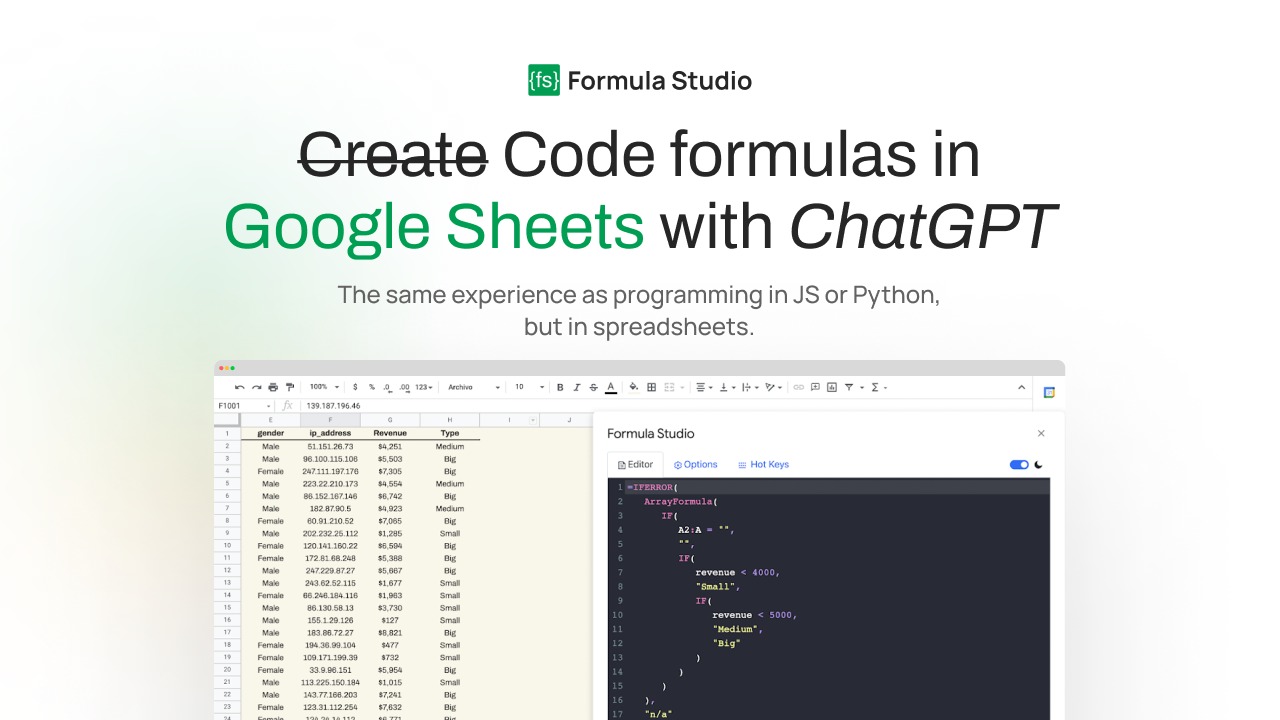 Explore the capabilities of creating code formulas in Google Sheets through ChatGPT's user-friendly interface.
Easily work with your formulas in Formula Studio's Editor tab. Paste the formula you've copied, or use the 'Get Formula' button to retrieve formulas from your selected cells.
Tidy up longer formulas using the 'Use ; as indentator' feature. This space allows you to freely edit and experiment with your formulas, providing an experience akin to coding in JS or Python, but within spreadsheets.
Empower your Google Sheets experience with Formula Studio's advanced features and AI integration.
Formula Studio brings a range of powerful features to streamline your Google Sheets experience. With ChatGPT integration, you can now create formulas using the capabilities of Artificial Intelligence, simplifying complex calculations.
The auto indentation feature enhances the visualization of intricate formulas, while auto dragging offers a lightweight version of Arrayformula for more efficient operations.
Formula Studio also introduces convenient shortcuts to increase your productivity, including the handy "Replace All" function that allows you to modify repetitive elements with just a couple of clicks.
Moreover, the inclusion of a dark mode ensures a visually pleasing and optimized coding environment, making your formula creation process both stylish and efficient.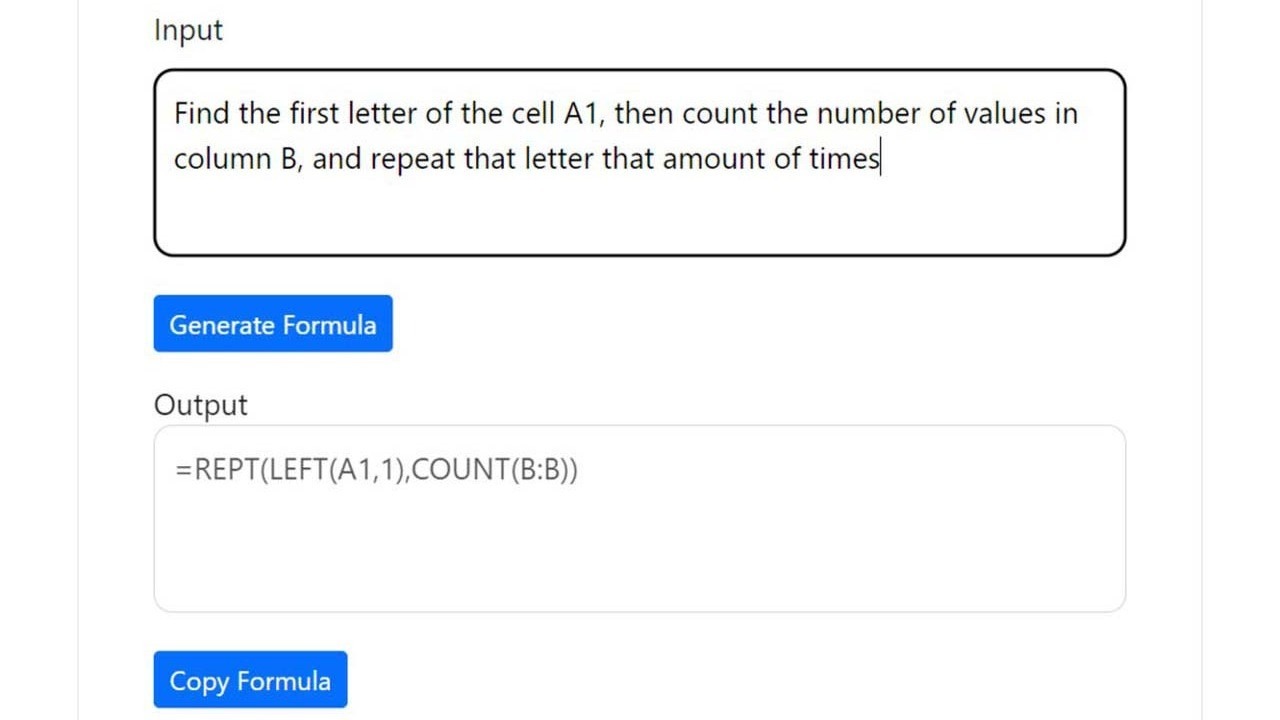 Describe your task, copy the formula – it's that simple!
To begin, navigate to the 'Formula A.I.' tab located at the top of the code editor. Just provide a description of your desired action in the input field, and witness the magic of artificial intelligence transforming it into Google Sheets formulas.
For instance, you can experiment with this: "Calculate the percentage increase between A2 and B2. Then round that result to one decimal place and concatenate a % sign." Click the 'Copy Formula' button to seamlessly copy the formula to your clipboard.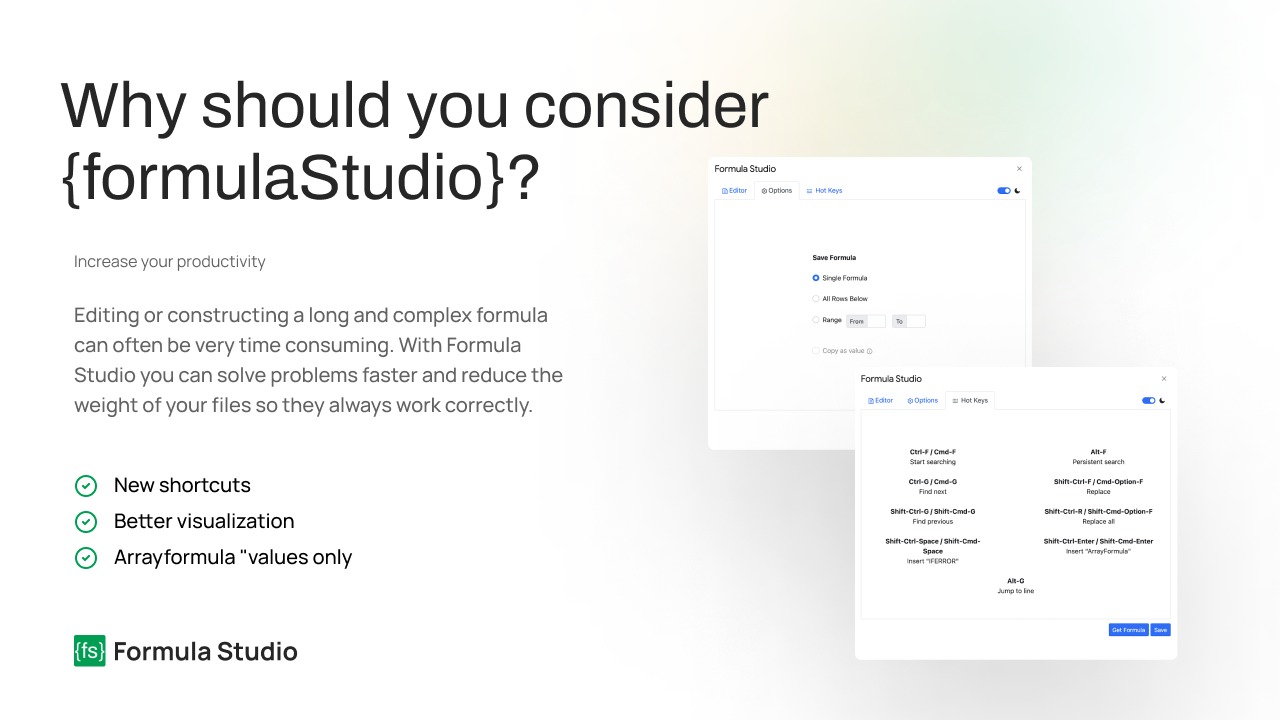 Elevate your Google Sheets experience with Formula Studio's enhanced features and streamlined functionality.
Opting for Formula Studio comes with a range of valuable advantages. It's a tool that not only enhances your productivity but also simplifies the intricate process of editing and constructing complex formulas.
With the introduction of new shortcuts, improved visualization, and simplified array formulas through the "values only" feature, Formula Studio transforms your Google Sheets experience, making it more efficient, intuitive, and accurate.
Embrace Formula Studio to elevate your spreadsheet work to a whole new level of convenience and effectiveness.
Unlock the potential of Formula Studio to revolutionize your Google Sheets experience and get access today!
Plans & features
Deal terms & conditions
Lifetime access to Formula Studio

You must redeem your code(s) within 60 days of purchase

All future Main Plan updates

Please note: This deal is not stackable
Specification:
Formula Studio
Formula Studio's Main Plan

Unlimited users
Formula shortcuts
Auto indentation
Formulas editor
Formulated cell highlight
Formula tester