Marketing Master IO – Plus exclusive
No matter what industry you're in, being on the customer-facing side of things can start to feel like Groundhog Day.
When you're answering the same questions repeatedly, it's easy to slip and send an embarrassing email or twenty. ("I did it again. I wrote 'Thanks for reaching out, [INSERT CUSTOMER HERE]' instead of their name.")
If only you could say all the right things, while also saving time and energy on repetitive typing.
Overview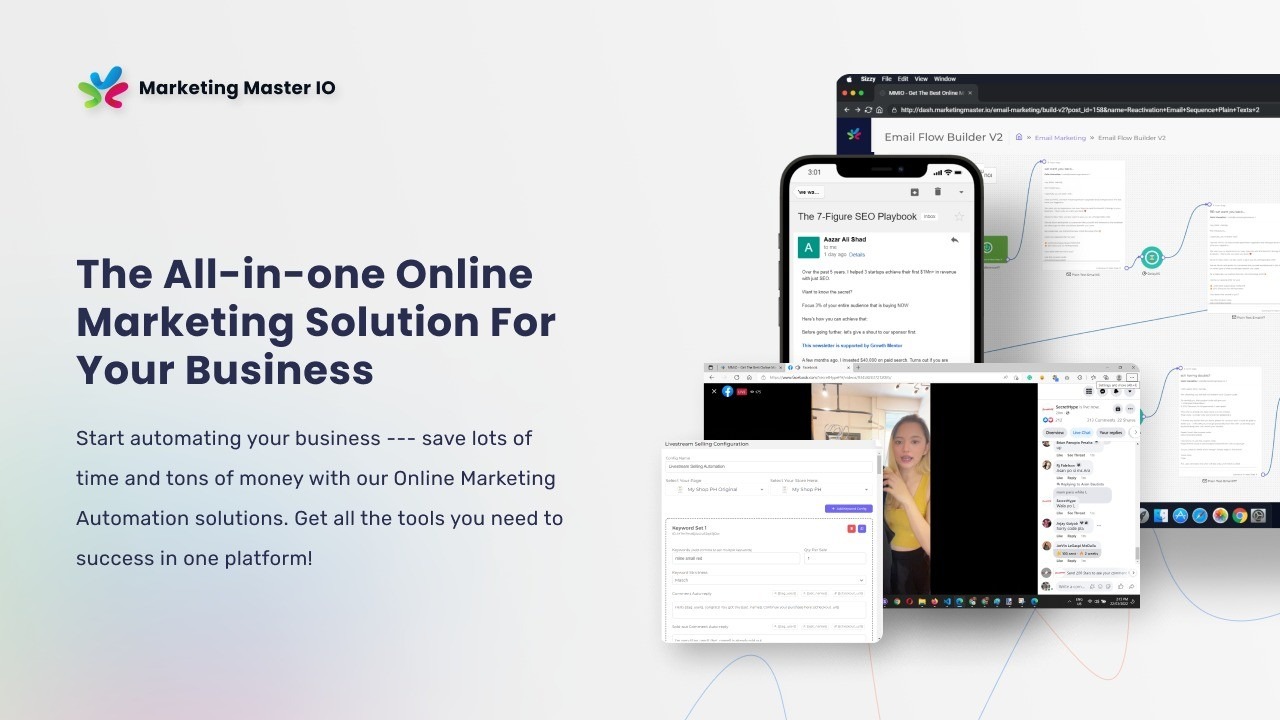 Start automating your business today.
MMIO is an all-in-one marketing suite that empowers business owners, beginners, and experts alike, to build online marketing automation that would sky-rocket their sales.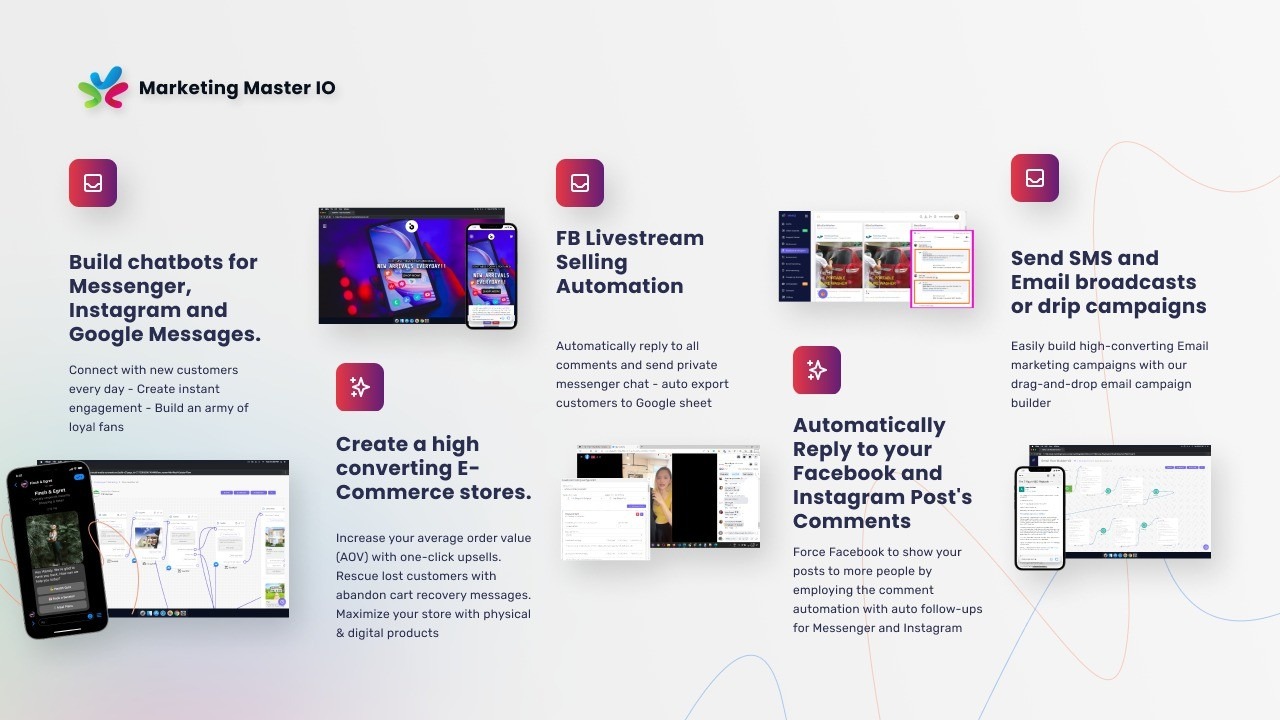 Everything you need, in one place.
With MMIO you have 5+ platforms in 1 – stop subscribing to multiple platforms. MMIO can easily replace them.
Need a chatbot in Google Messages, WhatsApp, Instagram, or Messenger? You got it.
Need to automate your Livestream gaming/selling? Not a problem.
Need an online store for your digital/physical products? Done.
Need to automate social media posting? Easy-peasy!
Need quick and easy landing pages? We got you covered.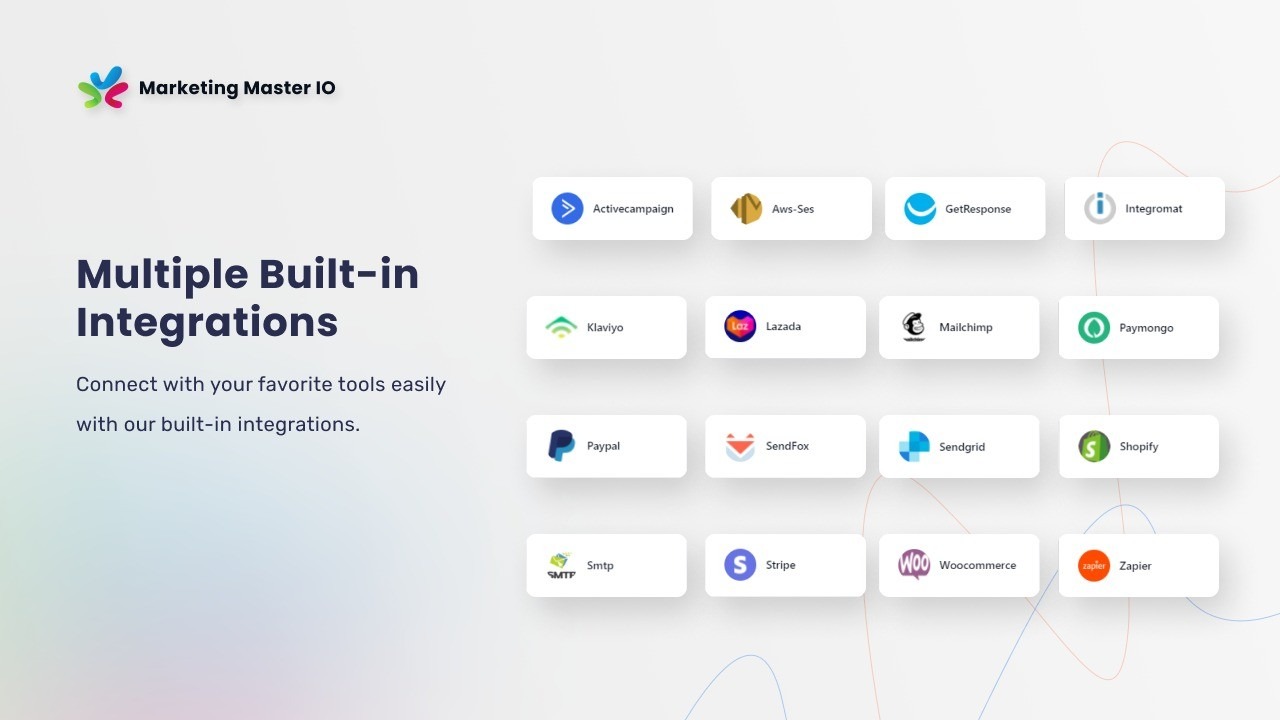 Our built-in integrations allow you to easily connect with your favorite tools.
Marketing Master IO gives you the power to build a brand that people know, recognize and trust.
With our powerful tools, you can create everything you need to respond to your customers in an instant. And because it's all automated, once you've set it up, you're done. Your customers will feel valued, they'll have their objections answered and they'll enjoy a great user experience.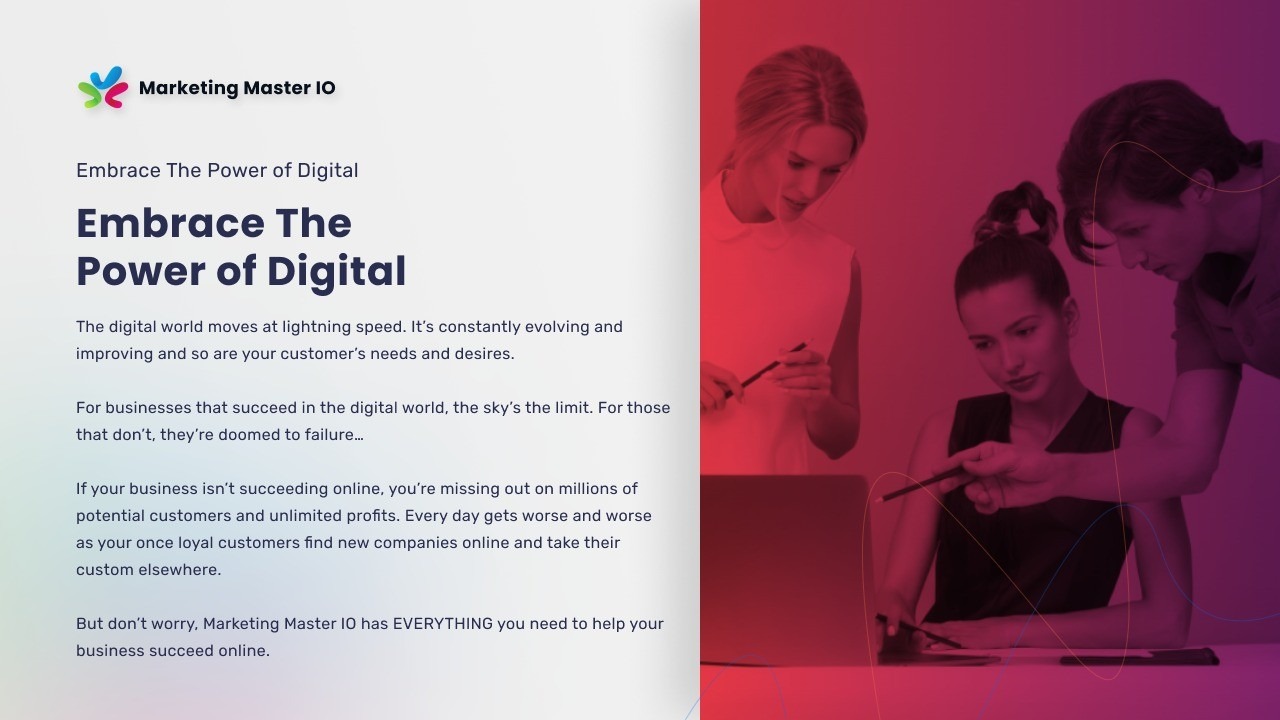 Help your business succeed.
Get this Plus exclusive deal today!
Plans & features
Deal terms & conditions
Lifetime access to Marketing Master IO

You must redeem your code(s) within 60 days of purchase

All future plan updates
60 day money-back guarantee. Try it out for 2 months to make sure it's right for you!
Specification:
Marketing Master IO – Plus exclusive
Marketing Master IO - Plus exclusive

Unlimited Google Messages, Instagram and Messenger subscribers
10,000 email contacts & 100,000 email sends per month
1 Facebook page, 1 Instagram acct, 1 WhatsApp biz acct, 5 FB Groups
1 Google My Business Messages Agents
1 Ecommerce store (with custom domain feature)
4 Livestream campaigns per month (Max of 60 min. each and up to 1000 MB)
1 post randomizer campaign
2 team member
Future updates to Apprentice plan
Stack 1 additional code:
10 team members, 25,000 email contacts & 250,000 email sends per month
5 FB Pages, 5 Instagram accts, 5 WhatsApp biz accts, and 5 FB Groups
5 Ecommerce stores (with custom domain feature)
5 Google My Business Messages Agents, 5 Ecommerce stores (with custom domain feature)
5 Livestream Campaigns per month (Max of 1 hour each and video size of 1500 MB)
5 post randomizer campaigns, Future updates to Master plan
Stack 3 additional codes:
20 team members, 100,000 email contacts & 500,000 email sends per month
10 FB Pages, 10 Instagram accts, 10 WhatsApp biz. accts, 10 FB Groups
10 Ecommerce stores (with custom domain feature)
10 Google My Business Messages Agents
10 Livestream Campaign/ month (Max of 1.5 hrs each and video size of 2000 MB)
10 post randomizer campaigns, 10 Ecommerce stores (with custom domain feature)
Future updates to Grand Master plan
Stack 6 additional codes:
40 team members, 40 client accounts, CNAME+ whitelabel
500,000 email contacts & 5,000,000 email sends per month
50 FB Pages, 50 Instagram accts, 50 WhatsApp Biz accts, 50 FB Groups
50 Google My Business Messages Agents
50 Ecommerce stores (with custom domain feature),
50 Livestream Campaigns/ month (Max of 480 min each & video size of 8000 MB)
50 post randomizer campaigns
Future updates to Ultra Grand Master plan