Mitigated.io
No matter what industry you're in, being on the customer-facing side of things can start to feel like Groundhog Day.
When you're answering the same questions repeatedly, it's easy to slip and send an embarrassing email or twenty. ("I did it again. I wrote 'Thanks for reaching out, [INSERT CUSTOMER HERE]' instead of their name.")
If only you could say all the right things, while also saving time and energy on repetitive typing.
Overview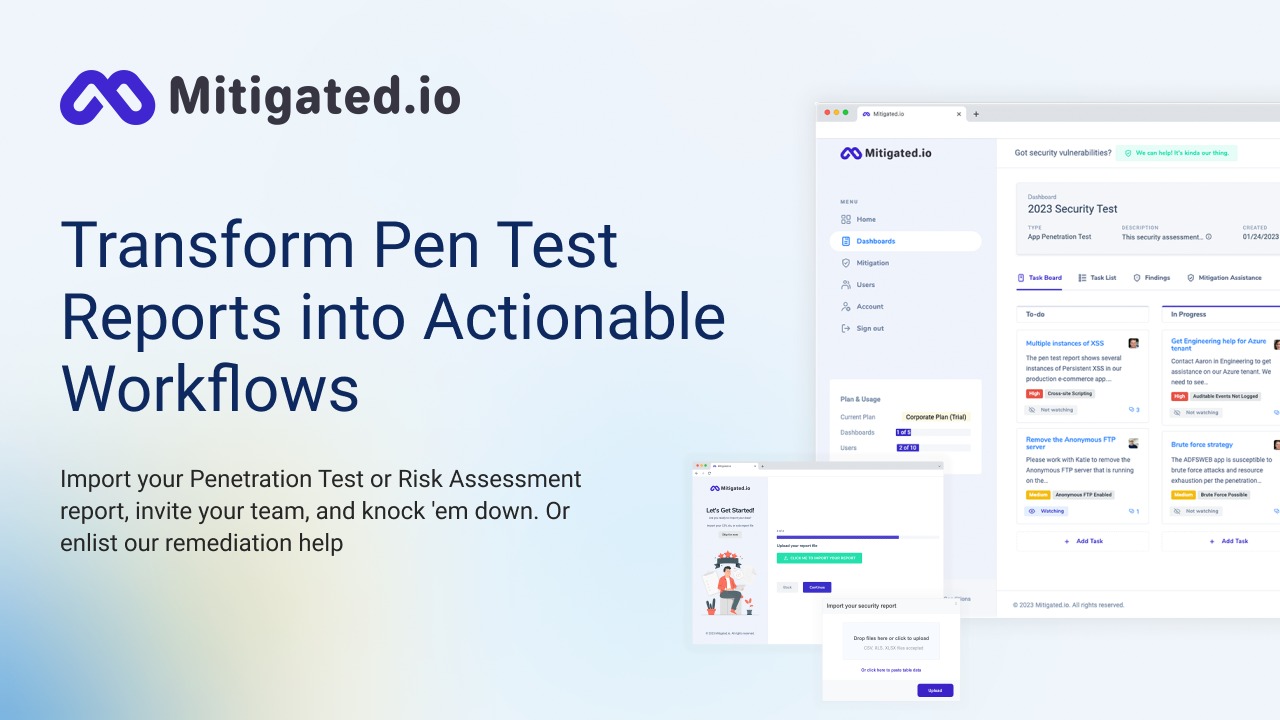 Transform pen test reports into actionable workflows.
You have received the penetration test report, but now you are struggling with understanding technical jargon, coordinating with teams, monitoring the progress of remediation, and lacking an efficient workflow. With Mitigated.io, you can simplify the process by importing your Penetration Test or Risk Assessment report, inviting your team, and efficiently tackling the issues or even seeking assistance with remediation!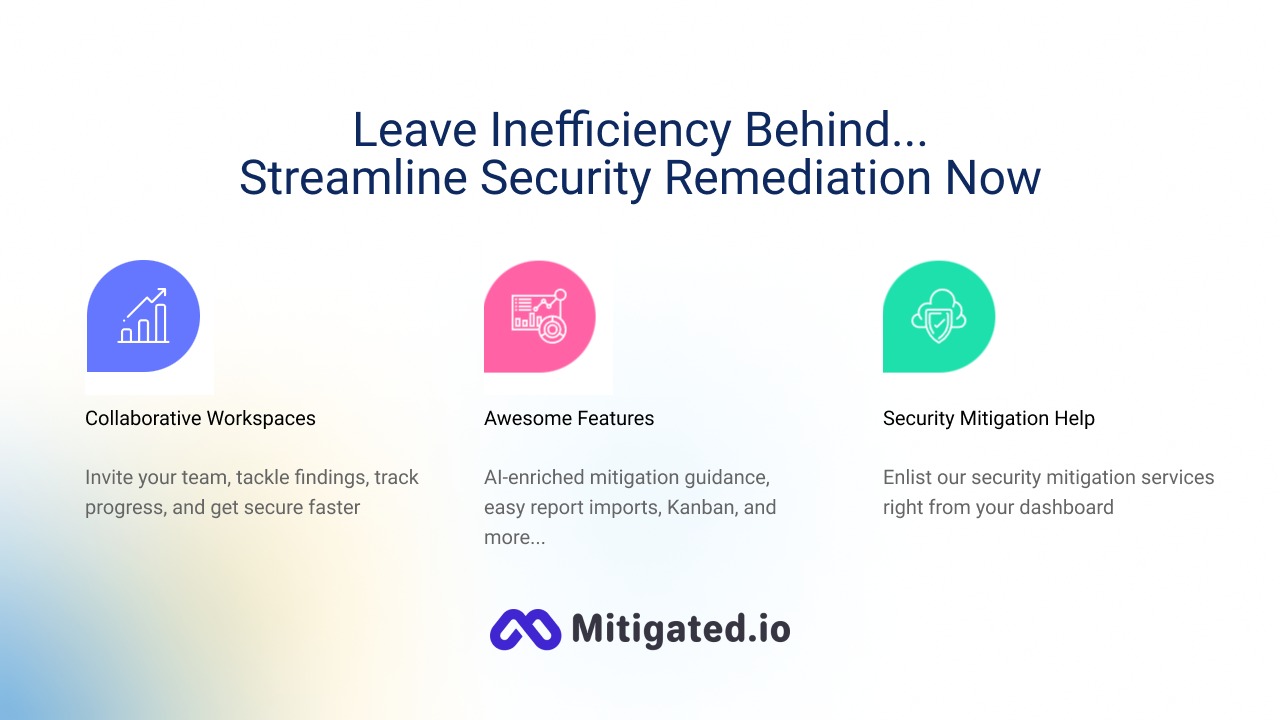 Leave inefficiency behind, and streamline security remediation now.
A few standout features of Mitigated.io include:
Collaborative Workspaces — Invite your team, tackle findings, track progress, and get secure faster
Awesome Features — AI-enriched mitigation guidance, easy report imports, Kanban, and more…
Security Mitigation Help — Enlist our security mitigation services right from your dashboard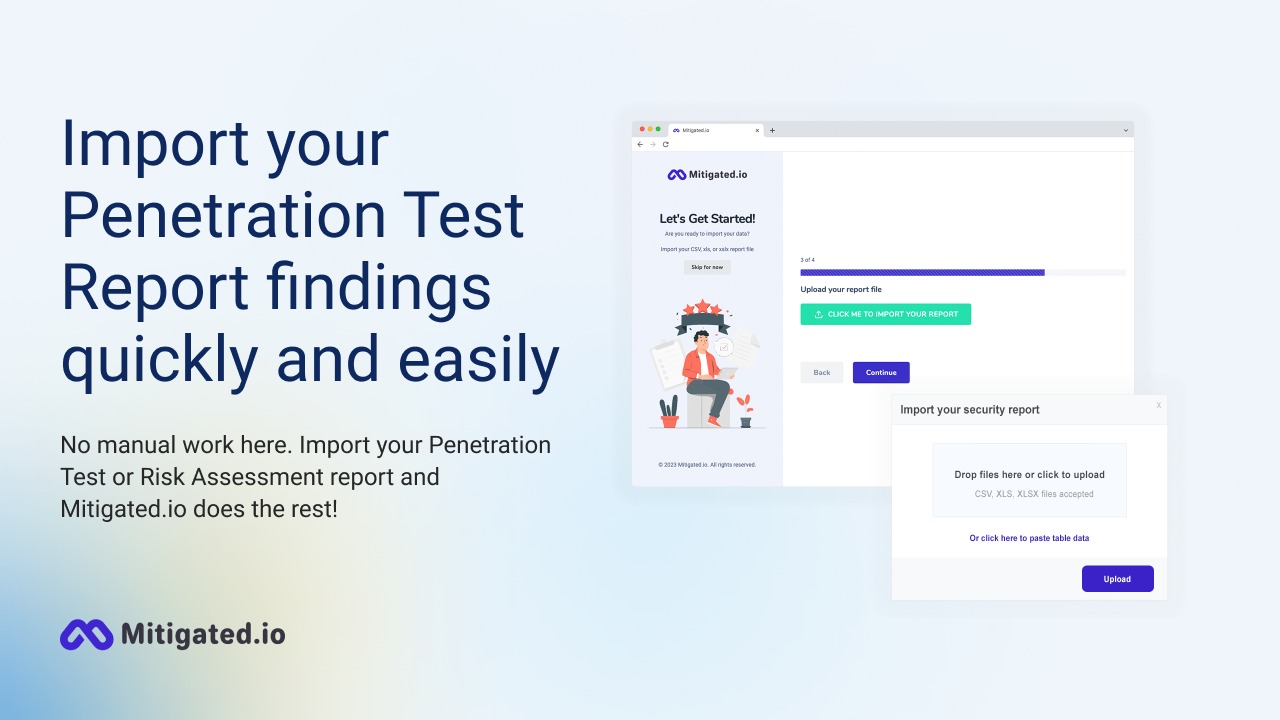 Import your penetration test report findings quickly and easily.
Embrace the world of automation and bid farewell to tedious manual tasks! With Mitigated.io at your service, there's no need for you to lift a finger. Simply import your Penetration Test or Risk Assessment report, and let the magic of our cutting-edge platform take care of the rest! Effortlessly streamline your workflow and focus on what truly matters – securing your organization's digital landscape with ease and efficiency!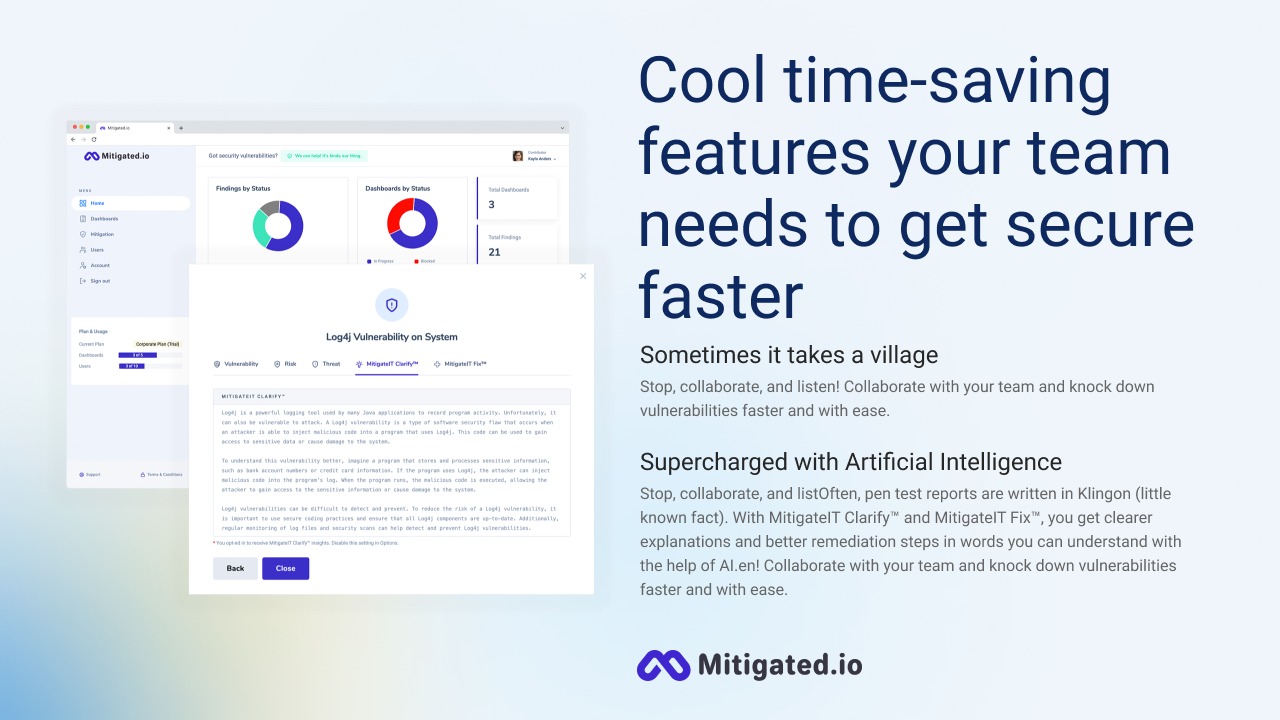 Stop, collaborate, and listen.
Unleash the power of seamless teamwork and tackle vulnerabilities swiftly and effortlessly alongside your dedicated team.
Embrace the extraordinary capabilities of Artificial Intelligence, propelling your security endeavors to new heights.
It's no secret that pen test reports can sometimes seem like they're written in Klingon (a little-known fact). But fear not! With MitigateIT Clarify™ and MitigateIT Fix™, you'll receive crystal-clear explanations and easily comprehensible remediation steps, all thanks to the incredible assistance of AI technology. Say goodbye to confusing jargon and welcome a smoother, more efficient security journey.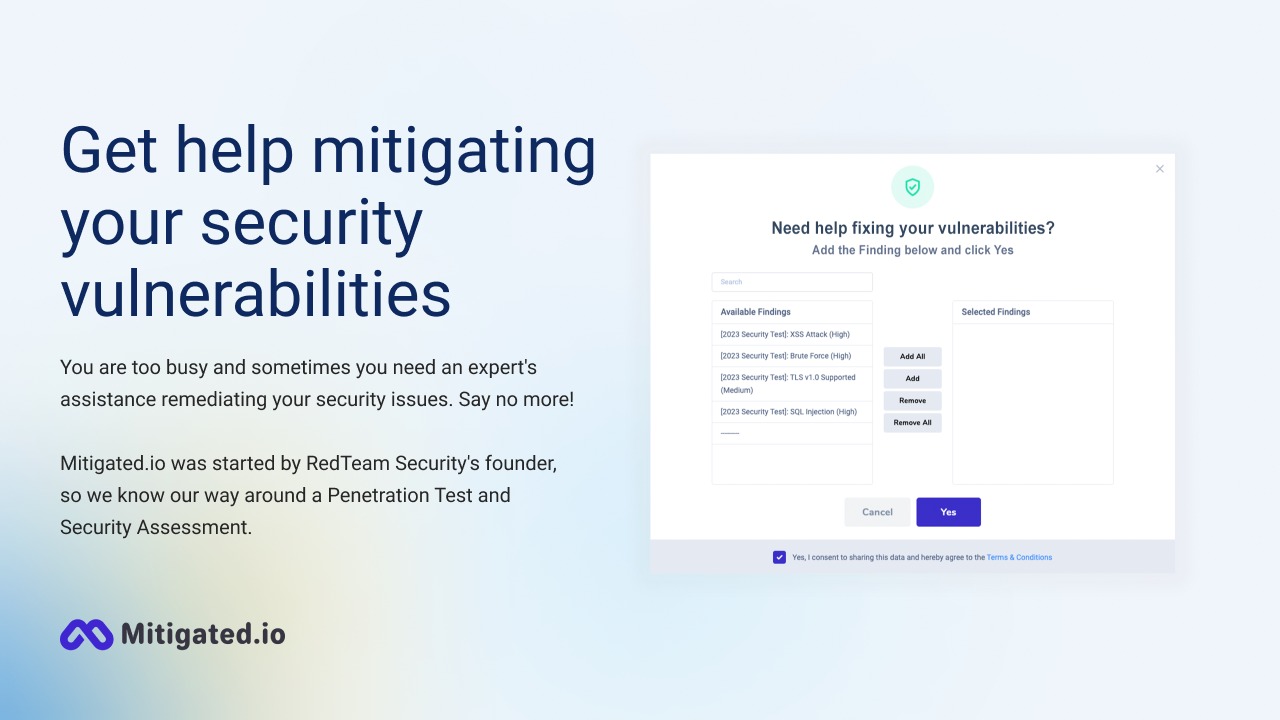 Security concerns? Say no more!
When you find yourself caught up in a whirlwind of tasks and require expert assistance in remedying your security issues, look no further!
Mitigated.io, founded by none other than the visionary mind behind RedTeam Security, brings unrivaled expertise and proficiency in Penetration Tests and Security Assessments to the table. With an in-depth understanding of the intricacies involved, our platform is uniquely equipped to guide you through the maze of challenges and provide the best solutions.
Say hello to the good life with Mitigated.io by your side – get access today! 🤖📚
Plans & features
Deal terms & conditions
Lifetime access to Mitigated.io

You must redeem your code(s) within 60 days of purchase

All future Team Plan updates

Please note: This deal is not stackable
Specification:
Mitigated.io
Team Plan

3 dashboards
5 team members
Collaborative workspaces
Penetration tests
Risk assessments
Import reports
Assign tasks
Track progress
Invite team members