Oliver POS
No matter what industry you're in, being on the customer-facing side of things can start to feel like Groundhog Day.
When you're answering the same questions repeatedly, it's easy to slip and send an embarrassing email or twenty. ("I did it again. I wrote 'Thanks for reaching out, [INSERT CUSTOMER HERE]' instead of their name.")
If only you could say all the right things, while also saving time and energy on repetitive typing.
Overview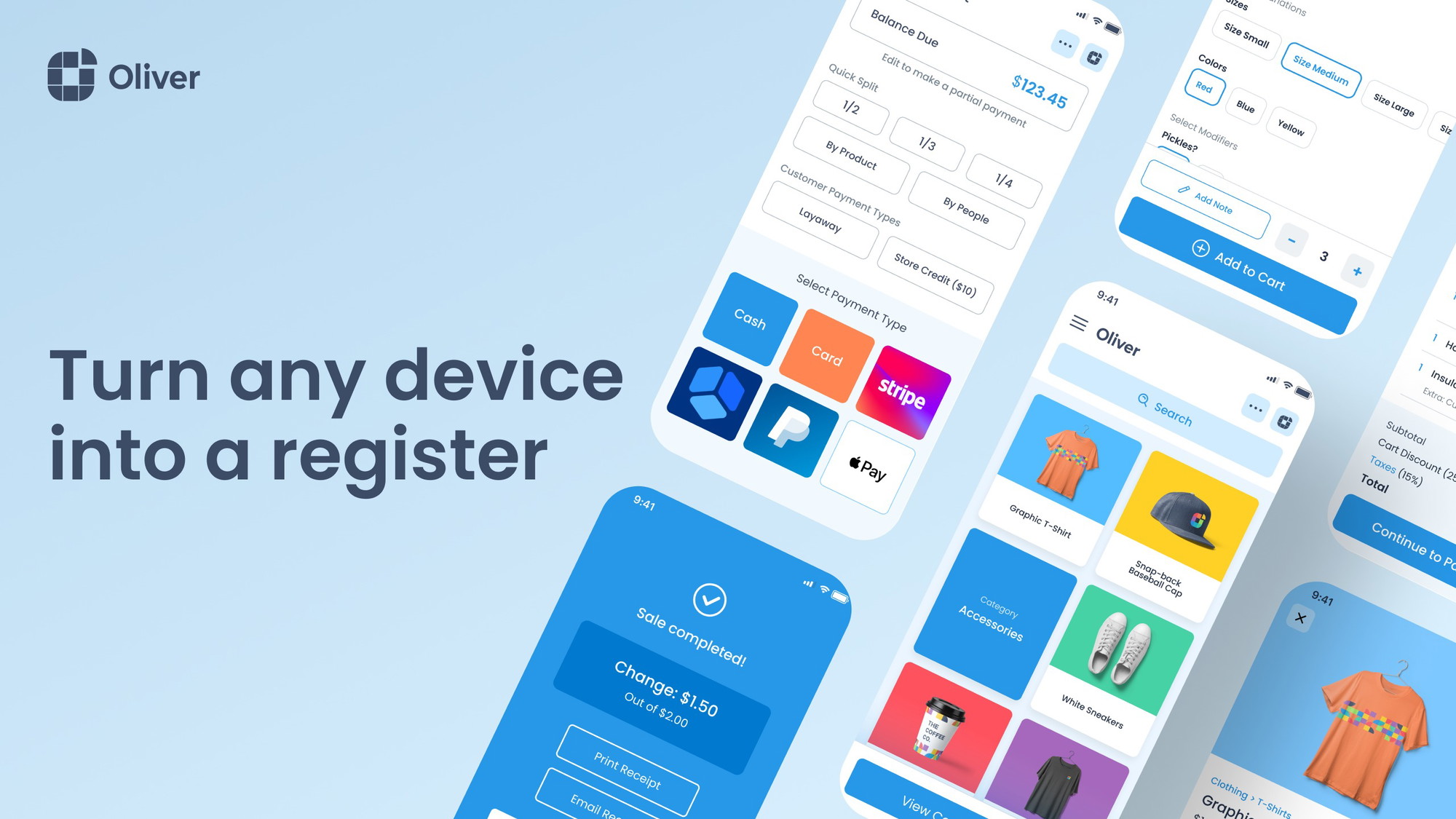 You can run Oliver POS in your web browser or through the iOS/Android app.
Turn Existing Devices into Oliver Registers.
Oliver POS is designed to work with the devices you've already got. Turn your tablet, phone, laptop or desktop computer into an Oliver register with either the browser version or the iOS/Android app.
Alternatively, for high-performing businesses, you can get dedicated Oliver Hardware with built-in printers, barcode scanners, etc. running the fastest and most robust version of Oliver POS.
Oliver POS has integrated card processing options as well as cash management.
Integrated Payments & Cash Management.
Oliver POS has a built-in, omnichannel payment solution called Oliver Pay. With Oliver Pay, you can take payments online and in-store with a variety of integrated terminal options, which will eliminate the need to manually enter the transaction total when accepting payments in-person.
Beyond Oliver Pay, there are other integrated processors available. There is also end-of-day reconciliation available for all payment options, including cash. You can also set up cash rounding rules and change due to customers will automatically be calculated.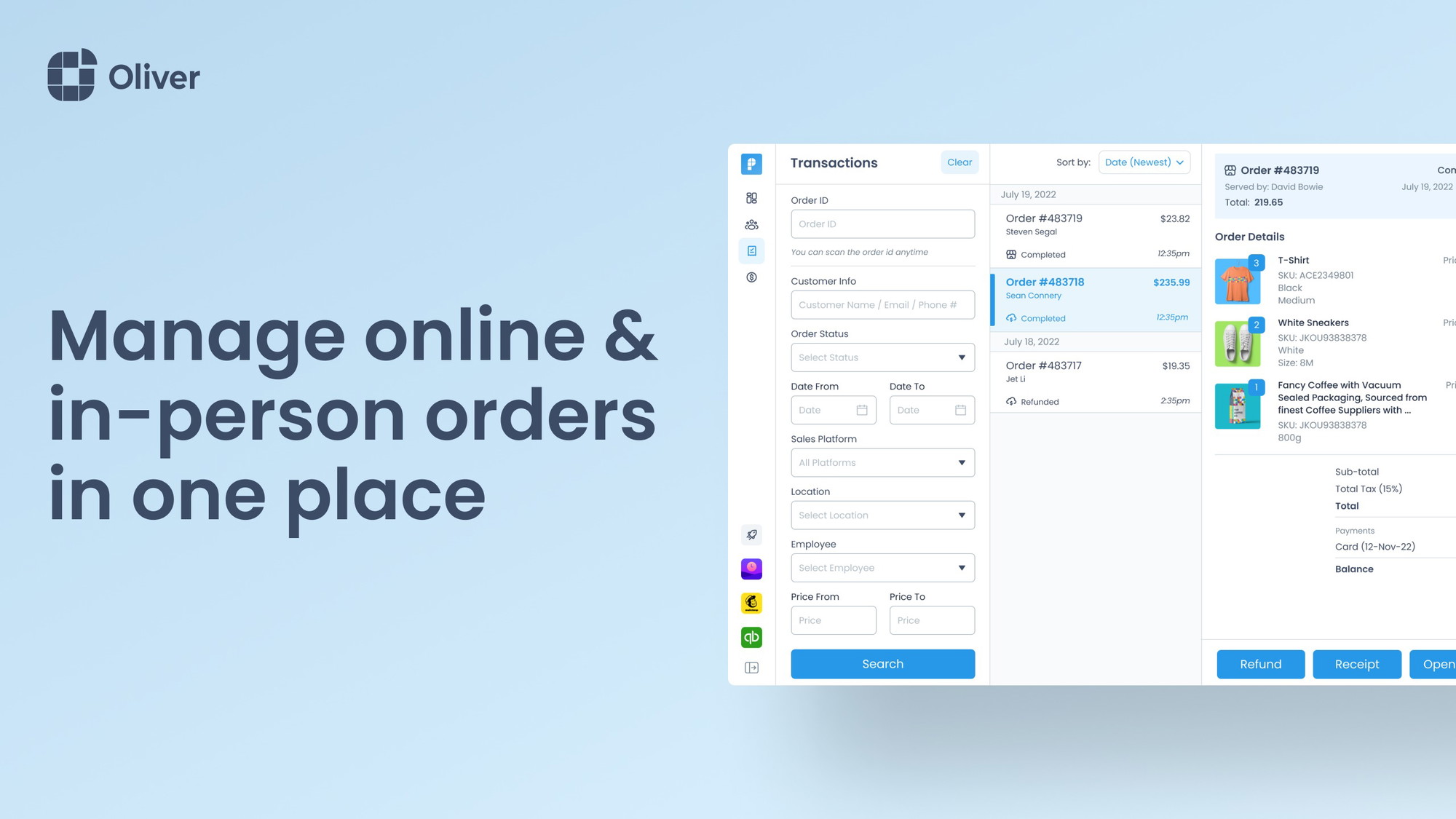 Oliver POS establishes a two-way sync with your WooCommerce store, making all your customers and orders accessible.
Never Oversell or Lose Track of Customers
Oliver POS lets you see all incoming orders, placed in-person and online, in the Oliver Register. Because of the two-way sync with orders and customers, both will also show up in your WooCommerce orders & customers sections, ensuring you never oversell or lose track of a customer.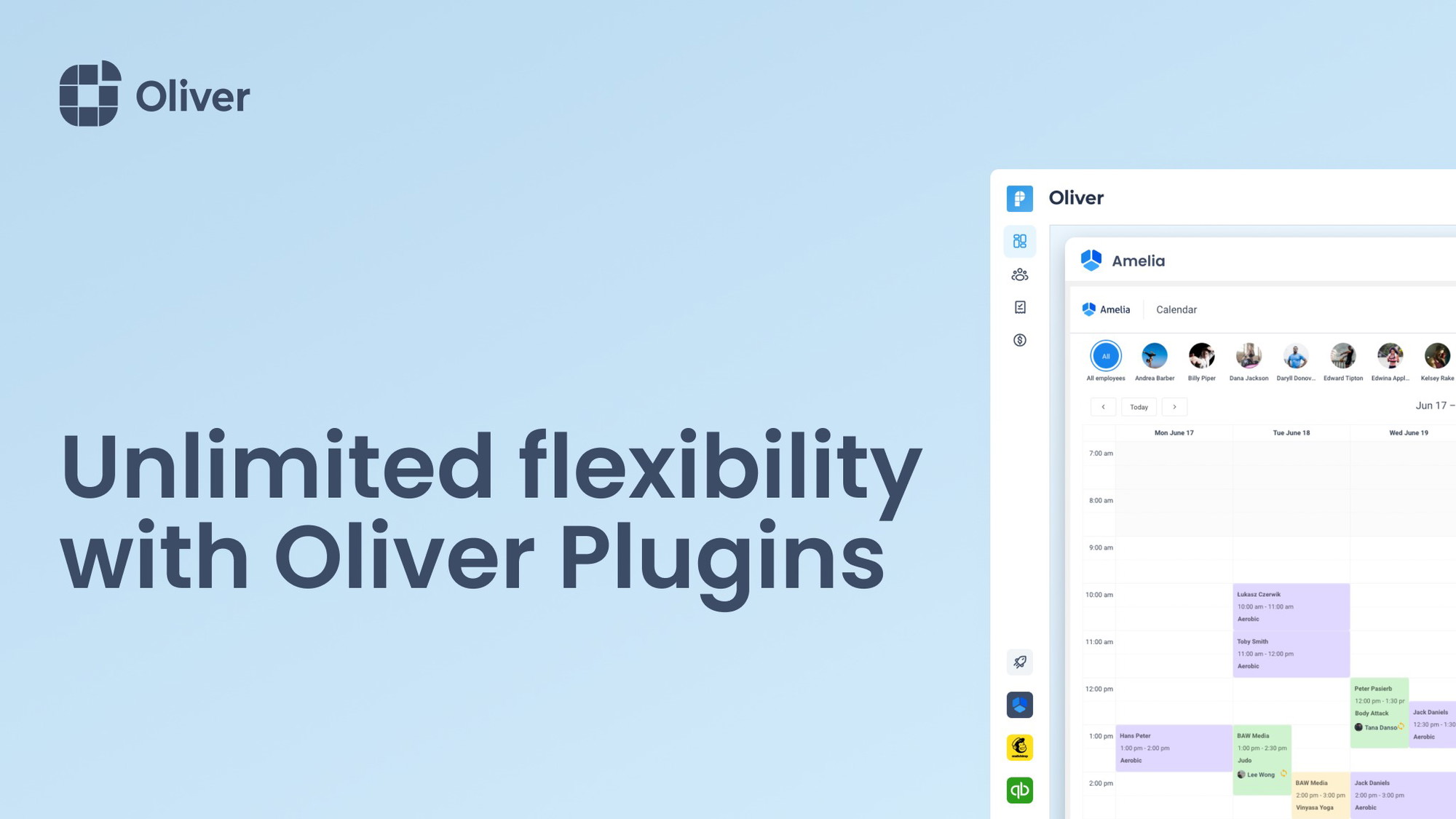 Oliver Plugins are vehicles for the additional integrations and features you need for Oliver POS.
Unlimited Flexibility with Oliver Plugins
With Oliver Plugins, you can introduce advanced product types, coupons, or virtually any other functionality to your brick-and-mortar store.
The starting point for many Oliver plugins is a WordPress plugin (e.g. Amelia, Smart Coupons, Points & Rewards, etc.).
Anyone can build Oliver Plugins using whatever programming languages they want. Get one built by the Oliver team, or get support in building one yourself.
Get access to Oliver POS today!
Plans & features
Deal terms & conditions
Lifetime access to Oliver POS

You must redeem your code(s) within 60 days of purchase

All future Basic Plan updates

Please note: This deal is not stackable
Specification:
Oliver POS
Oliver Basic

Unlimited transactions
Unlimited products
Unlimited customers
Oliver plugins
Integrated payment solution
Oliver plugins/ apps
End-of-day reconciliation and cash management
Tax rate selector
Live chat
Custom payment solutions