ProdCamp
No matter what industry you're in, being on the customer-facing side of things can start to feel like Groundhog Day.
When you're answering the same questions repeatedly, it's easy to slip and send an embarrassing email or twenty. ("I did it again. I wrote 'Thanks for reaching out, [INSERT CUSTOMER HERE]' instead of their name.")
If only you could say all the right things, while also saving time and energy on repetitive typing.
Overview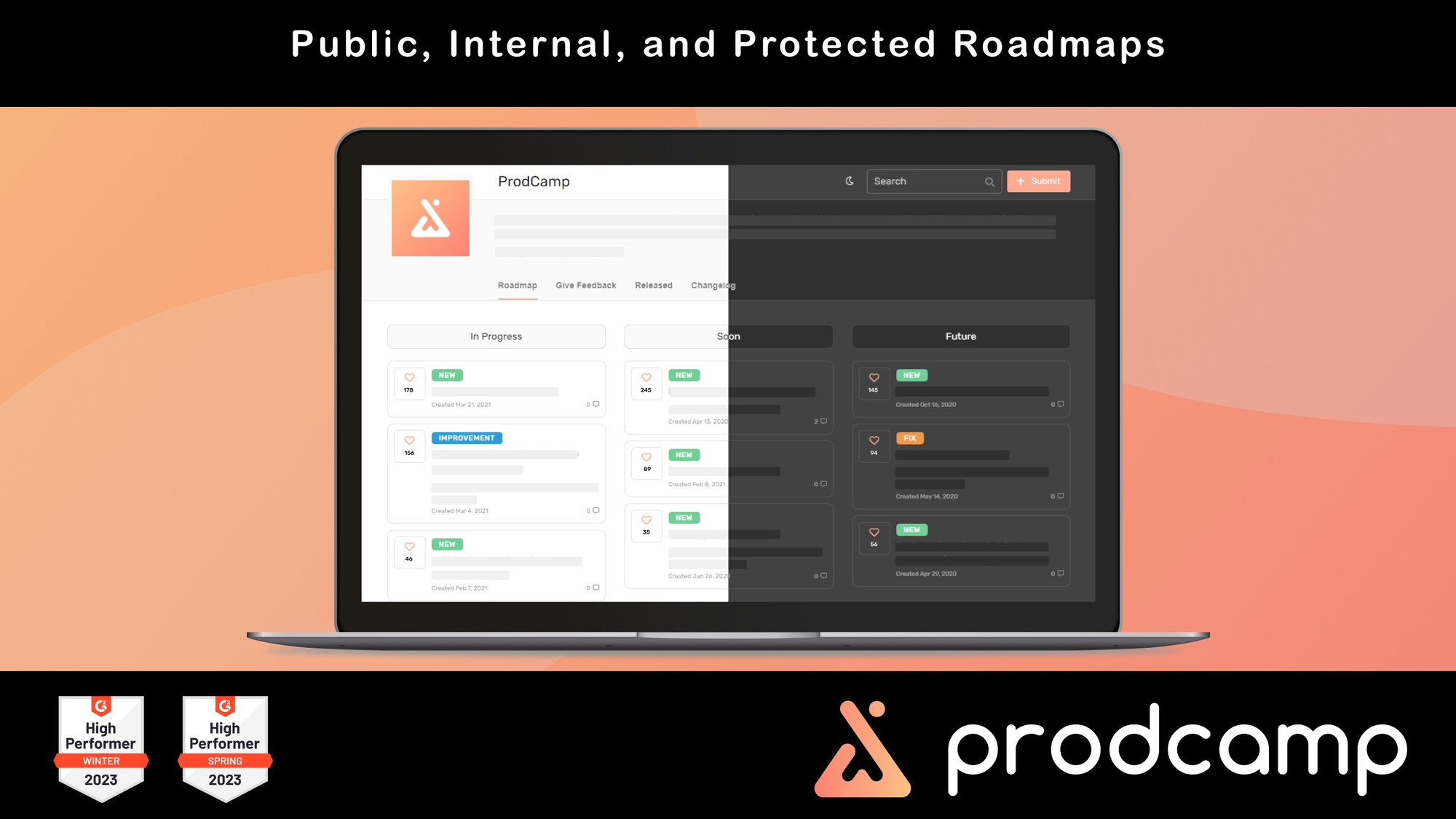 Leverage user feedback to build what your customers actually need.
One of the greatest advantages of using ProdCamp is its ability to conveniently capture customer feedback across multiple channels. This ensures you're meeting your customers where they are and collecting their insights, no matter the platform they choose to use.
The channels for collecting feedback include emails, public roadmaps, Net Promoter Score (NPS), a feedback widget, and a Chrome extension. Even Intercom messenger, a popular tool for customer communication, is a part of this feedback collection suite.
All this feedback is then funneled into ProdCamp, creating a single, unified inbox. This consolidation eliminates the potential chaos of scattered feedback and ensures no piece of customer insight is lost in the shuffle. With everything in one place, your team can readily access and analyze feedback, making informed decisions that prioritize customer needs.
Whether your customers are sharing their thoughts via email or through a widget on your site, ProdCamp ensures their voices are heard. This convenient, all-encompassing solution helps turn customer feedback into actionable insights for your product development.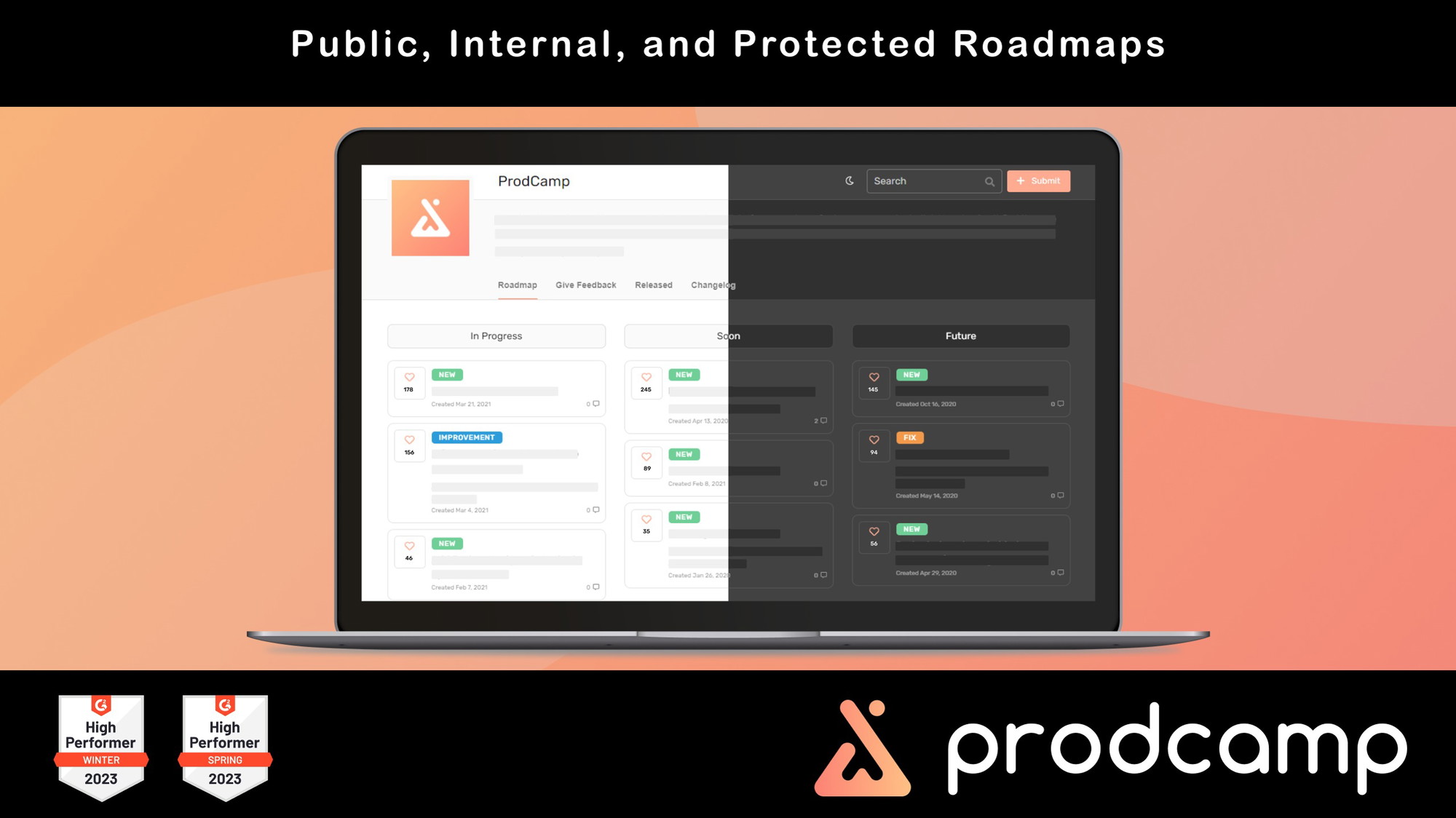 ProdCamp public roadmap mock.
ProdCamp offers a range of roadmap options, each addressing specific needs:
Public Roadmaps: These allow customers to view future product plans, fostering transparency and engagement. They're also a valuable feedback source, ensuring your plans align with customer desires.
Internal Roadmaps: These help synchronize your team by visualizing the product development plan. It's an effective tool for managing workflows and maintaining alignment across your team.
Protected Roadmaps: Offering a balance between public and internal, these roadmaps let you control visibility through adjustable permissions. This feature is useful for sharing specific plans with selected customers or team members.
In essence, ProdCamp's roadmapping options cater to various visibility levels, effectively aligning both internal and external stakeholders around your product's trajectory. Harness these tools to create a customer-focused development environment.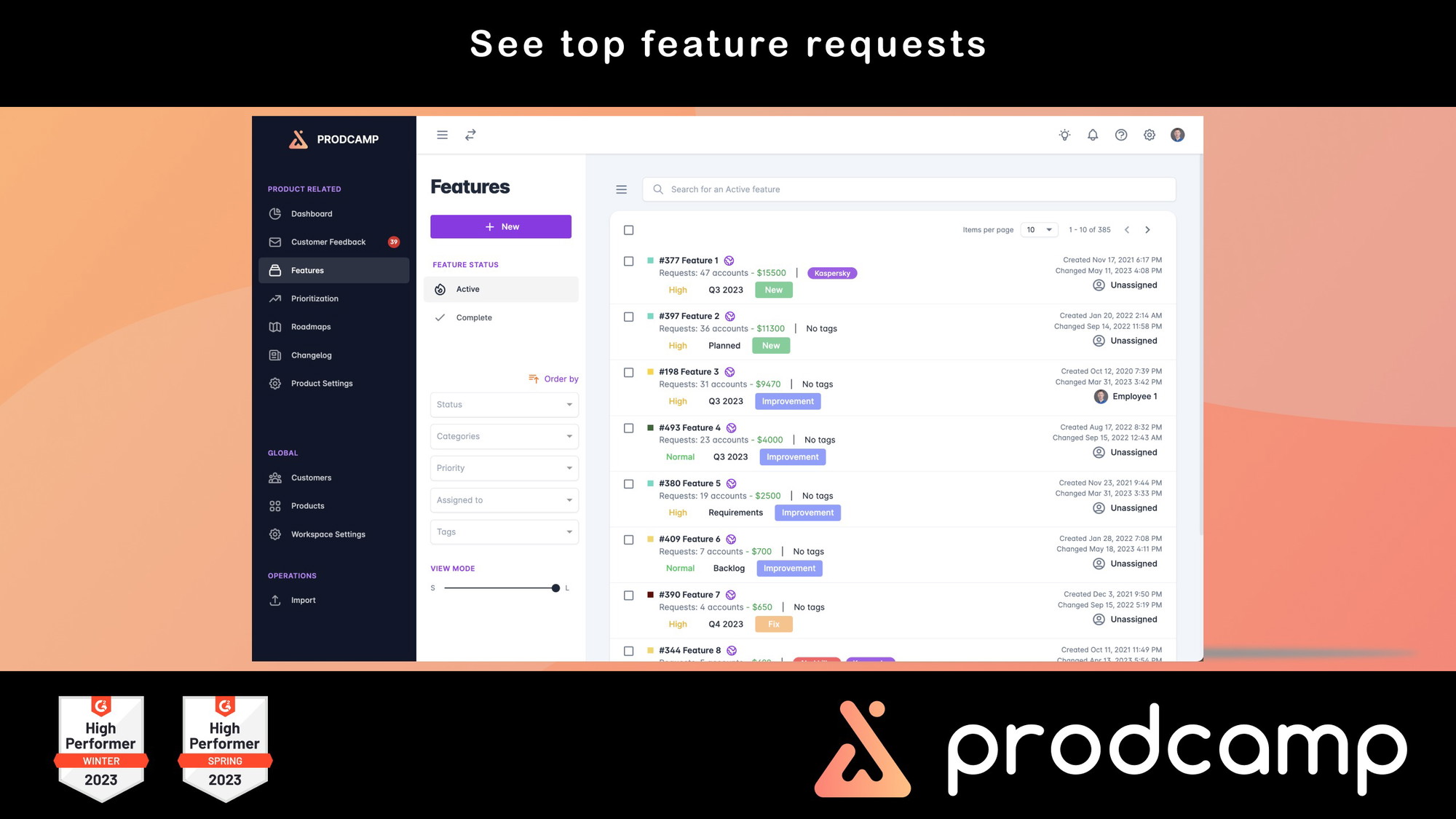 A few of ProdCamp's top features.
ProdCamp's page that show top feature requests is a convenient way to an internal understanding of what customers want most from your product.
Top Feature Requests: This function allows your team to identify and rank the most requested features by your customers. By analyzing these requests, you can understand your customers' needs and priorities more clearly, ensuring that your product development aligns with customer expectations.
This valuable data not only guides your development decisions, but also helps to maintain a customer-focused approach in your organization. Prioritizing according to customer needs can lead to increased user satisfaction and loyalty, making your product more successful in the market.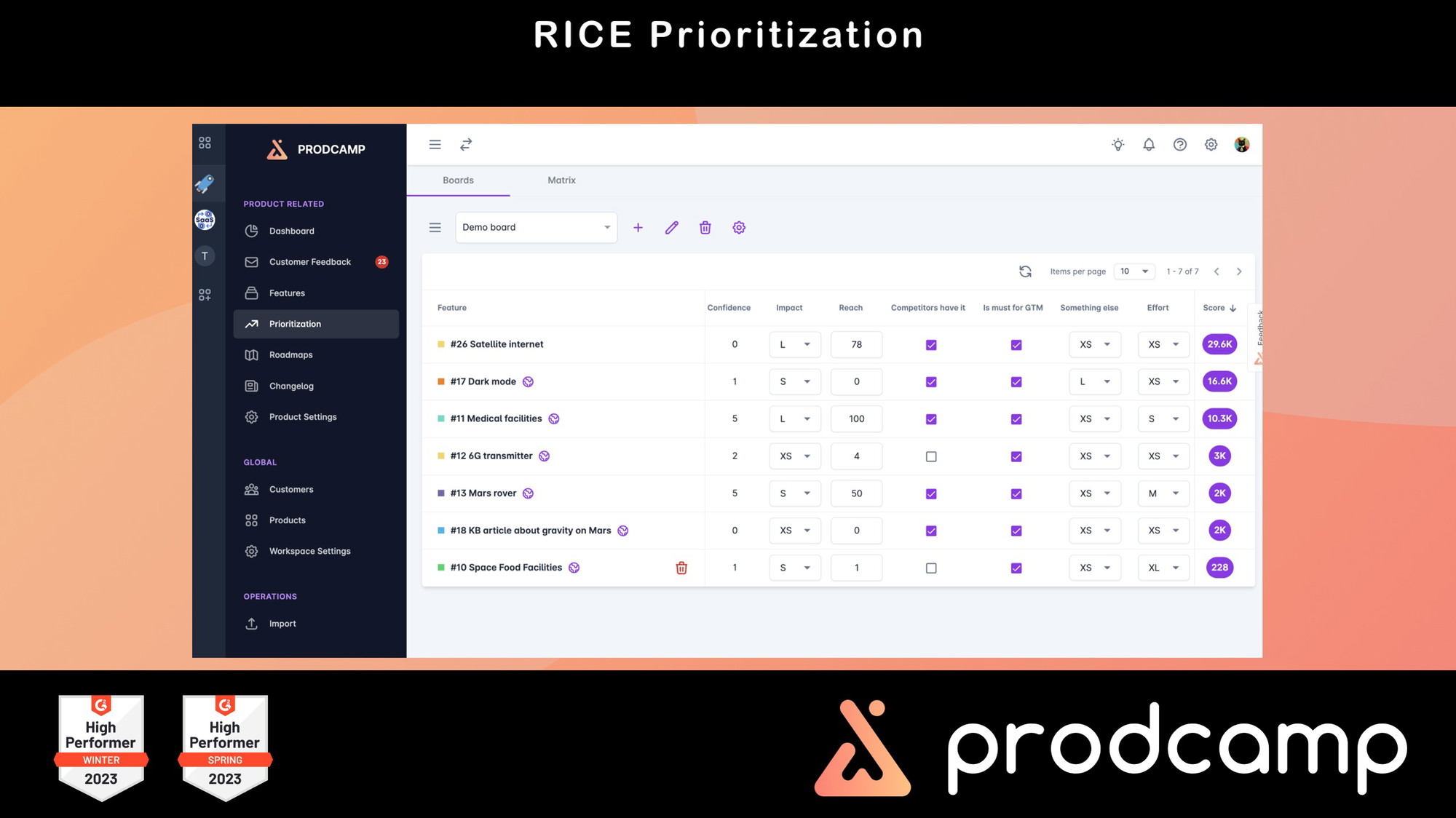 Flexible feature prioritization will help you to focus on what's really important and will bring you the most value.
ProdCamp's RICE Prioritization and Prioritization Matrix are key features designed to aid in data-driven decision-making for feature development.
RICE Prioritization: An acronym for Reach, Impact, Confidence, and Effort, RICE is a scoring model that provides a systematic method to prioritize features. It helps you analyze the potential benefits and costs of a feature, ensuring resources are allocated optimally. And even more, since it's configurable.
Impact-Effort Prioritization Matrix: This tool allows teams to visualize the significance and feasibility of different features. By mapping features onto the matrix, teams can more easily decide what to work on next based on business value and the effort needed.
Both these tools aim to provide a clear, quantifiable method for decision-making. By employing these strategies, you can ensure that your product development efforts are concentrated on the features that will deliver the most value to your customers and your business. This methodical approach can enhance efficiency, reduce wasted resources, and ultimately lead to a more successful product.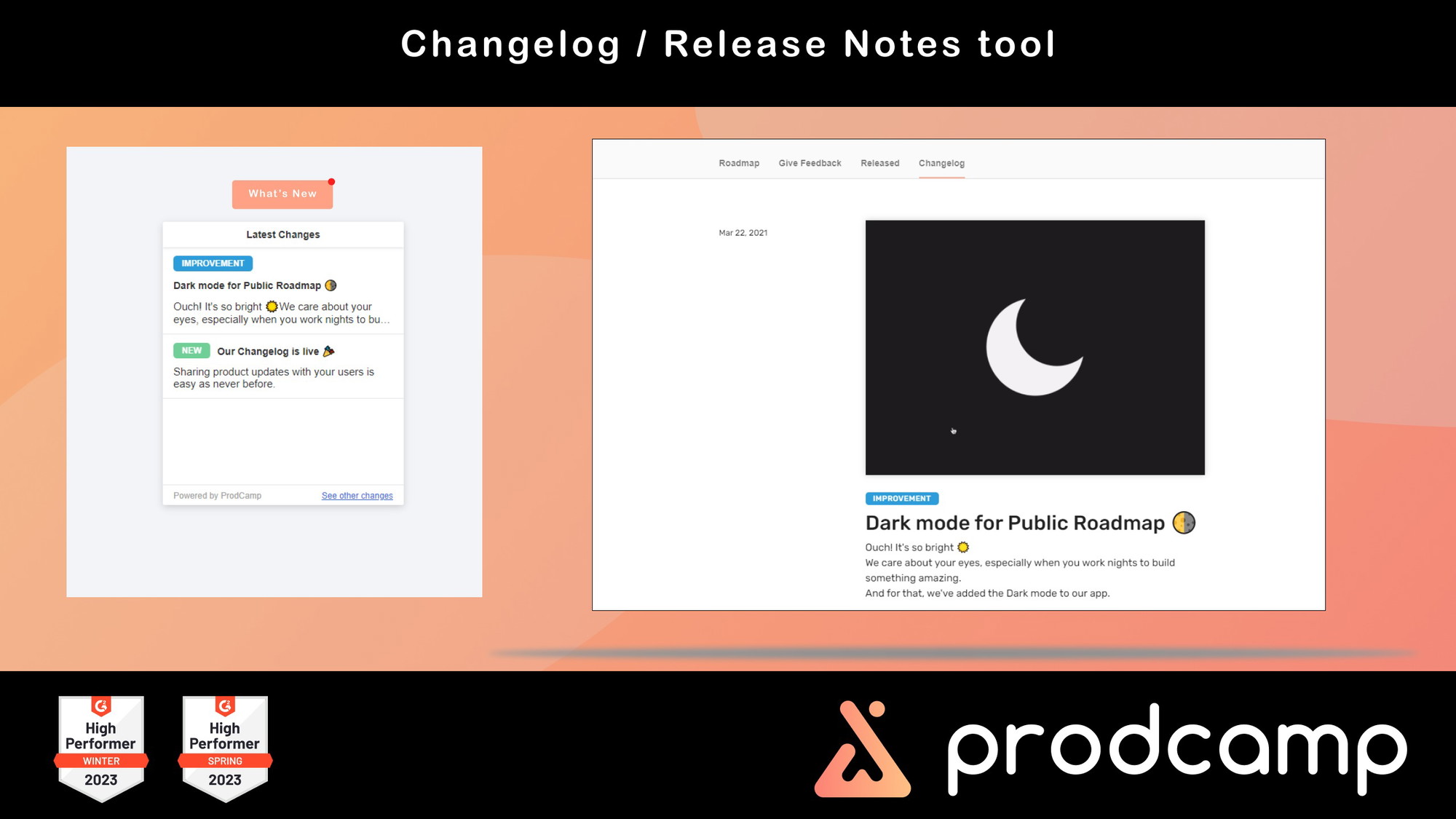 Our changelog and release notes tool.
ProdCamp's Changelog feature offers versatile ways to communicate your product's updates to users – as an embedded widget in your web application or as a standalone page.
Embedded Widget: When integrated into your web application, the Changelog widget provides users with instant access to the latest updates and improvements. This immediate visibility encourages engagement and enables users to easily view and understand the evolution of your product.
Standalone Page: A dedicated Changelog page offers a comprehensive and chronological record of your product's updates. This acts as a central repository for users interested in detailed information about the product's progression, from minor tweaks to major enhancements.
Both formats maintain transparency with users, ensuring they are informed about modifications and have the opportunity to provide feedback on updates. Each approach serves to engage your users differently, yet both contribute to enhancing the user experience.
Harness your customer feedback for growth with ProdCamp — get access today!
Plans & features
Deal terms & conditions
Lifetime access to ProdCamp

You must redeem your code(s) within 60 days of purchase

All future Pro Plan updates

Please note: This deal is not stackable
Pro Plan

All features above included
2 admins
2 products
Unlimited features
Unlimited users (people who vote, or leave feedback)
Public Roadmap on your own domain
Roadmap customization
Jira Cloud and GitLab integrations

Plan 2

All features above included
4 admins
2 products
Unlimited features
Unlimited users (people who vote, or leave feedback)
Public Roadmap on your own domain
Roadmap customization
Jira Cloud and GitLab integrations

Plan 3

All features above included
6 admins
2 products
Unlimited features
Unlimited users (people who vote, or leave feedback)
Public Roadmap on your own domain
Roadmap customization
Jira Cloud and GitLab integrations
Allows to hide ProdCamp branding