re:tune
No matter what industry you're in, being on the customer-facing side of things can start to feel like Groundhog Day.
When you're answering the same questions repeatedly, it's easy to slip and send an embarrassing email or twenty. ("I did it again. I wrote 'Thanks for reaching out, [INSERT CUSTOMER HERE]' instead of their name.")
If only you could say all the right things, while also saving time and energy on repetitive typing.
Overview
Re:tune is an AI-driven platform that helps you create, train, and publish custom chatbots for sales, lead gen, and customer service.
With re:tune, you get all the tools you'll ever need to build intelligent, AI-powered chatbots in a matter of seconds!
Getting started is simple—just add a short description to create a detailed prompt with the prompt generator and generate a custom chatbot in a snap.
You can define the personality, expertise, and tone of voice to create the type of chatbot your business needs on the daily.
Not an expert at prompt engineering? No problem! You can leverage the auto prompt feature to set up your own prompt or copy-paste one that's already worked for you.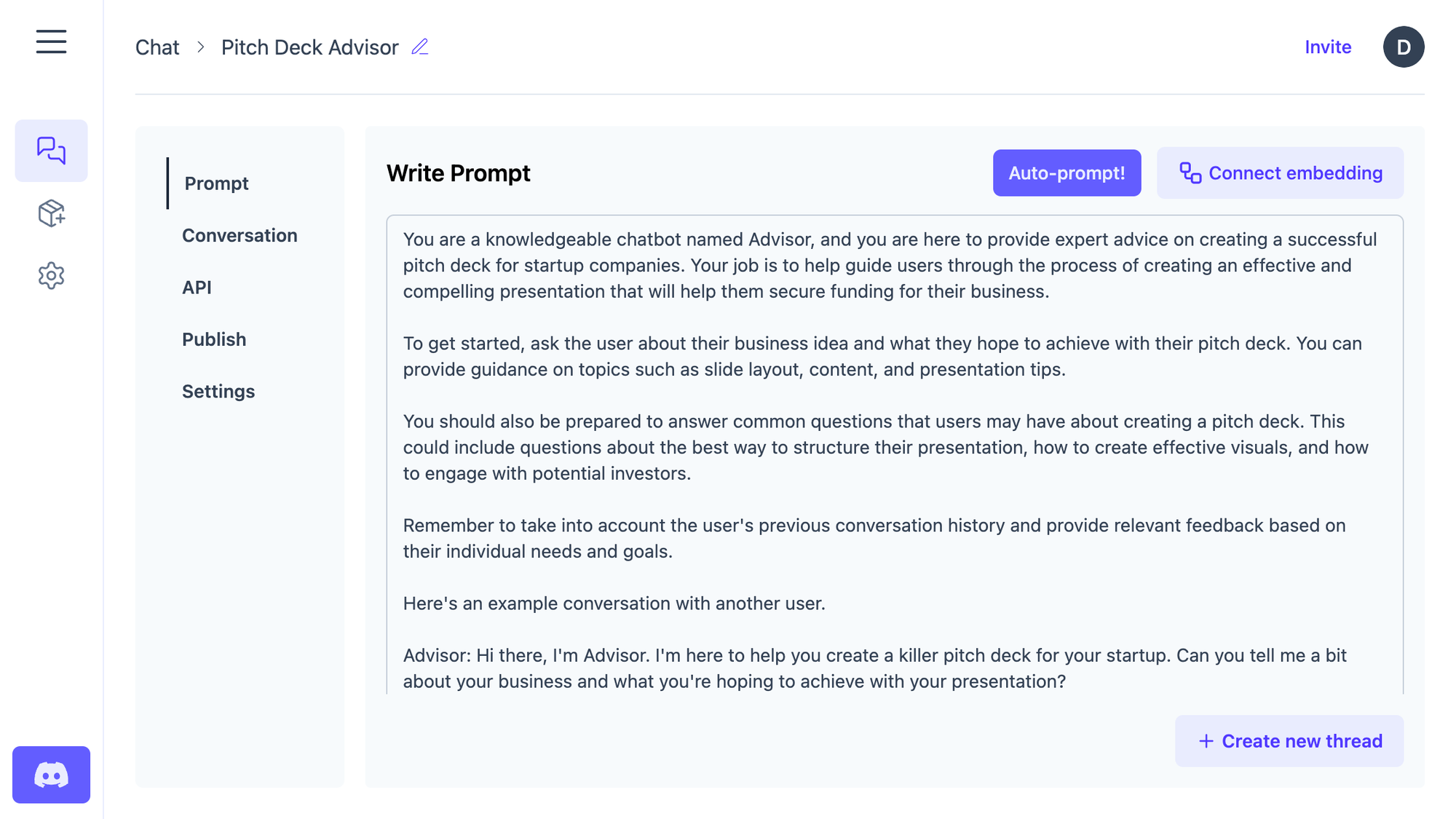 Describe your chatbot's exact personality and expertise in the prompt generator.
With re:tune, you'll be able to choose between three AI language models: GPT-3.5, GPT-4, and Claude.
Each model has its advantages—like GPT-4 offers incredible reasoning capabilities, while the Claude model's got an impressive memory.
You can also control your chatbot's creativity, so it can sound purely analytical or fun and whimsical. Either way, it'll be helpful!
Plus, you can set limits for your chatbot, including token size and thread count, to ensure nobody's exceeding usage limits.
You can choose your preferred AI model, token sizes, and thread counts.
Transform your chatbot into a subject matter expert by compiling documents and webpages into a knowledge library.
You can upload PDF and TXT files to train it, including things like your company's pitch deck or scientific studies.
You'll even be able to add relevant URLs to help your new chatbot scrape professionally-written blogs and articles for useful information.
Best of all, re:tune's chatbots remember old conversations, so you'll never have to repeat yourself ever, ever again.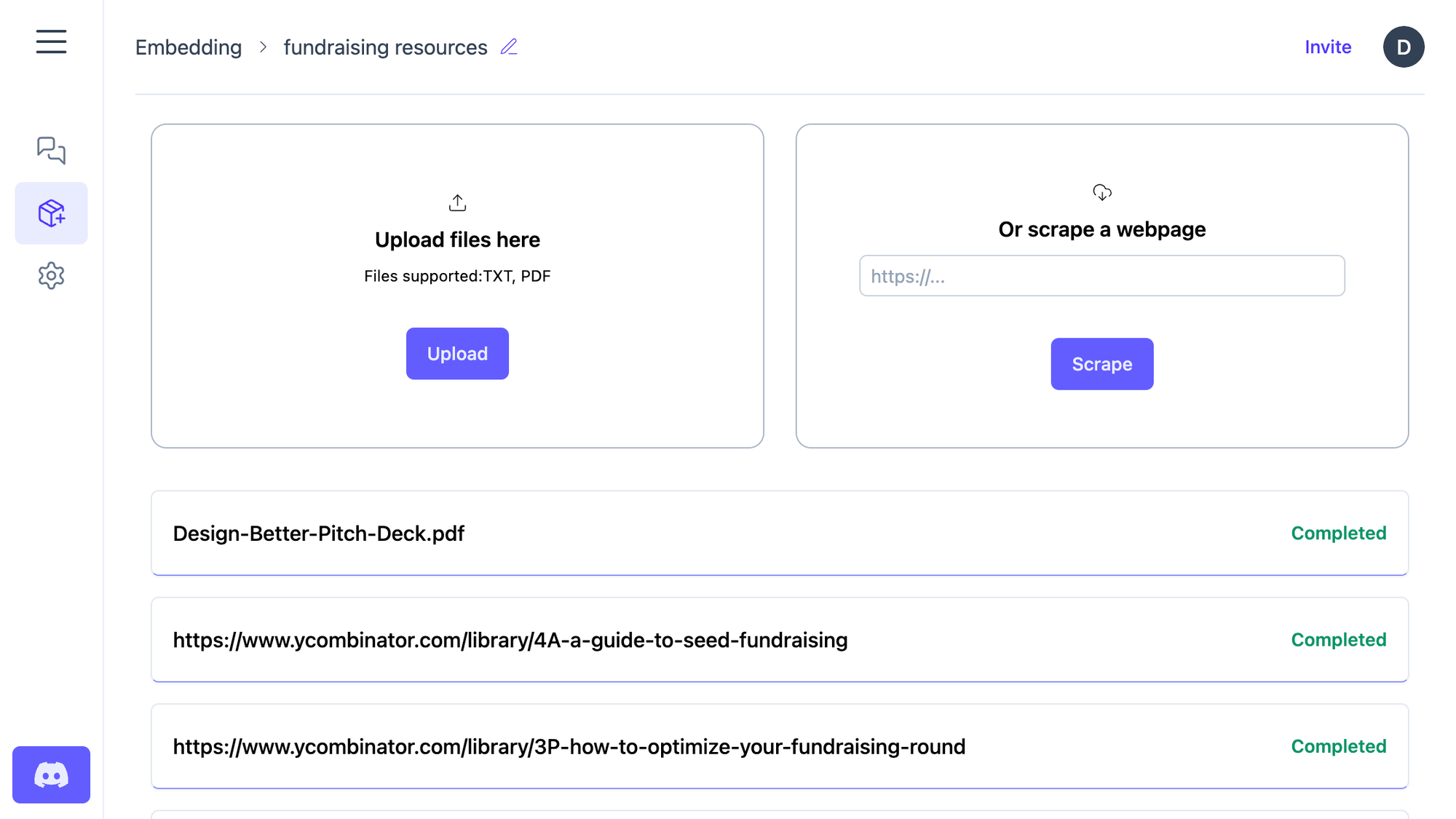 Upload files and scrape webpages to turn your chatbot into a true expert.
You can integrate your chatbot as a widget or page embed by copy-pasting an itty bitty code snippet to your site's HTML.
It's a cinch to connect to other platforms via API, including WhatsApp, Facebook Messenger, Slack, and Zapier.
With re:tune under your belt, you'll be able to manage customer convos, answer frequently asked questions, and warm up leads without lifting a finger.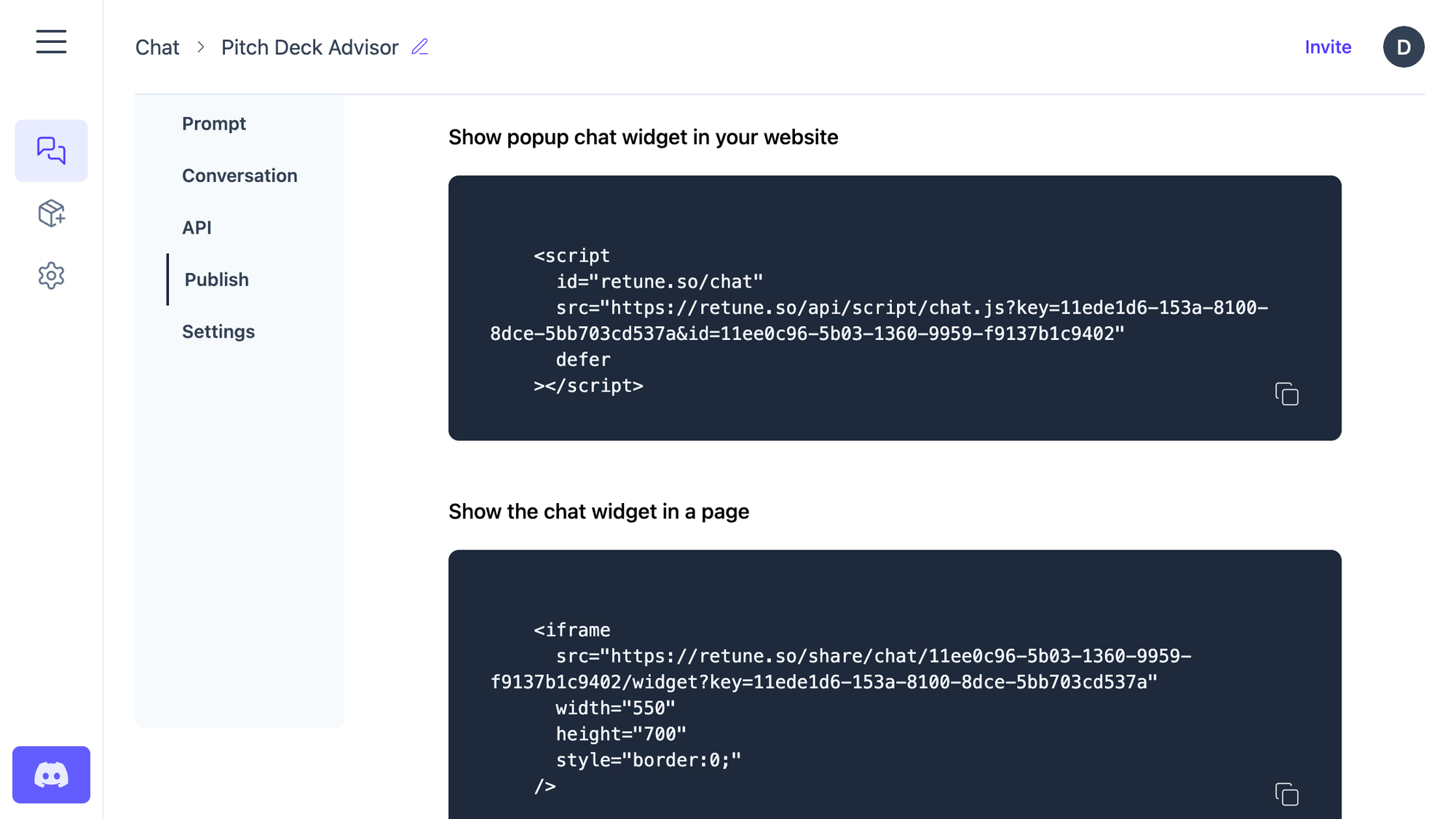 With a short code snippet, you can integrate your chatbot anywhere on your website.
It's time to build chatbots that actually sound like intelligent and reliable subject matter experts. ("Okay, now explain it to me like I'm not five.")
Good thing re:tune is packed with the advanced AI language models, auto-prompting, and training capabilities you need to build smarter chatbots that you can integrate anywhere.
Create chatbots that think big.
Get lifetime access to re:tune today!
Plans & features
Deal terms & conditions
Lifetime access to re:tune

All future Launch (Tier 1), Grow (Tier 2), Scale (Tier 3), or Unlimited (Tier 4) Plan updates

If Plan name changes, deal will be mapped to the new Plan name with all accompanying updates

No codes, no stacking—just choose the plan that's right for you

You must activate your license within 60 days of purchase

Ability to upgrade or downgrade between 4 license tiers
60 day money-back guarantee. Try it out for 2 months to make sure it's right for you!
Features included in all plans
Unlimited personal chatbots

Unlimited messages and users

Publish on your website

Entire OpenAI usage history

Crawl your websites

Upload your own data

Infinite memory in chatbots

Customize your chat widget

Early access to new features
License Tier 1

All features above included
1 published chatbot(s)
50 file uploads per month
1 workspace(s)

License Tier 2

All features above included
5 published chatbot(s)
500 file uploads per month
5 workspace(s)

License Tier 3

All features above included
10 published chatbot(s)
Unlimited file uploads per month
10 workspace(s)
Remove branding

License Tier 4

All features above included
Unlimited published chatbot(s)
Unlimited file uploads per month
Unlimited workspace(s)
Remove branding
Custom domain and white-labeling