Tuney
No matter what industry you're in, being on the customer-facing side of things can start to feel like Groundhog Day.
When you're answering the same questions repeatedly, it's easy to slip and send an embarrassing email or twenty. ("I did it again. I wrote 'Thanks for reaching out, [INSERT CUSTOMER HERE]' instead of their name.")
If only you could say all the right things, while also saving time and energy on repetitive typing.
Overview
Tuney is an AI-powered platform that lets you generate, customize, and sync soundtracks to your video content—no editing skills required.
Tuney sources music from talented artists around the world, so you can create your own customized soundtrack for any project in just a few clicks.
Because it's a breeze to make changes to the intro length and beat drop, you'll be able to tailor any song to fit your video content.
Use the slider to move the "peak" of a track along your video timeline, ensuring that the audio matches the on-screen action.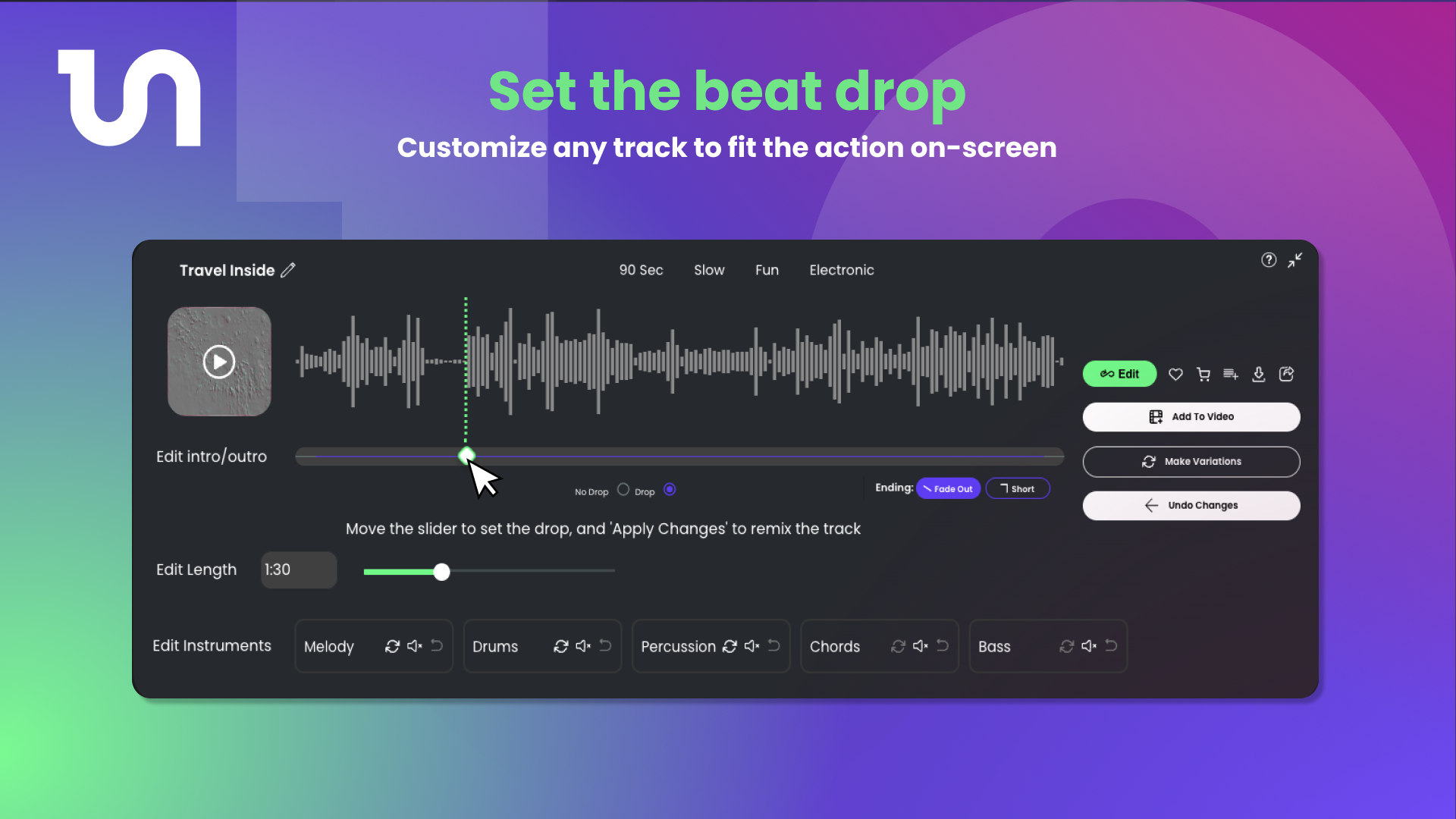 Move the beat drop slider and the music will build up to match the action on the screen.
Tuney makes it easy to create different variations of any generated track to ensure you've got cohesive soundtracks for your projects.
Since you'll be able to edit the track length from 15 seconds to five minutes, you don't have to worry about weird silences or awkward auto-looping in your videos.
This is super useful for content creators and brands who repurpose long-form videos for bite-sized posts on Instagram or TikTok.
Easily edit the length of a track that fits anywhere from 15 seconds to five minutes!
Unlike other AI music editors, Tuney uses a hybrid approach that lets you combine human music with generative elements to create a unique soundtrack.
This makes it one of the most adaptive generative music platforms on the market, combining a premium music library with powerful AI editing tools.
And because everything you create is entirely your own, you don't have to deal with annoying copyright claims.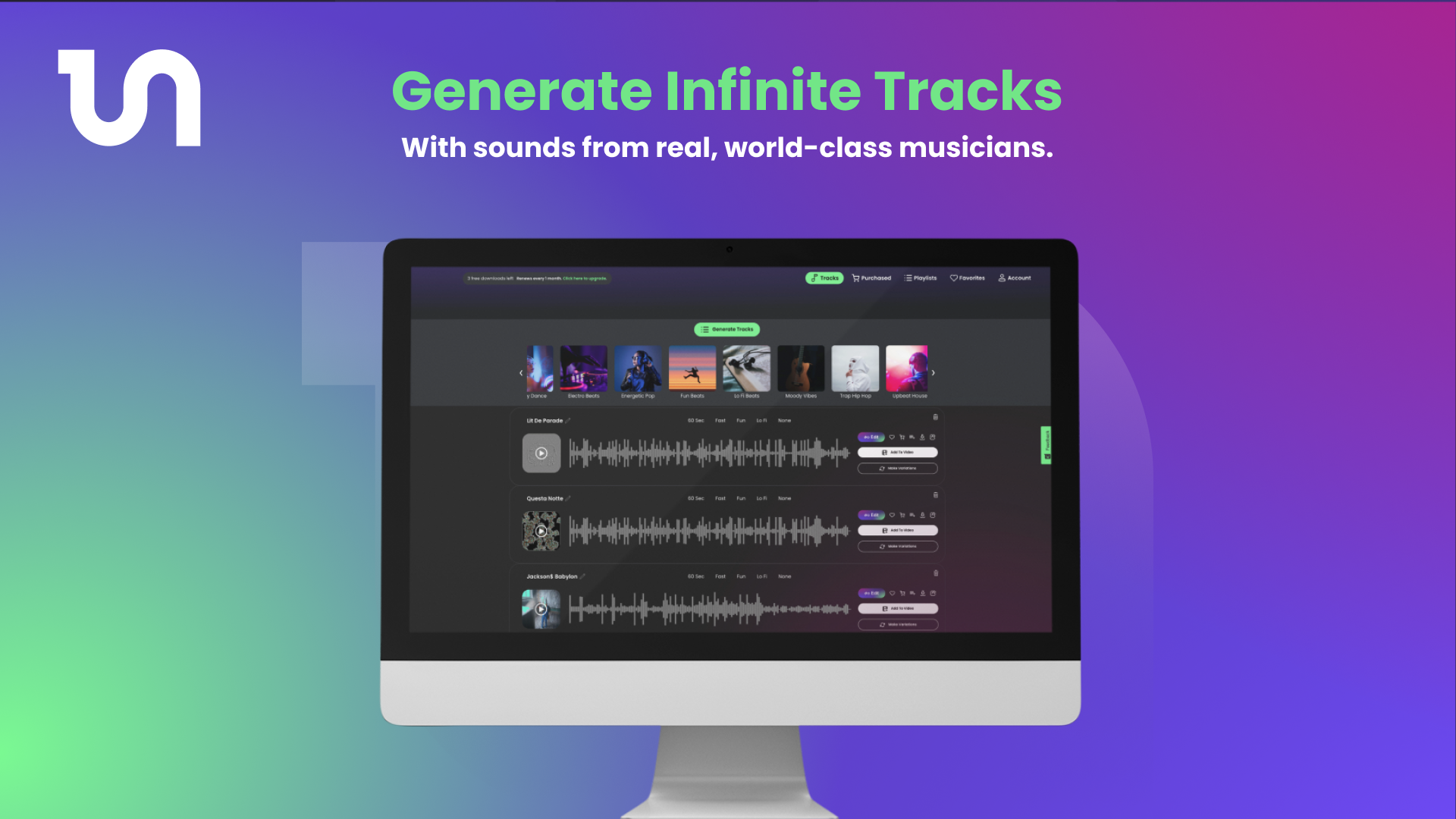 Generate nearly an infinite number of song variations using tracks from real musicians.
For the cherry on top, Tuney gives you everything you need to sync your newly created tracks to your videos.
Just click on the "add to video" feature to audition the music for your video and see if it aligns with your creative vision.
Once you're satisfied with the end product, you can download your completed soundtrack as an MP3, WAV, or ZIP file of audio stems.
You can even download the MP4 video file, with the music perfectly synced to your video straight from the platform!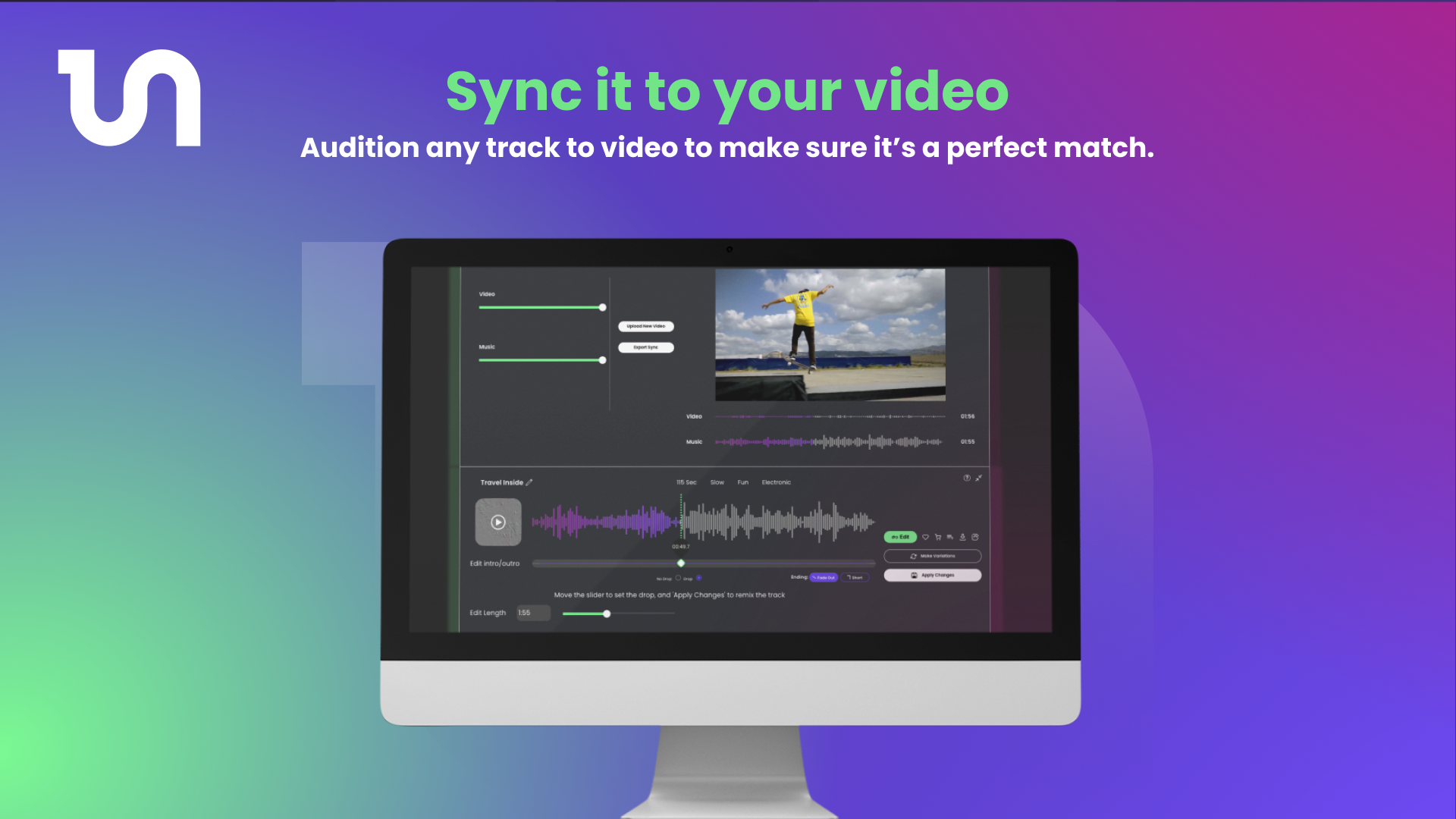 Tuney lets you test out your track against your video before you download it as an MP3, WAV, or ZIP file.
You shouldn't have to be a musical genius to compose an original song for your video content. ("Once I learn to read music, it's over for you folks.")
That's why Tuney's hybrid approach uses generative AI to help you whip up custom tracks that you can instantly sync to your videos.
Create your custom soundtrack fast.
Get lifetime access to Tuney today!
Plans & features
Deal terms & conditions
Lifetime access to Tuney

All future Creator (Tier 1) or Pro (Tier 2) Plan updates

If Plan name changes, deal will be mapped to the new Plan name with all accompanying updates

No codes, no stacking—just choose the plan that's right for you

You must activate your license within 60 days of purchase

Ability to upgrade or downgrade between 2 license tiers

GDPR compliant

Only for new Tuney users who do not have existing accounts
60 day money-back guarantee. Try it out for 2 months to make sure it's right for you!
Features included in all plans
Audio downloads for social media and digital content

Thousands of tracks

Move beat drop

Change track length

Generate remixes

Try out tracks to video

Hybrid model: combining human music with generative AI element
License Tier 1

All features above included
100 downloads per month

License Tier 2

All features above included
Unlimited downloads per month
Paid ads and client work