Email List Validation
As anyone who's ever tried eating a jumbo jawbreaker will tell you, bigger isn't always better. ("Ed, Edd, and Eddy should pay for my dental bills…")
Same goes for your email list size: If your emails are going to the wrong people or piling up bouncebacks, then it doesn't matter how much you send.
Ready to boost email deliverability and maintain sender reputation with a simple way to scrub your list clean of bogus toothaches?
Overview
Email List Validation quickly and effectively cleans up your lists to make sure you're landing in the right inbox.
You'll get a multi-level verification system to ensure the highest deliverability.
That means that you won't get penalized (or blacklisted) by email providers for continuing to send messages to invalid addresses.
Plus, Email List Verification is GDPR-compliant and uses a powerful encryption to protect user data.
Verifying emails is now super quick and easy.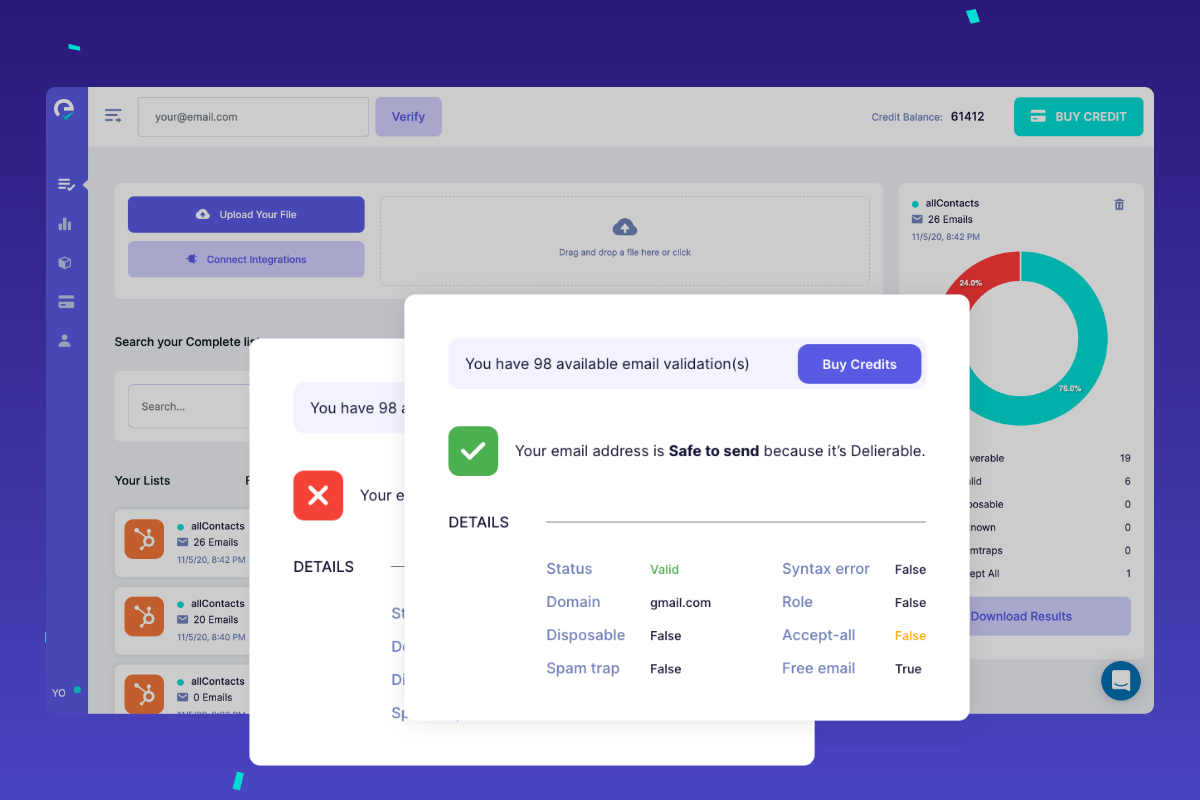 Easily verify email addresses to increase deliverability with top-notch encryption to protect your data!
No more copying and pasting email addresses one-by-one into a validation tool.
You'll be able to quickly clean up your lists using Email List Validation's bulk email verification tool.
You can upload your lists to the platform, or use CRM integrations to import your lists from there.
It's perfect for both new, unverified lists and your existing lists to give you maximum deliverability.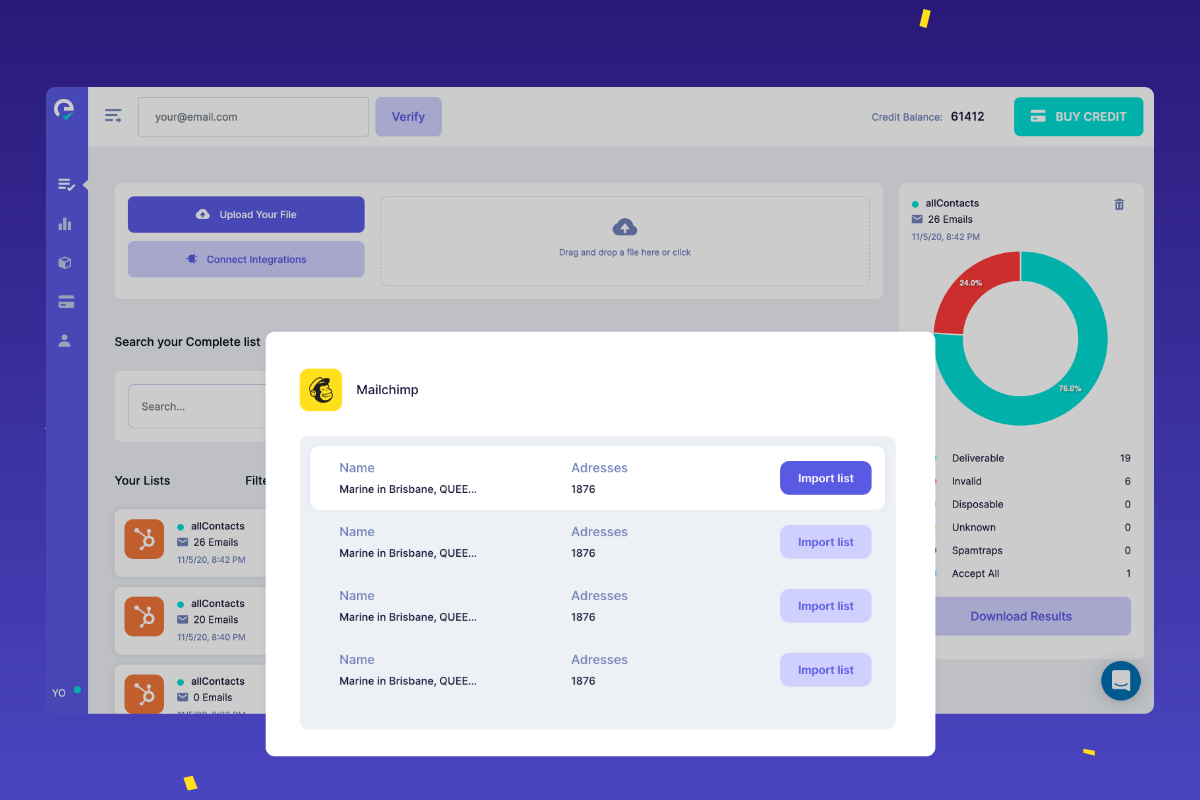 Upload your lists or use CRM integrations to verify emails in bulk.
You'll also get real-time verification to stop bad emails before they get on your lists in the first place.
The real-time verification API lets you filter invalid emails right from the signup boxes.
Once it's set up, it'll prompt users to submit a valid email address, instead of letting bad ones slide. ("No more Mr. Nice Email.")
The API comes in four languages, so it's easy to customize and fit into your ecosystem.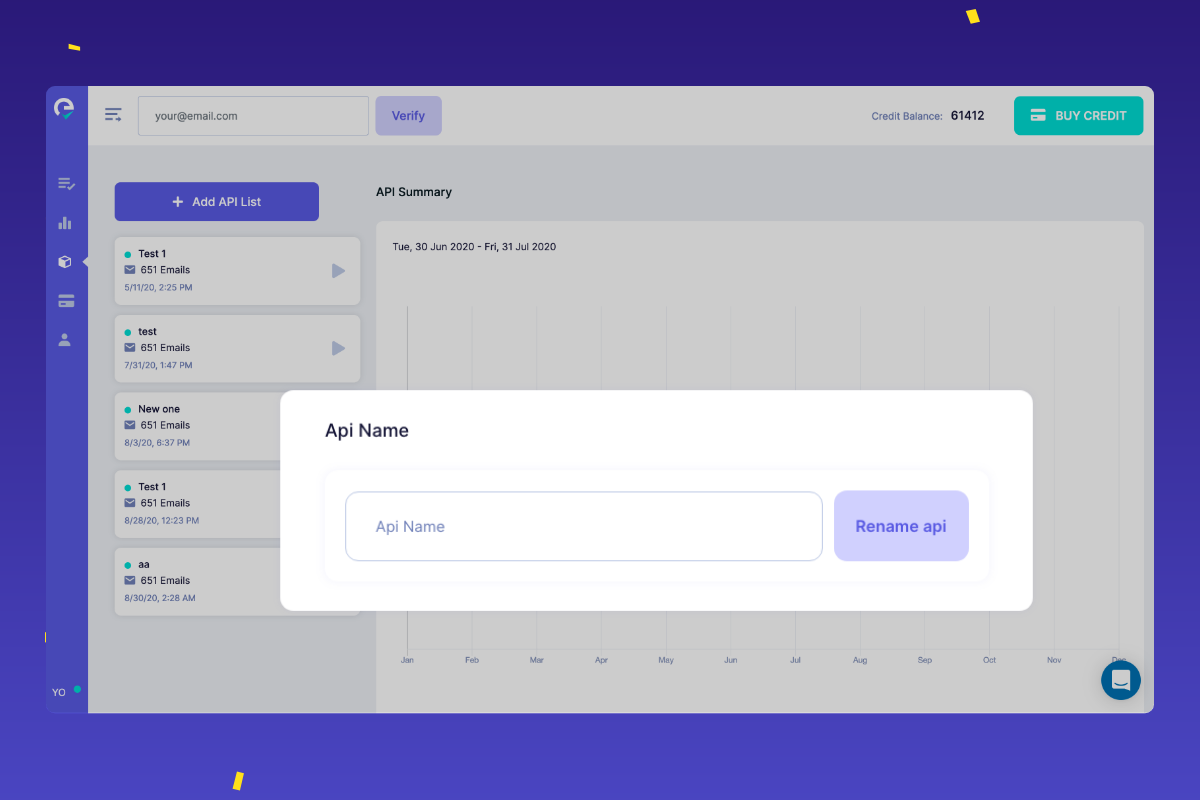 Use the real-time verification API to filter bad emails straight from the signup boxes!
Email List Validation integrates with all the major marketing services, too.
You can link up with Mailchimp, HubSpot, SendGrid, ActiveCampaign, and many more.
Plus, you'll be able to generate custom reports that show you what percentage of your emails are actually getting through from your lists.
Integrate with major marketing services, like Mailchimp and HubSpot, to easily verify your lists!
It's too bad the phrase "Real eyes realize real lies" doesn't work with emails. ("Is that an acronym or a burner account?")
Luckily, Email List Validation does exactly what the name implies: cleans your email lists in bulk and prevents bad emails from getting through in the first place.
So make every email count.
Get lifetime access to Email List Validation today!
NEW: No codes, no stacking—just choose the plan that's right for you!
Plans & features
Deal terms & conditions
Lifetime access to Email List Validation Paid Plan

No codes, no stacking – just choose the plan that's right for you

You must activate your license within 60 days of purchase

All future Paid Plan updates

Note: Credits renew each year

Ability to upgrade/downgrade between 5 license tiers

GDPR compliant
Specification:
Email List Validation
License Tier 1

All features above included
1 million credits per year
Unlimited subaccounts
Instant email finder
Real-time API
Email list cleaning
Automate

License Tier 2

All features above included
2 million credits per year
Unlimited subaccounts
Instant email finder
Real-time API
Email list cleaning
Automate

License Tier 3

All features above included
3 million credits per year
Unlimited subaccounts
Instant email finder
Real-time API
Email list cleaning
Automate

License Tier 4

All features above included
4 million credits per year
Unlimited subaccounts
Instant email finder
Real-time API
Email list cleaning
Automate

License Tier 5

All features above included
5 million credits per year
Unlimited subaccounts
Instant email finder
Real-time API
Email list cleaning
Automate
License Tier 5