Flowpoint.ai – Get AI conversion rate optimisation recommendations
Overview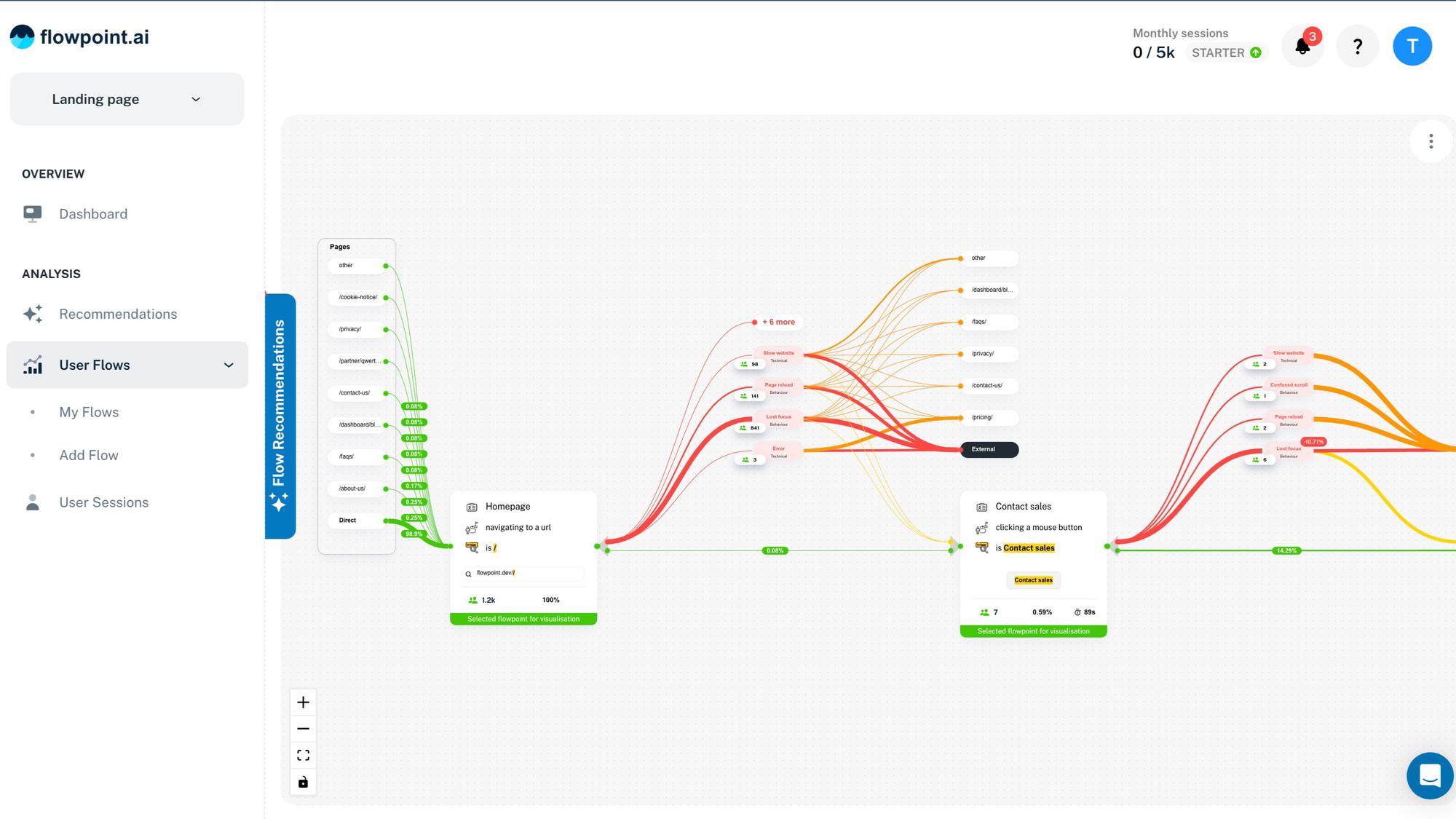 Visualise your user's behaviour in a funnel view
Behaviour analysis
Easily define and visualise user flows with Flowpoint. A user flow represents the path a user takes on your website or app to complete a task, such as making a purchase. See user progress at each step with "flowpoints" and identify and resolve issues where users get stuck to optimise conversions.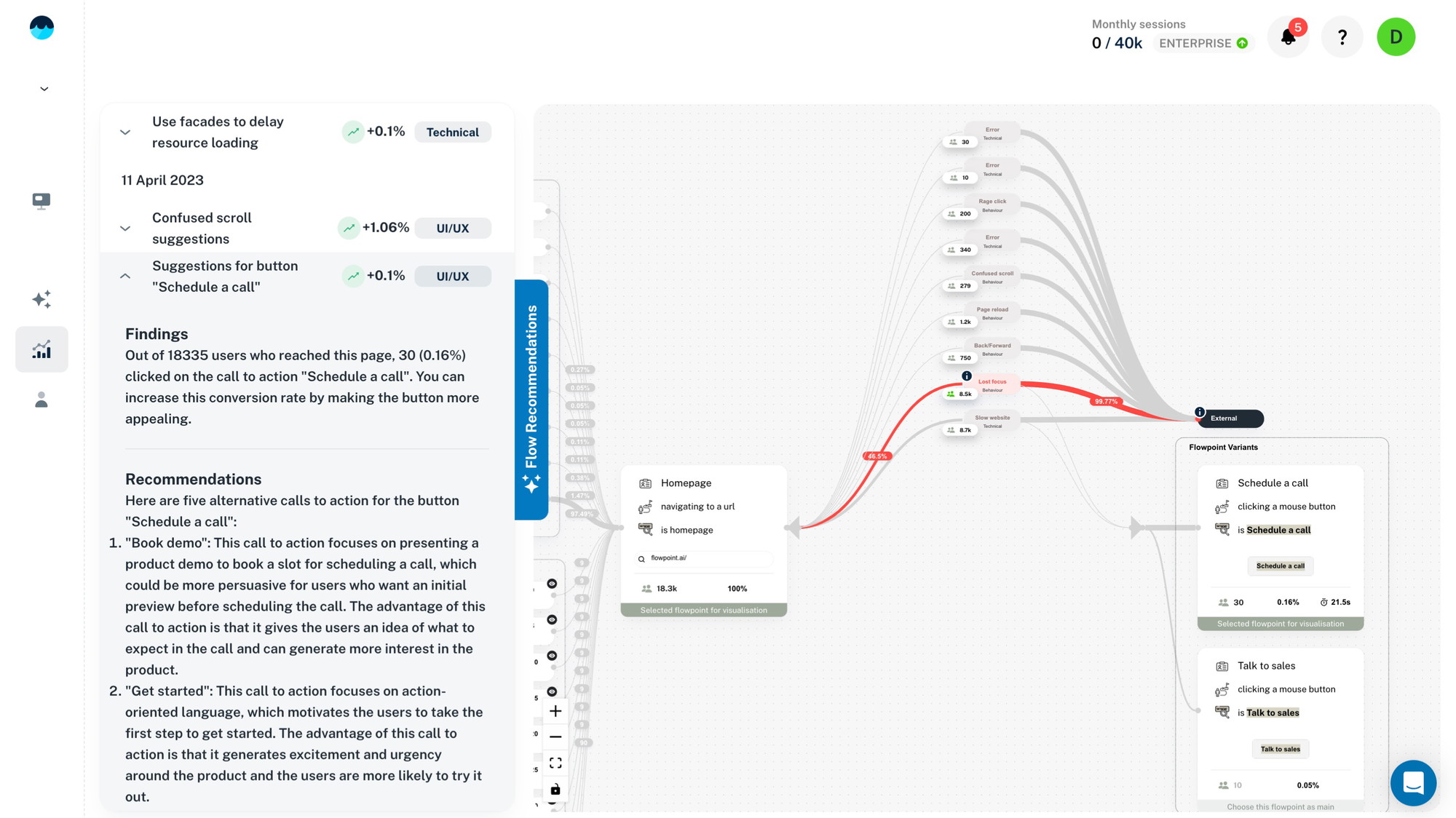 AI-generated technical, UI/UX and content recommendations to boost conversion rates.
AI-generated recommendations
Our technology automatically analyses user behaviour on a large scale, identifying technical and behavioural issues that may impact conversion rates.
By providing AI-generated actionable insights, our solution helps you make data-driven decisions to optimise your website and boost conversions.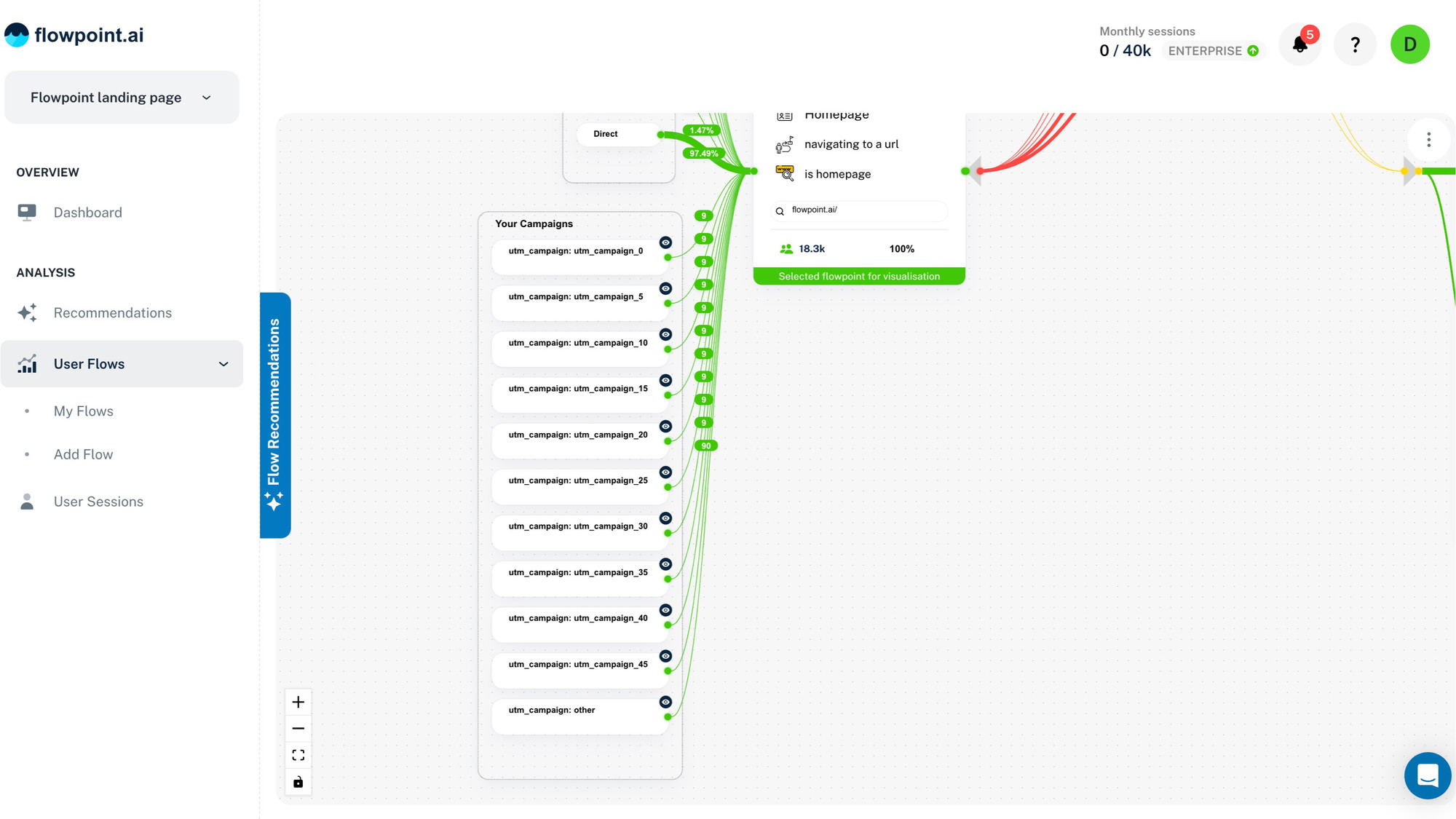 Track marketing campaigns
Monitor marketing campaign performance
Flowpoint automatically detects your marketing campaigns and help you visualise how your website visitors convert for each one allowing you to make informed decisions and estimate ROI.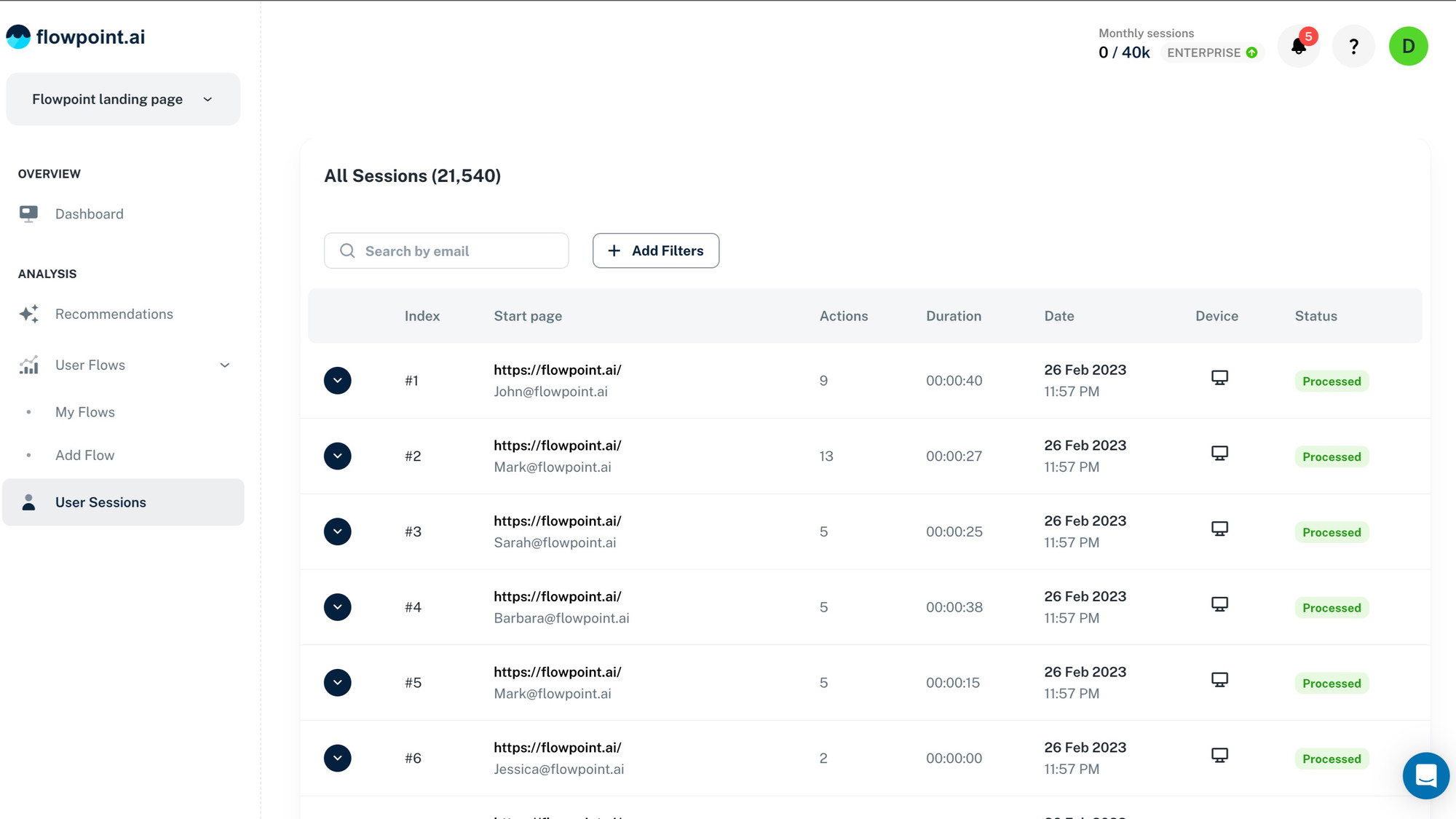 Track user sessions
See user sessions
Track user sessions and view detailed events and user identification. Utilize advanced filtering capabilities and ensure compliance with GDPR and CCPA regulations.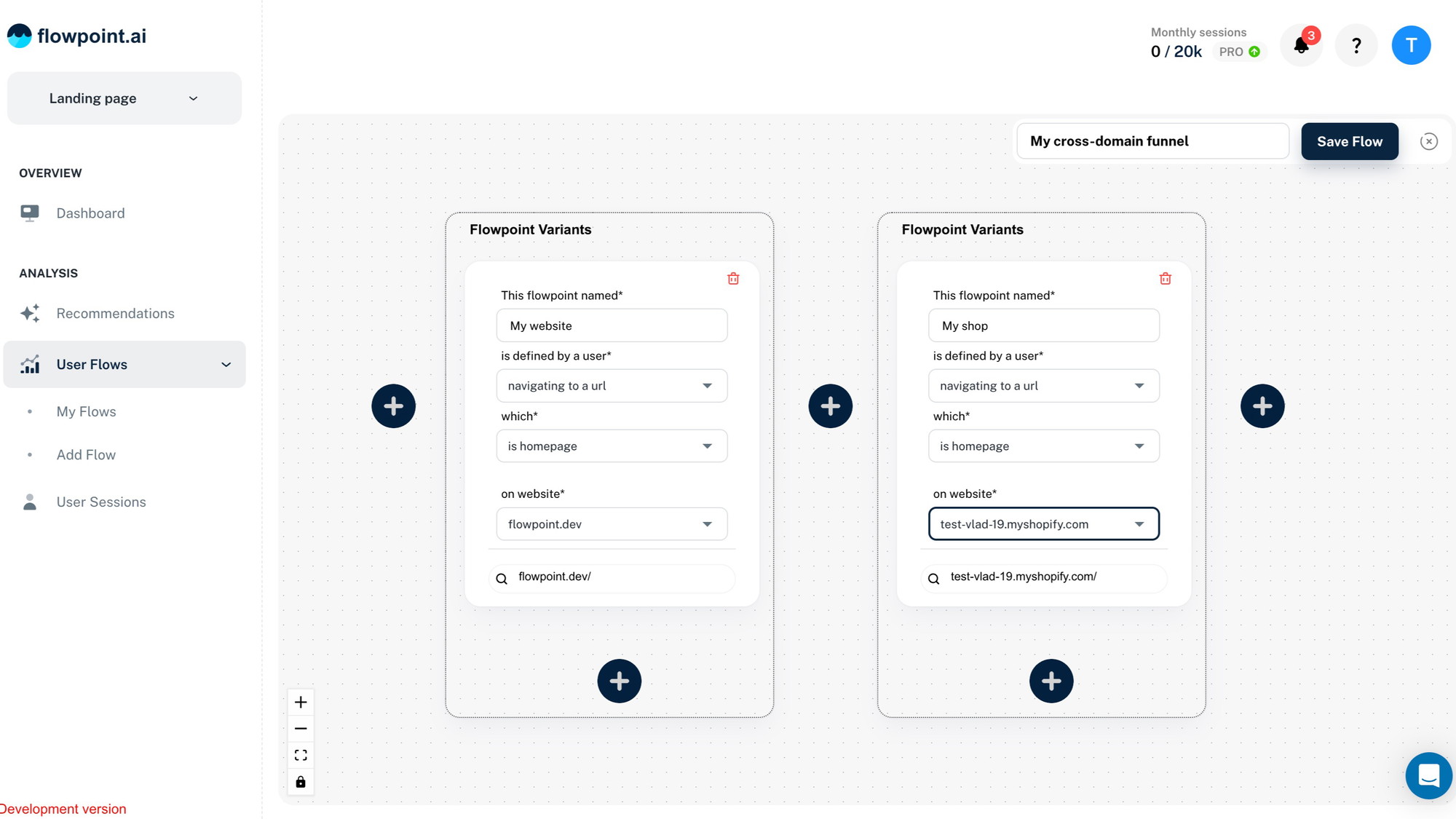 Cross domain funnel analysis
Cross-domain funnel analysis
Flowpoint offers cross-domain funnel analysis as a powerful tool for businesses to track the customer journey across multiple websites.
With Flowpoint, you can visualize the entire funnel and identify areas where customers drop off, providing insights to optimize your marketing campaigns and improve your conversion rates.
By integrating with your website and marketing tools, Flowpoint makes it easy to track the complete path of your customers and get a better understanding of how they interact with your brand across different domains. This way, you can make informed decisions and improve your ROI by optimizing your marketing efforts.
Get access to Flowpoint today!
Plans & features
Deal terms & conditions
1 Year of access to Flowpoint.ai – AI Marketing Analyst

You must redeem your code(s) within 60 days of purchase

1 Year of plan updates

Stack up to 10 codes
Specification:
Flowpoint.ai – Get AI conversion rate optimisation recommendations
Flowpoint.ai - AI Marketing Analyst

5k monthly sessions analyzed (60k total sessions analyzed)
3 UX/UI insights
Behavior funnel analytics
Campaign performance analysis
User flow discovery
AI generated technical and UX insights
Event based user sessions
Reports
User sessions
AI powered insights
User flow management
Funnel Analysis
Track campaign performance
Organization management
Create multiple projects
Stack additional codes:
Each add. code adds 5k monthly sessions analyzed (60k total sessions analyzed)

Flowpoint.ai – Get AI conversion rate optimisation recommendations