ZeroBounce Email Verification
No matter what industry you're in, being on the customer-facing side of things can start to feel like Groundhog Day.
When you're answering the same questions repeatedly, it's easy to slip and send an embarrassing email or twenty. ("I did it again. I wrote 'Thanks for reaching out, [INSERT CUSTOMER HERE]' instead of their name.")
If only you could say all the right things, while also saving time and energy on repetitive typing.
Overview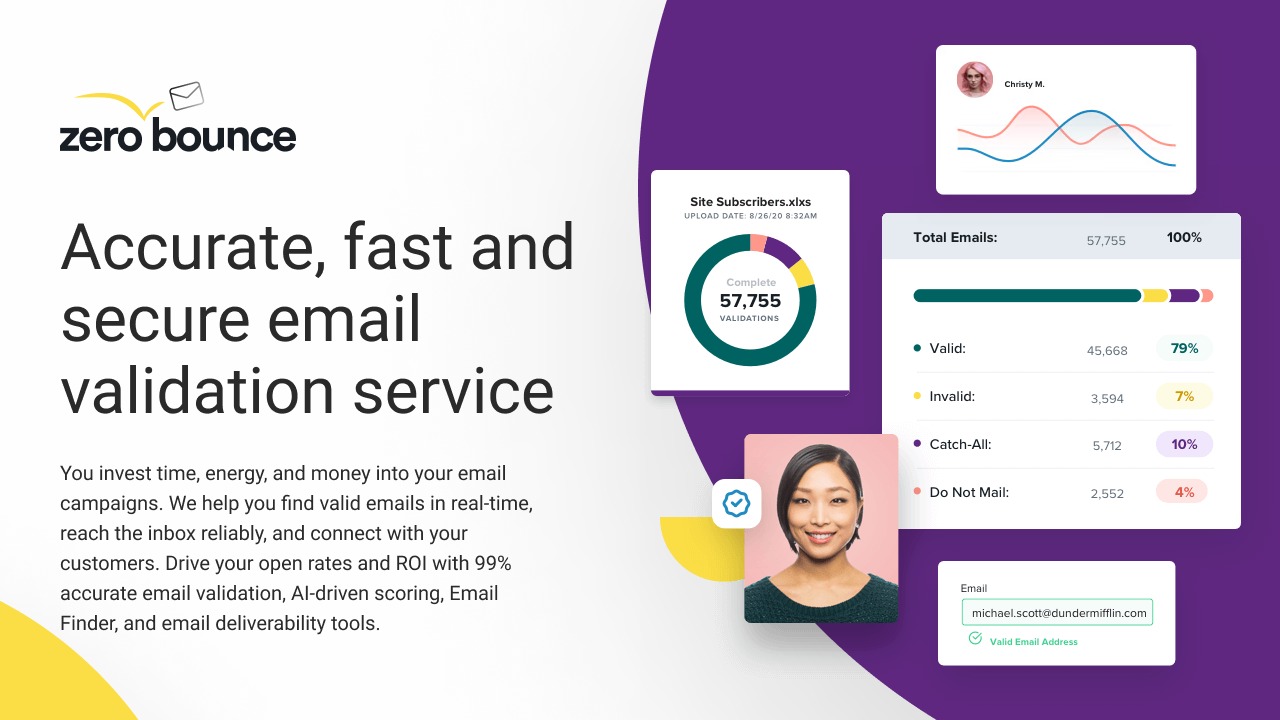 Empower your emails with accuracy and reliability.
Your email campaigns represent substantial investments of time, energy, and resources. ZeroBounce is here to ensure these investments flourish.
By providing real-time email validation, we guarantee that your communications not only reach the inbox reliably but also establish meaningful connections with your customers.
With a 99% accurate email validation rate, AI-driven scoring, an Email Finder, and email deliverability tools, we empower you to drive higher open rates and boost your ROI.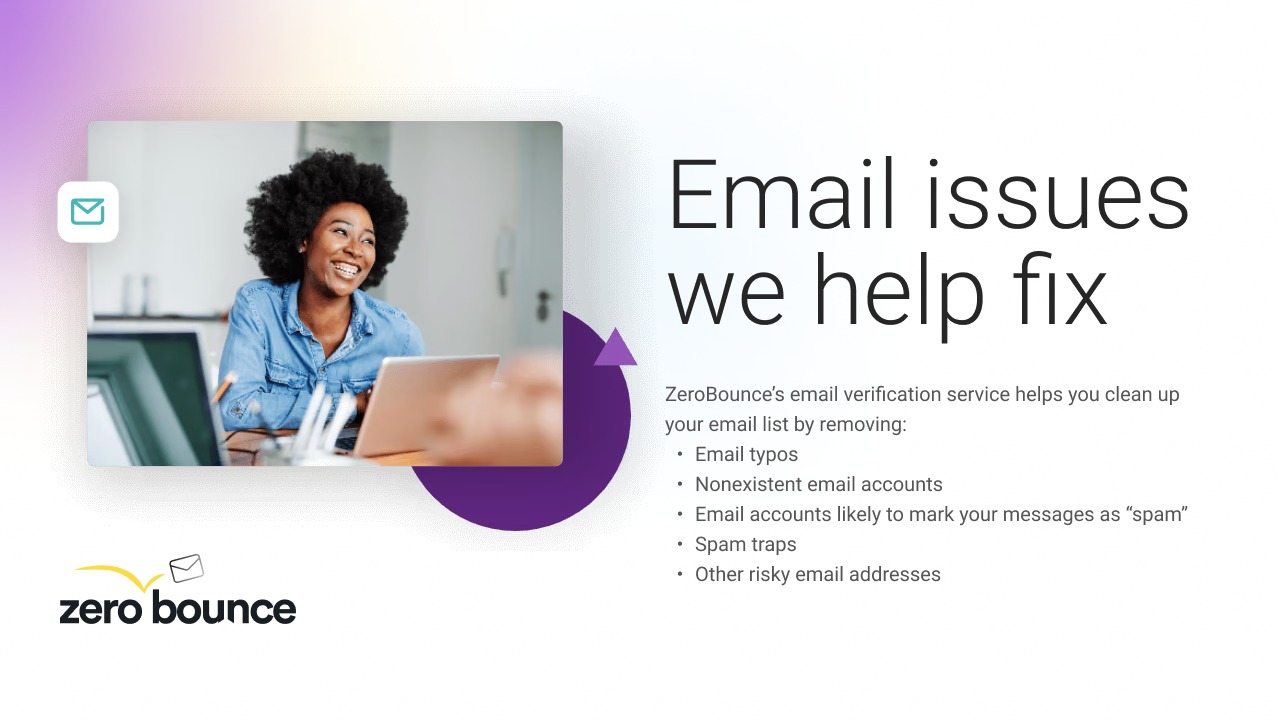 Safeguard your emails with precision and confidence.
ZeroBounce tackles email challenges head-on through our verification service. We streamline your email list by eliminating:
✓ Email typos
✓ Nonexistent email accounts
✓ Accounts prone to marking messages as "spam"
✓ Spam traps
✓ High-risk email addresses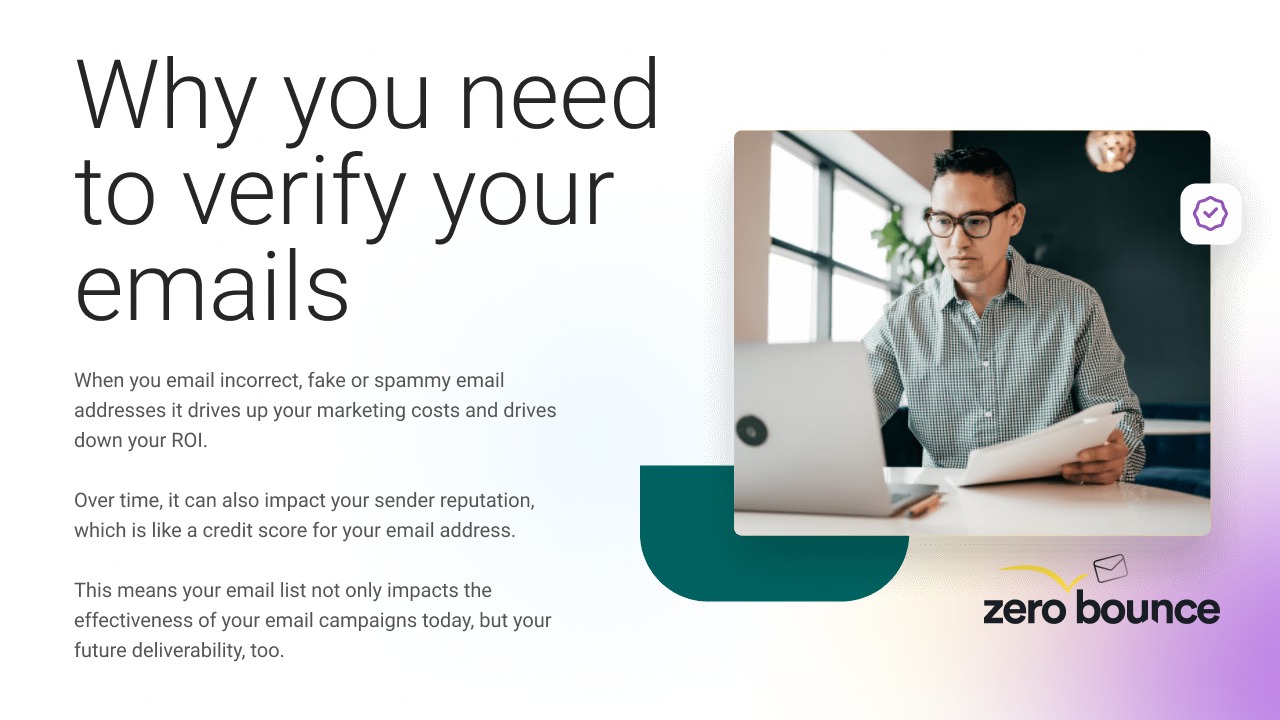 Protect your sender reputation for lasting email success.
Your sender reputation is at stake. When you email incorrect, fake, or spammy addresses, it not only inflates your marketing costs but also deflates your ROI.
As time goes on, this can jeopardize your sender reputation – much like a credit score for your email address. The more "bad" addresses you engage, the poorer your email performance and the lower your score become.
This underscores that your email list doesn't solely impact today's campaign effectiveness but also shapes your future deliverability.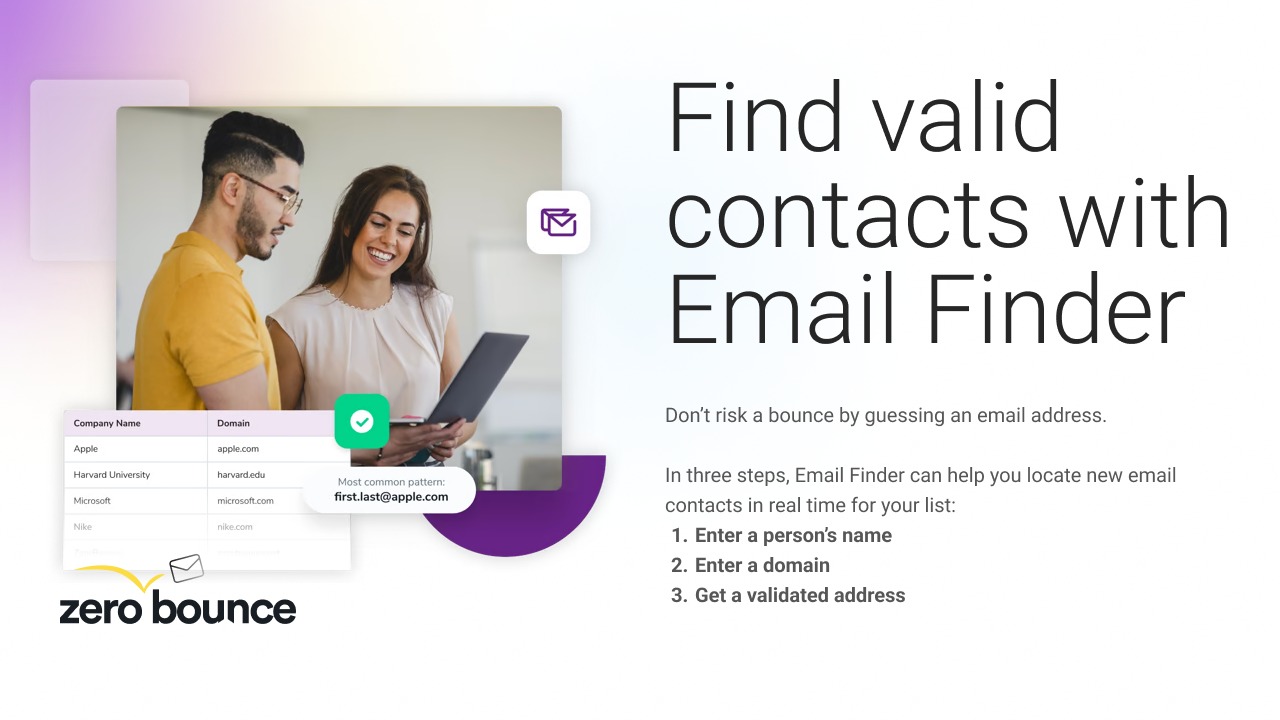 Unlock new connections with precision using Email Finder.
Discovering valid contacts is paramount, and Email Finder eliminates the guesswork to prevent bounces. In just three steps, Email Finder swiftly connects you with real-time, verified email contacts for your list:
Enter a person's name
Enter a domain
Receive a validated address
Rest easy knowing exactly who's on your email list and the type of address they hold. We meticulously scan for accurate patterns, indicating whether an email is valid or a high-risk address that could harm your deliverability.
It's important to note that Email Finder operates in real-time without handling stored data, relying solely on our proprietary technologies to unearth new email leads.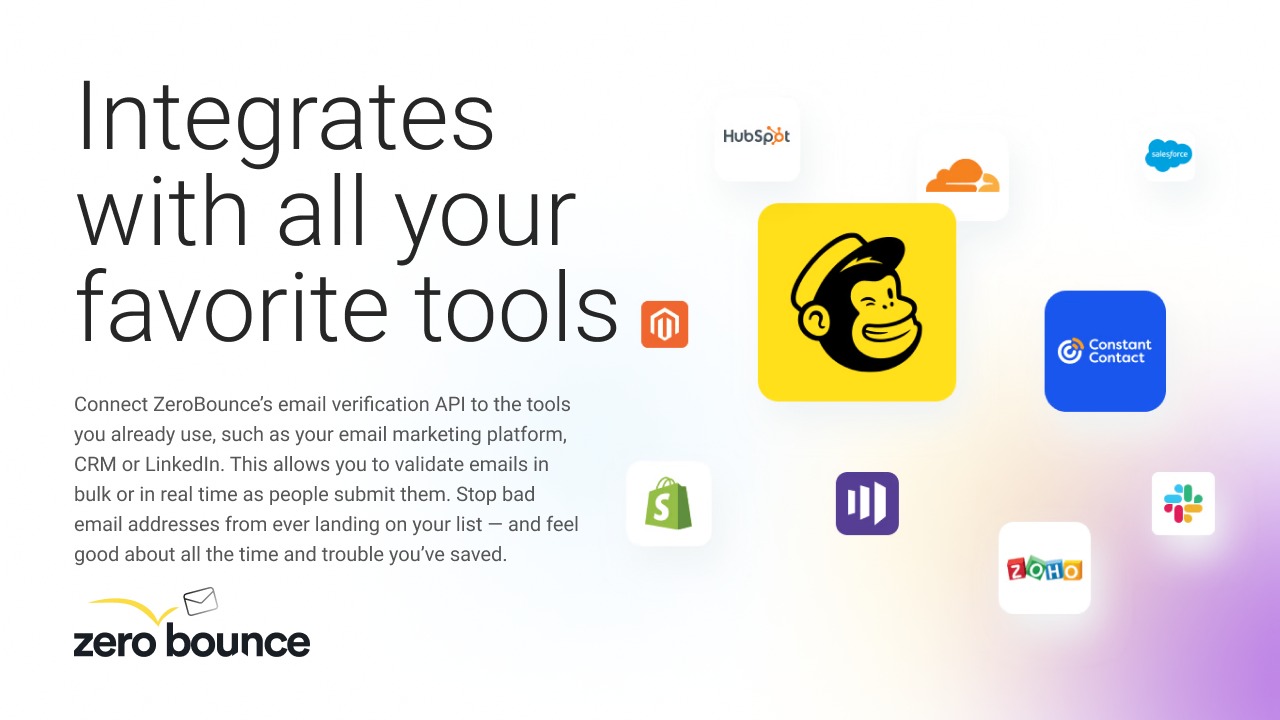 Integrate effortlessly for streamlined email validation.
ZeroBounce bridges the gap between your favorite tools and our email verification capabilities.
Integrate ZeroBounce's email verification API seamlessly with platforms you're already familiar with – whether it's your email marketing hub, CRM system, or even LinkedIn. This integration empowers you to validate emails en masse or in real time as they're submitted.
Bid farewell to the menace of bad email addresses infiltrating your list. Revel in the time saved and the worries spared.
Say goodbye to the stress of erroneous emails, and welcome a streamlined process that boosts your efficiency and confidence – get access today!
Plans & features
Deal terms & conditions
Lifetime access to ZeroBounce

You must redeem your code(s) within 60 days of purchase

All future plan updates

Please note: This deal is not stackable

This deal offers a package of 24,000 credits, available for a one-time purchase only, with no expiration date and no renewal
Specification:
ZeroBounce Email Verification
ZeroBounce

24,000 credits (one-time max, never expires, does not renew)
Email finder
Activity data
Blacklist monitor
Inbox placement test
Email score
Email server test
Multiple API Keys
IP address geo location
Unknown results are free
99% accuracy
Secure email validation