Overview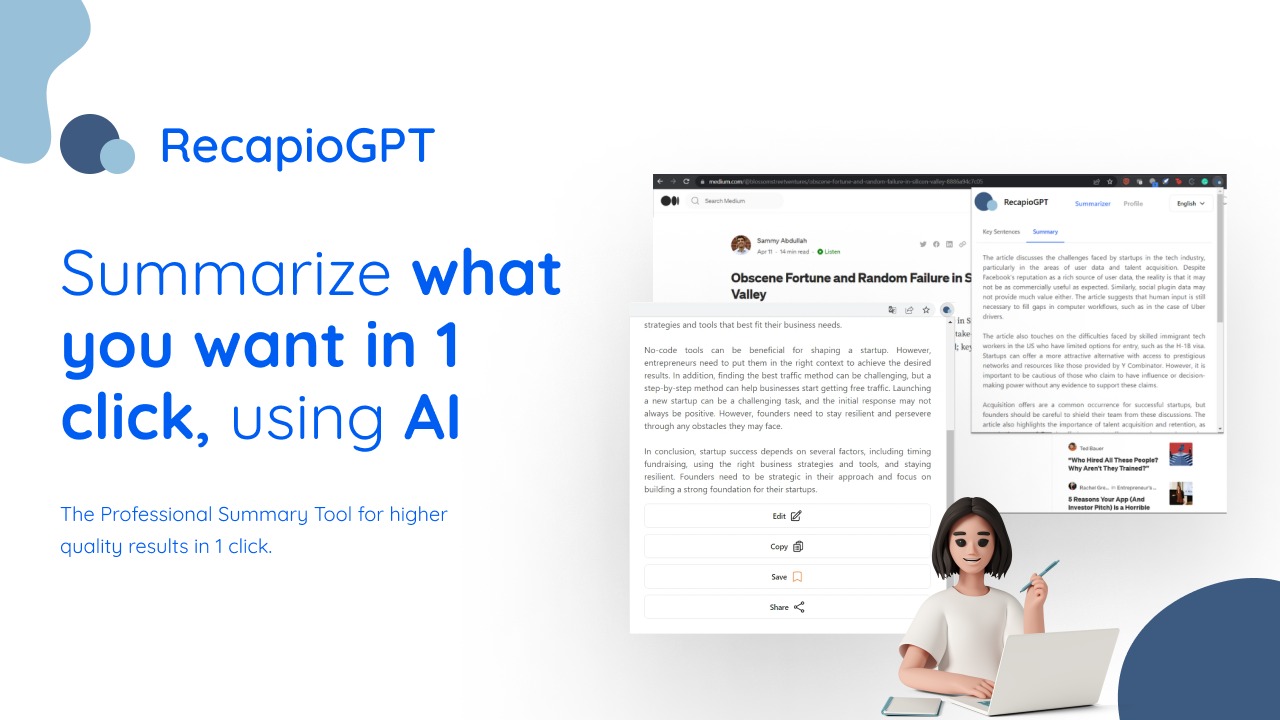 All it takes is a single click.
RecapioGPT is a different kind of summarizer.
AI Alfred is a Chrome extension that summarizes web articles to provide users with a quick and easy way to digest information.
You don't need to copy and paste a URL or any type of text for getting your summary.
That's our main advantage over other products out there.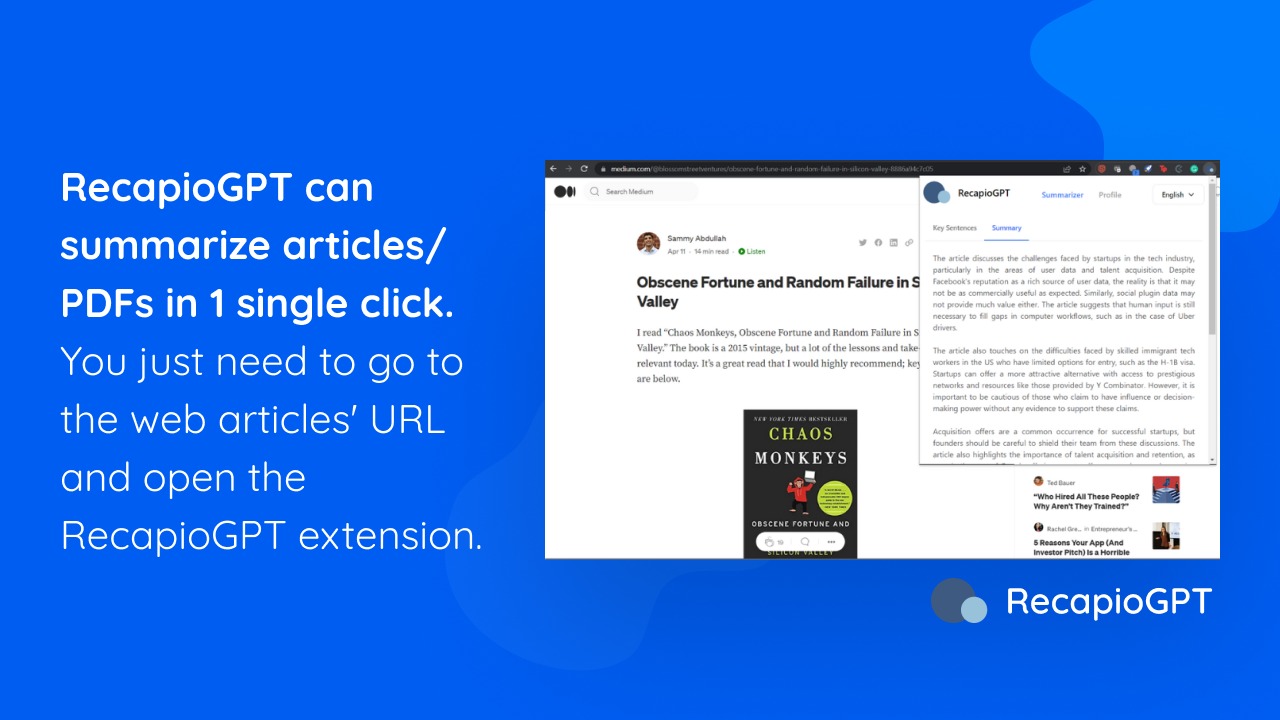 In one single click, get an article's summary delivered in concise, clear language.
Create your saved section based on your best summaries.
We have a key sentence summary as well as an advanced summary.
You will get both for each summary.
Then, you can choose if you want to save one of them or both of them!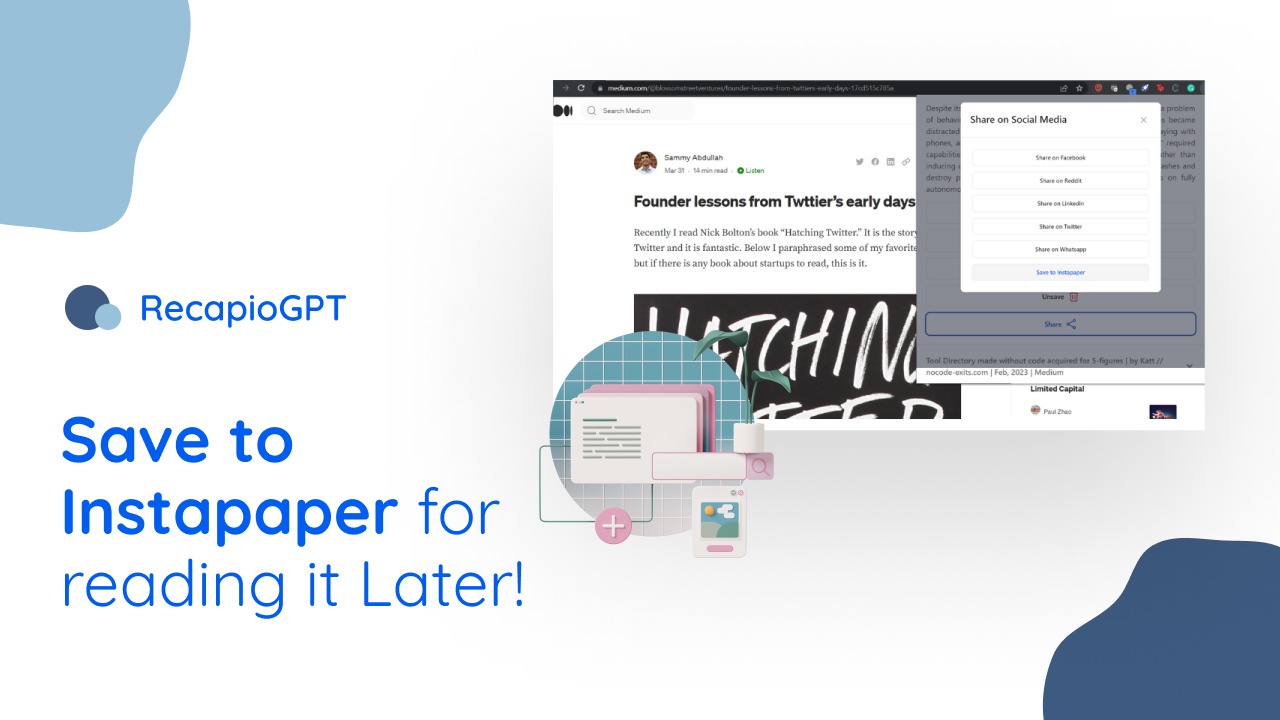 Want to read it later? No sweat!
AI-powered summarization
RecapioGPT utilizes the latest in AI technology to accurately and concisely summarize web articles.
No copy-paste needed
RecapioGPT can summarize articles by browsing. You just need to open our Chrome extension, and Alfred will do the rest.
Edit or save your summaries
After the summary is generated, you can always edit and save the best summaries. You'll have your personal saved section on RecapioGPT app.
Multiple Language Summaries
You can summarize contents in multiple languages. These are the languages we supported: af, ar, bg, bn, ca, cs, cy, da, de, el, en, es, et, fa, fi, fr, gu, he, hi, hr, hu, id, it, ja, kn, ko, lt, lv, mk, ml, mr, ne, nl, no, pa, pl, pt, ro, ru, sk, sl, so, sq, sv, sw, ta, te, th, tl, tr, uk, ur, vi, zh-cn, zh-tw
Read it Later
We've integrated RecapioGPT with Instapaper . Then you can save your summary to Instapaper, and read it in a second moment. How to do that? Save your summary, click on the share button, and Save to Instapaper!
Share your best summaries
Share your saved summaries with your friend using whatsapp, linkedin, twitter, and more!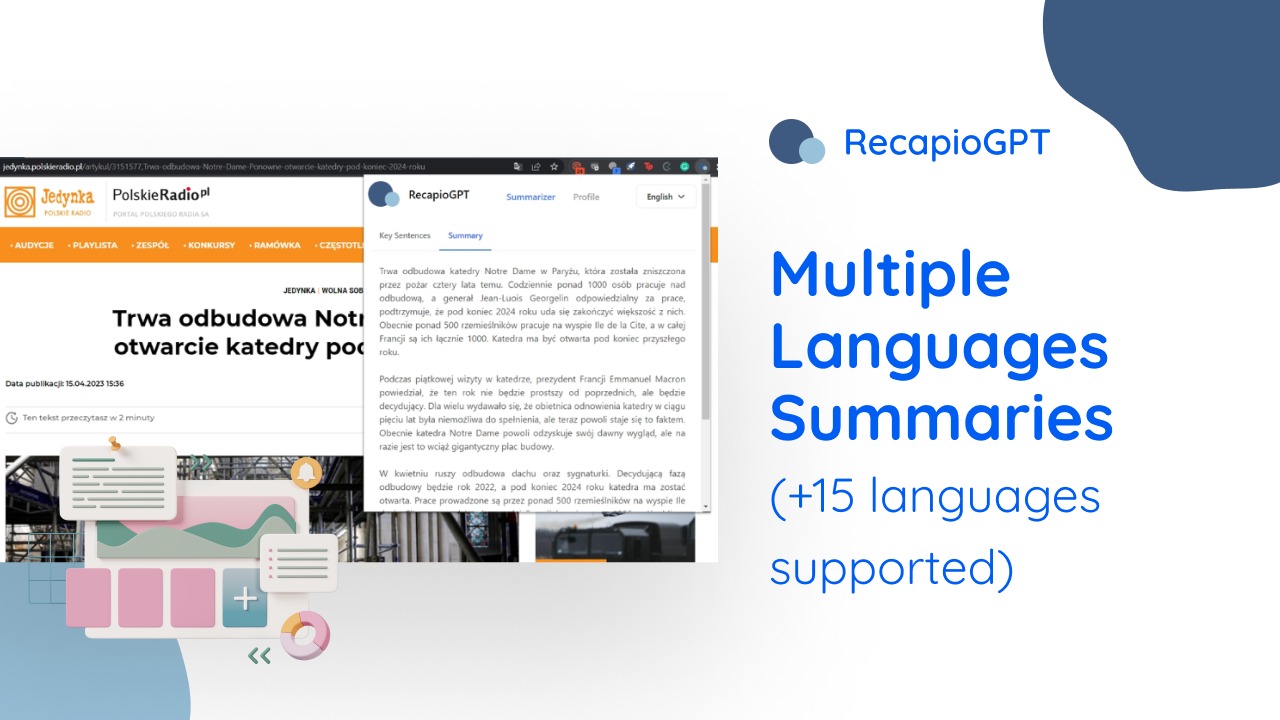 Over 15 languages (and counting) are supported.
In a world where time is of the essence, RecapioGPT is the perfect solution for those who want to stay informed without sacrificing valuable time.
When you try RecapioGPT today, you too will see how it can transform the way you read articles on the web.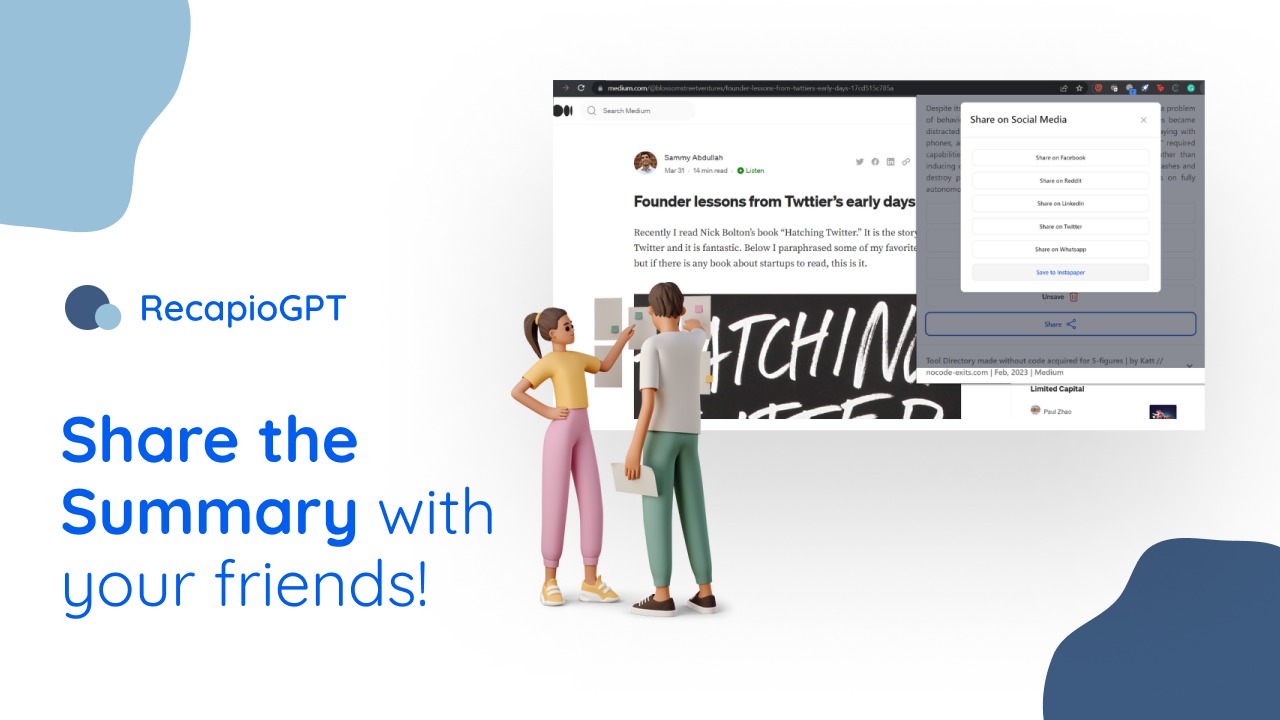 With over 800 happy users and counting, RecapioGPT is surging in popularity all over the internet.
What are you still waiting for?
Get access to RecapioGPT today!
Plans & features
Deal terms & conditions
Lifetime access to RecapioGPT

You must redeem your code(s) within 60 days of purchase

All future Starter Plan updates

Please note: This deal is not stackable
Specification:
RecapioGPT
Starter Plan

All features above included
50 summaries/month
Edit and save your summaries
No copy-paste needed: you just need to browse the article and open RecapioGPT extension

Plan 2

All features above included
100 summaries/month
Edit and save your summaries
No copy-paste needed: you just need to browse the article and open RecapioGPT extension

Plan 3

All features above included
200 summaries/month
Edit and save your summaries
No copy-paste needed: you just need to browse the article and open RecapioGPT extension